This post brought to you by
Dollar General
. All opinions are 100% mine.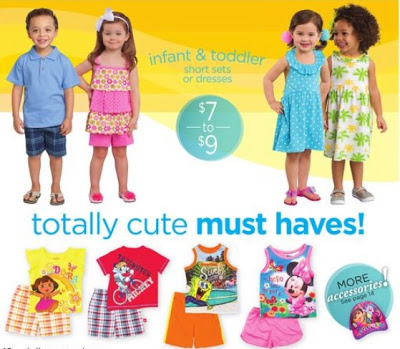 Spring is here and the weather is beginning to warm up! We had weather in the 80s last week and so I started pulling out the spring/summer clothes for my kids. I quickly realized that we are falling short in that department.
They have all grown through major growth spurts and it pains me to pay top dollar on clothes that will be completely worn out this summer with all of the fun we plan on having! I began going through jeans and pants and figuring out which ones to cut off to make shorts, but we will still need a few items this summer. It's always nice to find a great sale, and better yet…a place that has great deals all of the time.
Dollar General has more to offer than you think. Besides food and health/beauty products, they offer a great selection of clothing for the whole family. Check out the
Dollar General Apparel Book
 to find some great deals! Swimwear, shorts and shirt sets, dresses, flip flops and much more. My girls wear dresses almost every day. I am especially smitten by that little turquoise and white polka dot one. My 4 year old would love that and so would her little sister. They are still at the ages of thinking that matching outfits and fun and with prices like these, I can snag two for a great deal.