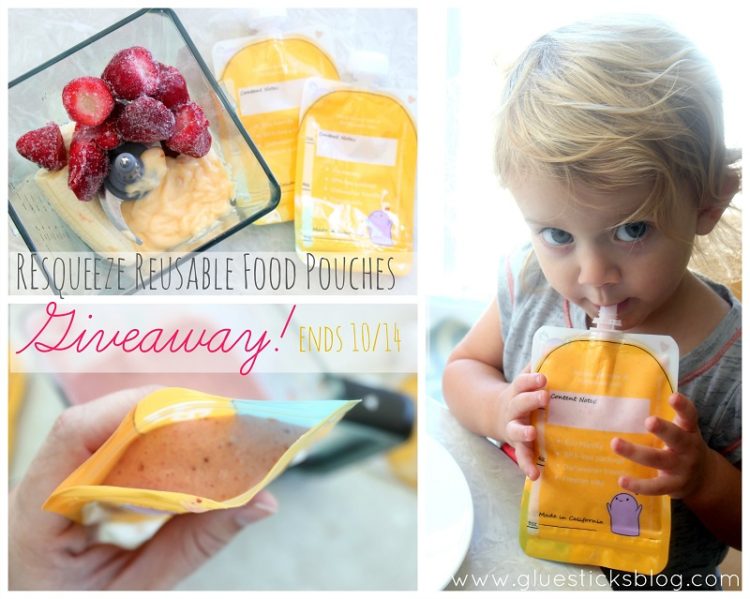 CLOSED. Congrats to the winners: Jillian Y. & Melissa T!
The first time I heard about the baby food pouches was after Ruby was born. I had always used the little jars or containers of baby food. She didn't like those and so she didn't eat baby food. She just ate what we ate. My sister gave her a pouch when we were visiting with them and she seemed to really enjoy it. Little miss independent. It was nice to have them on the go and to keep in my purse and so I started buying them for her. They are also a great little snack that she can help herself to in the pantry. I buy a dozen pouches or so every couple of weeks even though she is almost 2 years old. When I heard about the company, Resqueeze, and their reusable pouches I said to myself, "Why didn't I think of that?"
Resqueeze is a brand new company that just hit the market and the word is quickly getting out!
It is such an obvious solution to be able to fill the pouches with what we want and then be able to reuse them again.
Saving money and resources.
Laura, one of the owners of ReSqueeze said that they  noticed it was easier for their son to use  baby food pouches rather than a spoon and jar. After spending a significant amount of money on one-time use baby food pouches (and never knowing exactly what was inside), Laura started cutting the bottom off these pouches and refilling them using bulk applesauce or homemade baby food and smoothies. As you can imagine, this could get messy without a seal! From this, the ReSqueeze idea was born.
 They set out to create the perfect squeeze pouch. Throughout the design you'll notice thoughtful design elements, such as rounded edges to prevent unwanted scratches and pokes, extra wide fill opening for easy filling and cleaning (no need for filling gadgets), and a pouch size that is a practical portion-size for infants and toddlers.
ReSqueeze is  especially proud of the strong dual-zip closure. You may even notice some of the little details like space for writing notes and dates in case you'll be freezing the contents, helpful fill lines, and vibrant colors and graphics that are chosen to draw a little one's attention.
I knew I had to have some of these pouches for Ruby. The first thing we tried in them was a homemade smoothie. Ruby was very proud of the smoothie that she made.
Ruby's Strawberry, Banana & Creamy Peach Smoothie
10 frozen strawberries
1 banana
6 oz. peach yogurt
1/4 c. whole milk
Place everything in a blender and blend until smooth.
This recipe makes enough for 4 ReSqueeze pouches and a small cup left over for mom.
You can find more recipes on the ReSqueeze website!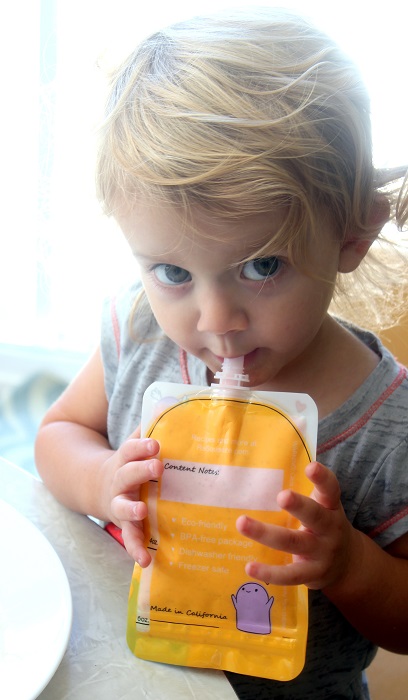 I placed the pouches in the freezer and when she is ready for one, I just thaw it under running water. They are dishwasher friendly which makes cleaning them a breeze.
I was so impressed with the concept and quality of these pouches that I asked Laura if she would be willing to hook up a couple of Gluesticks readers. You're welcome

ReSqueeze has graciously offered up 2 prizes! 2 lucky Gluesticks readers will each receive a 4 pack of reusable pouches!
Entering is easy using the rafflecopter widget below. Giveaway ends 10/14/13
ReSqueeze would be thrilled if the  winners would  be willing to share a photo of their child using the pouches on their Facebook and/or Instagram page or tag them in the photo!
You can follow ReSqueeze here!