This shop has been compensated by Collective Bias, Inc. and its advertiser. All opinions are mine alone.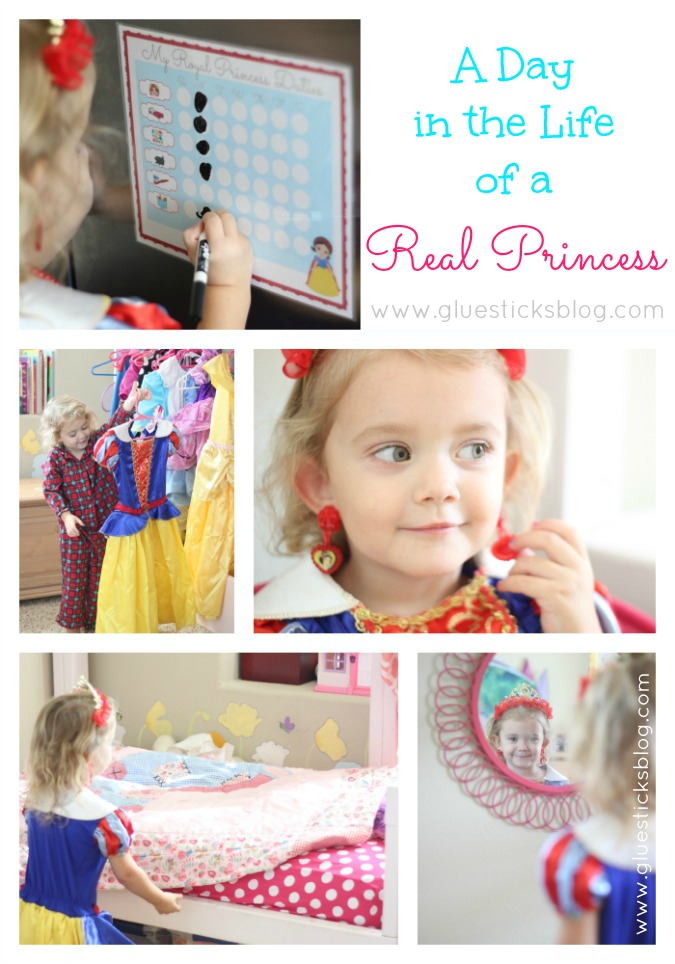 My name is Ruby and I am a princess. How do I know that I am a princess? Because my mommy and daddy told me so. A princess's work is never done. From sun up to sun down I serve the people in my kingdom. As a reward for my service, my mommy and daddy took me to a shop (Walmart)  to pick out a new party dress for my birthday. A princess makeover just for me!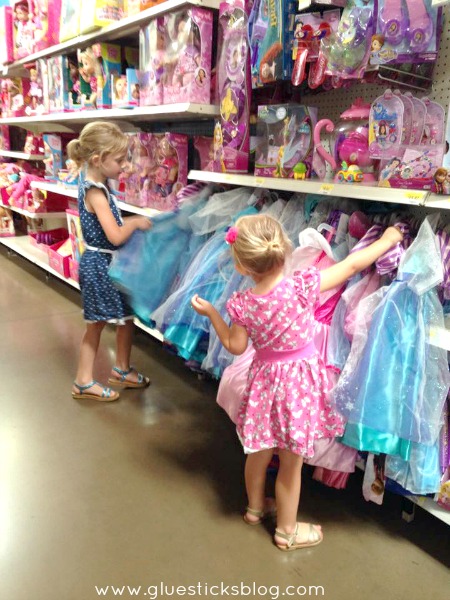 Princess Kaylee came with me and we had fun deciding what we wanted. I picked out a dress,tiara, shoes, jewelry, Disney Princess lip gloss (my FAVORITE!) and we also picked out  a Sleeping Beauty DVD! Kaylee picked out a new dress and matching tiara. Belle is her favorite princess. I like all of the princesses!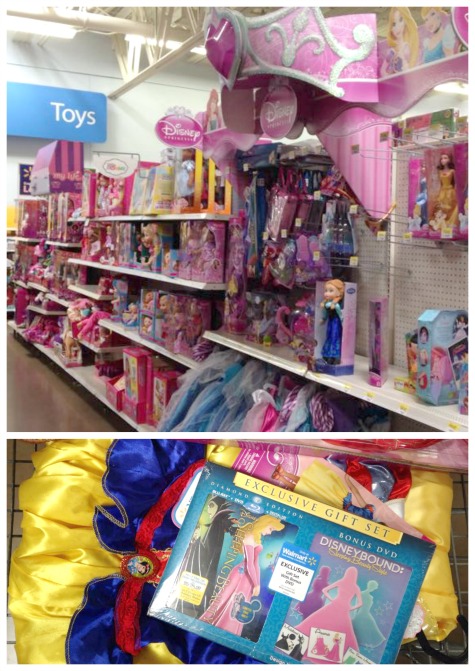 What a fun shopping trip. I couldn't wait to try everything on when we got back to our castle.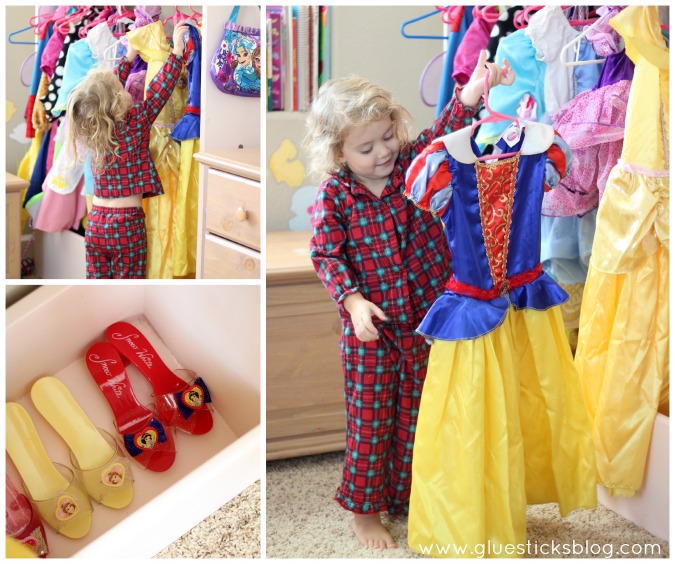 I thought it would be fun to share what a real princess does every day.  When I wake up in the morning I always climb into mommy and daddy's bed. Then I tell my mommy that I want to get dressed. I always want to wear a skirt or a dress.  I can't dance in pants. I have to wear a dress. All of my princess dresses are in my dress up box that daddy made me.
On this day, I chose my new Snow White dress and matching shoes.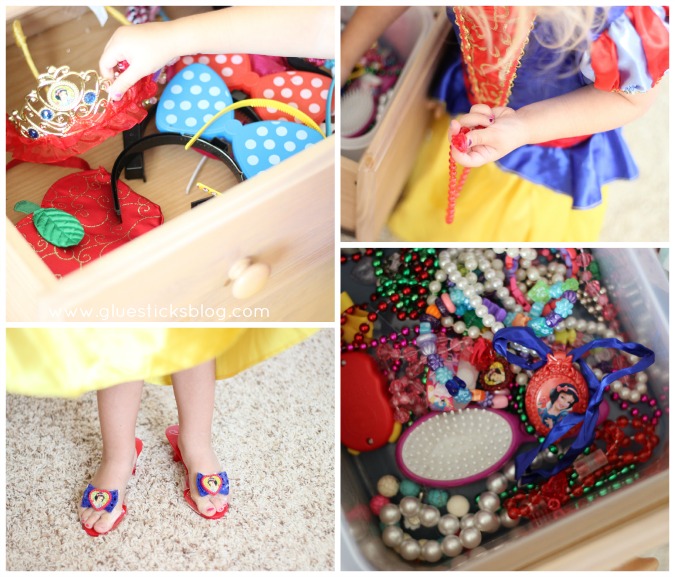 I also picked out some of my new jewelry and a sparkly tiara.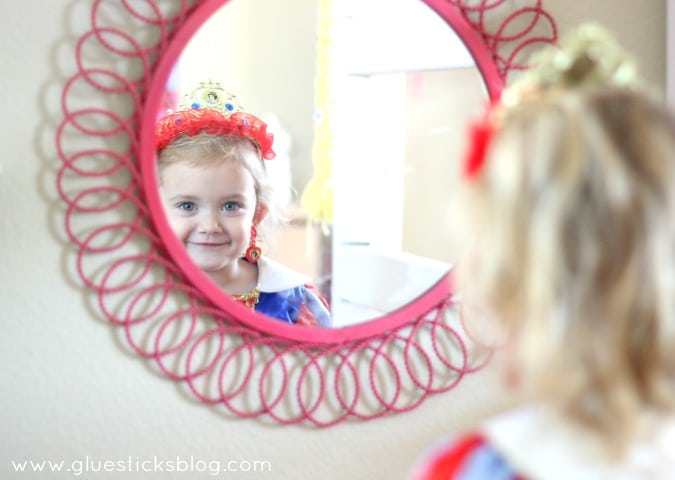 Do you like my earrings? I do.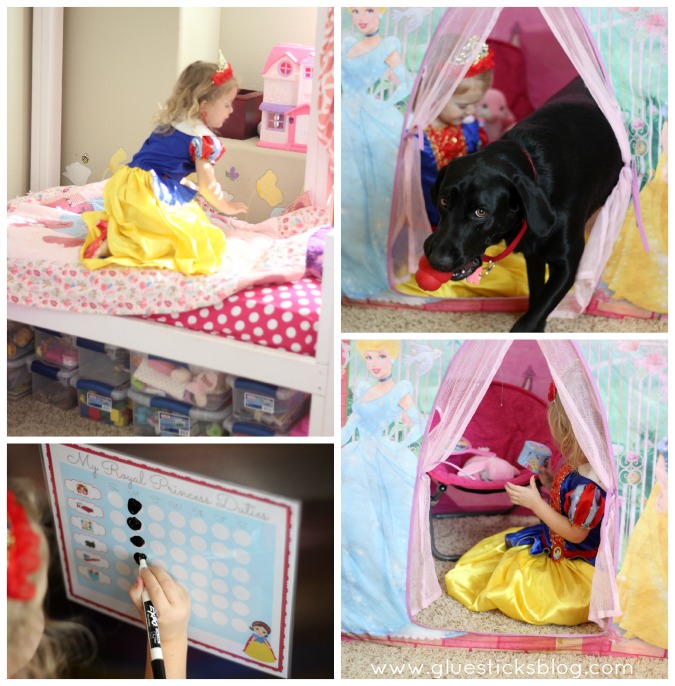 Now it is time to begin my Royal Duties. I work hard to make sure all of my toys are where I want them. I also take care of my princess palace pet. His name is Toby. He likes coming into my little tent. When I finish my duties, I mark them off on my princess chart. I'm a big girl and can do this by myself. My mommy made my chart and made some for you too!

Then it is time to dance. I dance every single day. My favorite music is classical and the music from "Sleeping Beauty". 2:30 pm comes and it is time to go on a tour of my kingdom….also known as my neighborhood. I go with mommy to pick up my brothers and sister from school. Sometimes I ride in my royal chariot (stroller) and other times I ride in our mini van.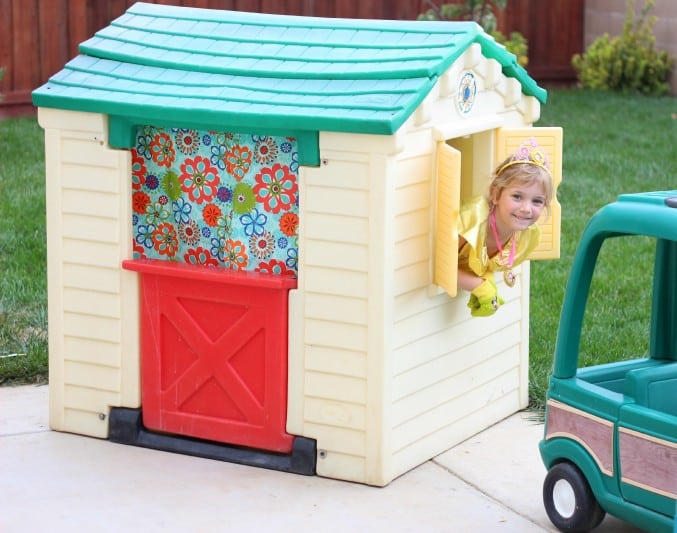 One afternoon we found a $5 playhouse that was in bad shape. The table inside was cracked and had spiders inside it. We gave it a good washing to get rid of the dirt and spiders and mommy added some waterproof curtains. Now we have our own princess cottage in the backyard!
We dance and play until it is time for our royal supper.
This video makes my mommy smile:
Then the sun went down and it was time for me to go to bed.  My mommy is always busy at night while I sleep. If she doesn't do something while watching TV with Daddy, she will fall asleep! On this night she made something extra special for your princesses! The same Royal Princess Duties chart that I use!
"My Royal Princess Duties" Chore Charts, Free!
Just print, laminate, and grab a dry erase marker! Write in the chores, or edit to add your own text and graphics (for non-readers).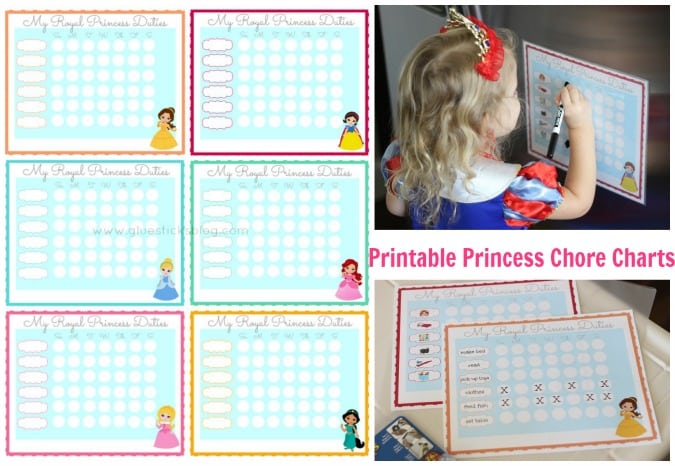 Get yours here! There are 6 Styles to Choose From!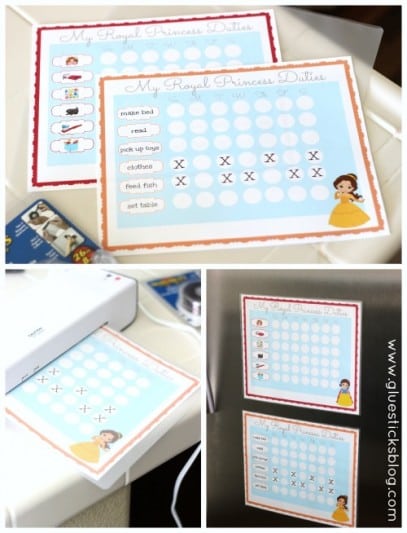 Thank you #CollectiveBias and #DisneyBeauties  for sponsoring my spectacular birthday princess makeover!