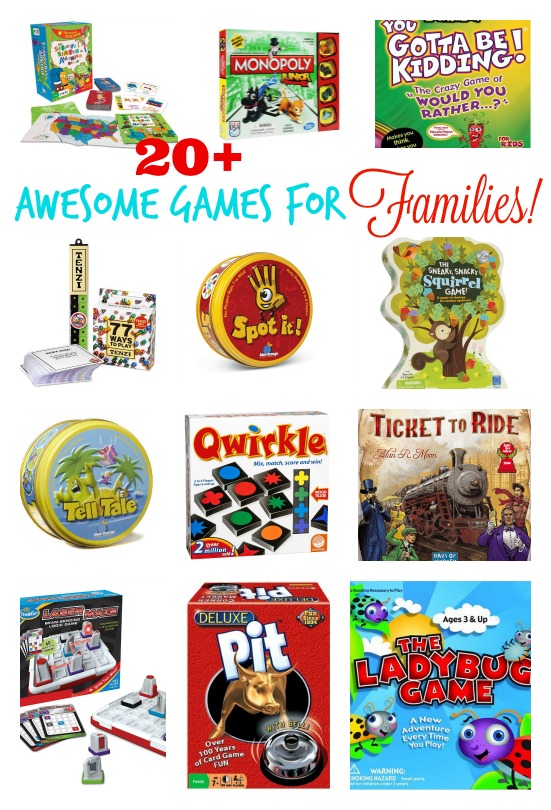 Every year we add at least one game to our game collection on Christmas morning. We've accumulated a lot of games of the years and these are just some of the games that we own. Our FAVORITES! Each of these games makes a regular appearance at the dinner table, while traveling, camping, or when friends come over.

Our boys are 10-12 and our girls are 4-7, so when I reference them you'll know how age appropriate everything is. This year we are adding
Disney Twister
,
Spoons
, and
Super Mario Chess
to our collection. My boys love playing chess so I'm especially excited about that one!
And, PLEASE let me know if I've missed any! I'll add them to my list to check out for next year!
Simply click on the title for more information on each game.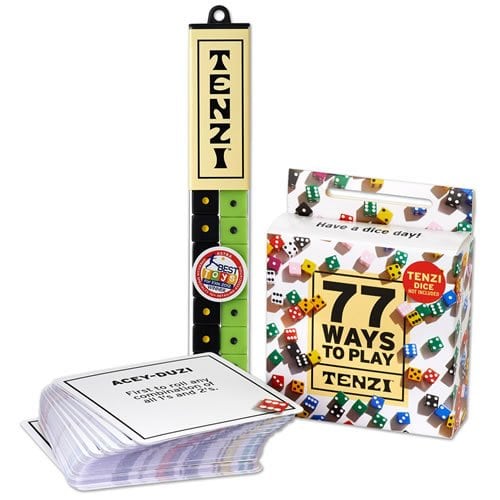 My mom sent this to Aaron for his birthday a couple of years ago and we have purchased it several more times as gifts for friends and family. It is such a simple dice game and there is no limit to how many players you have. We bought a booster pack of dice so that we can play with a crowd and it is incredibly addicting! My brother in law and nieces came for a visit a couple of months ago and were hooked after one round and asking where to find it online for their family. I would DEFINITELY recommend getting the set with the card deck so that you have endless ways to play!  ($23)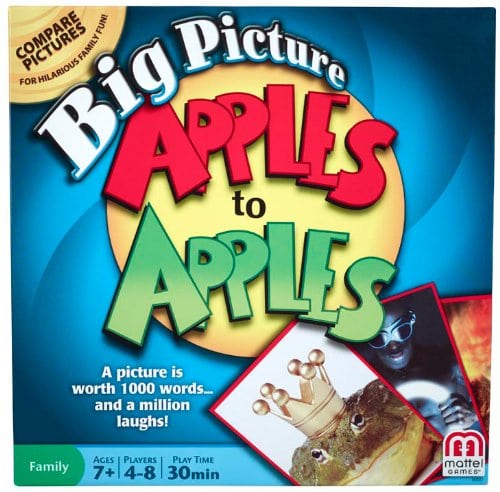 We have several versions of Apples to Apples, but this one is our kids' favorite. The pictures are odd at times, but they think they are hilarious and it is simple enough for non-readers and beginning readers to play. ($14)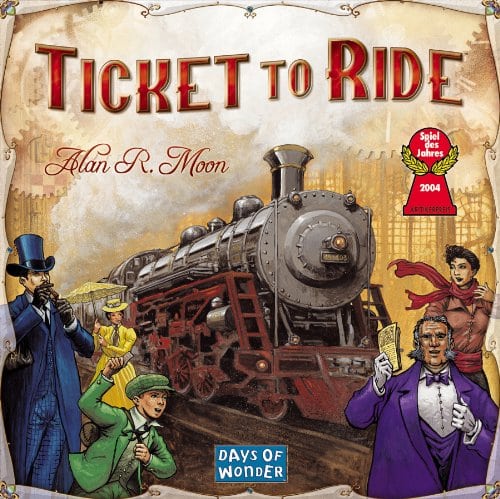 After hearing for years what an awesome game this is, we finally made the purchase last year for Christmas. It was a little pricier than most of the games we own, but worth every penny. This year we are adding the booster pack for it with more routes and destinations. Our boys especially love playing this game with us! ($36)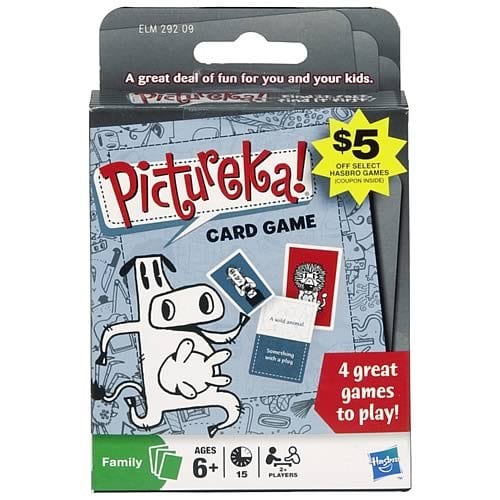 This is a quirky and fun card game. We own both the card set and the board game. The kids have fun finding the images and shouting out "Pictureka!" We bring this when traveling since it is a great game to play while hanging out in the airport. All 4 of our kids enjoy this one. ($8)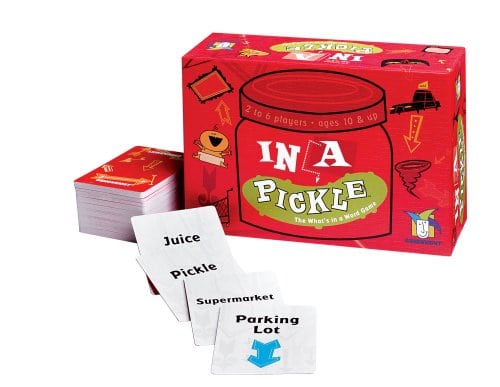 This is a game of sequence! Each card has to be able to fit into the card on top of it. Confused? It's easy! In the 4 photos above, one player played "juice". Well, there is juice in a pickle, so the next player played "pickle". Pickles are found in a super market and a supermarket is in a parking lot. Get it? It's super fun and a quick game to learn! ($11)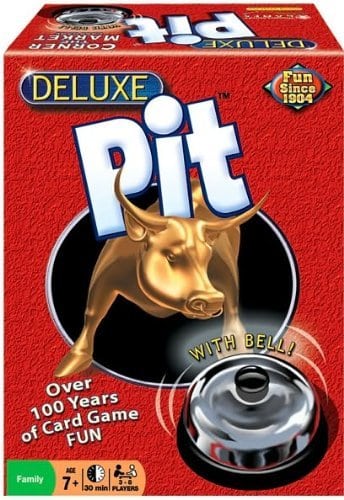 Oh, pit, you've been a favorite for decades! I remember playing this with cousins while sitting around my grandma's kitchen table. Just don't play while others are trying to sleep, you'll wake up the house with the screaming, yelling, and bell dinging! We brought this camping last summer and you could hear the kids throughout the entire campsite! ($13)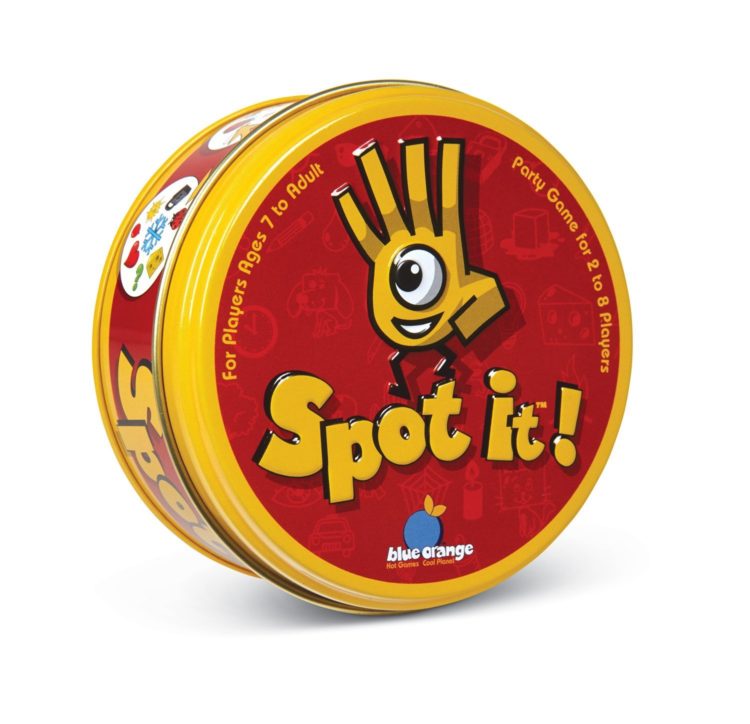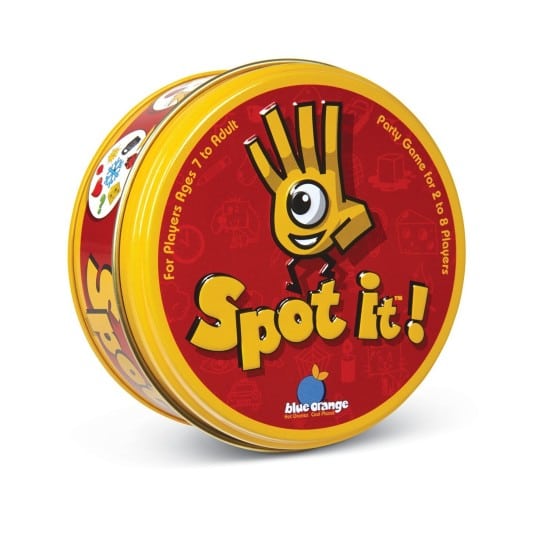 Both
Spot It
 ($11.50)  and
Tell Tale
($9) are fun games and are great for traveling and taking to Restaurants while you wait for your food! All 4 kids enjoy these games and come up with the craziest tales with Tell Tales. Fun!
They come in small tins that are perfect to tuck inside a stocking. My mom sent these to our kids a couple of years ago for birthday gifts and it was such a smart choice!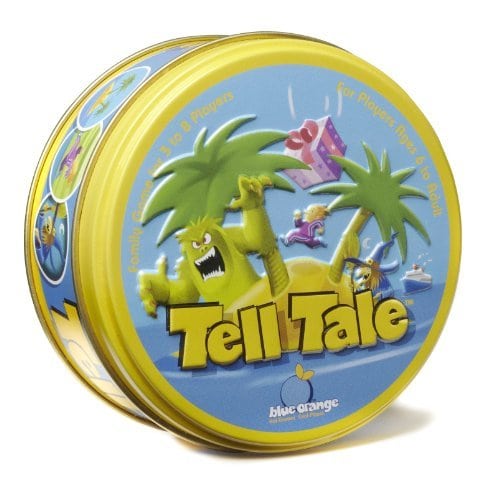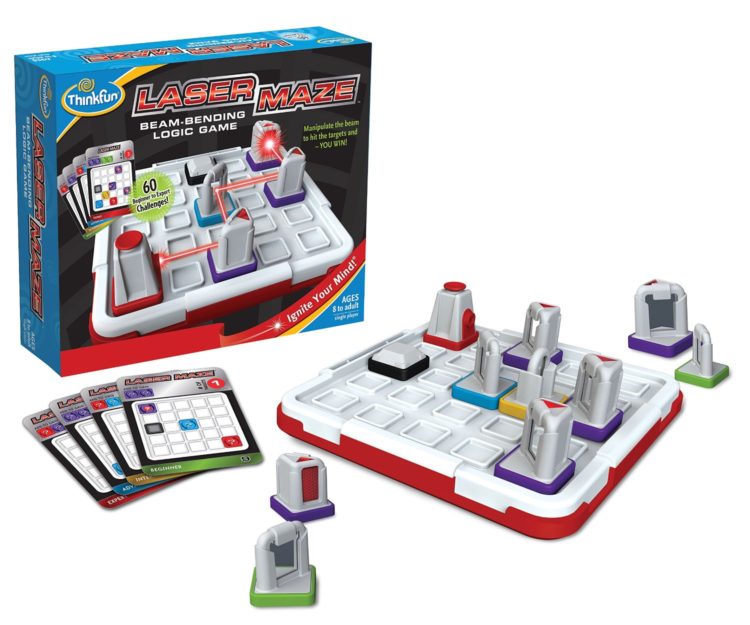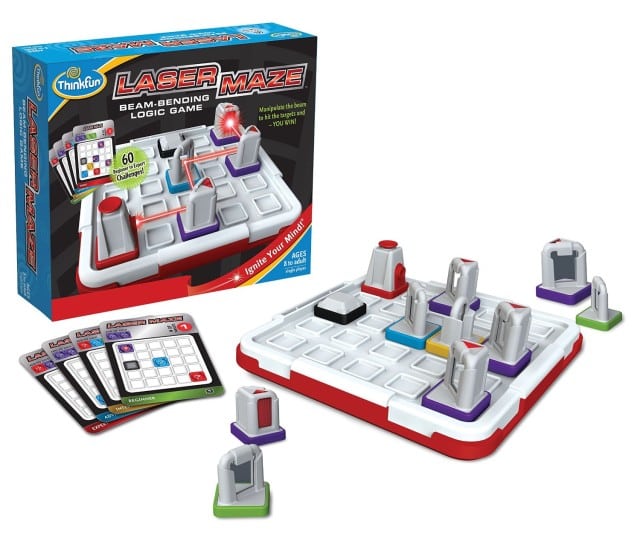 We gave this to Aaron (10) last year for Christmas. He has a very inquisitive mind and enjoys the challenges. Both of the boys have had fun bending beams and making it across the board. It's a great game of strategy for all kids, but I think boys especially enjoy pretending to be Ninjas 😉 ($25)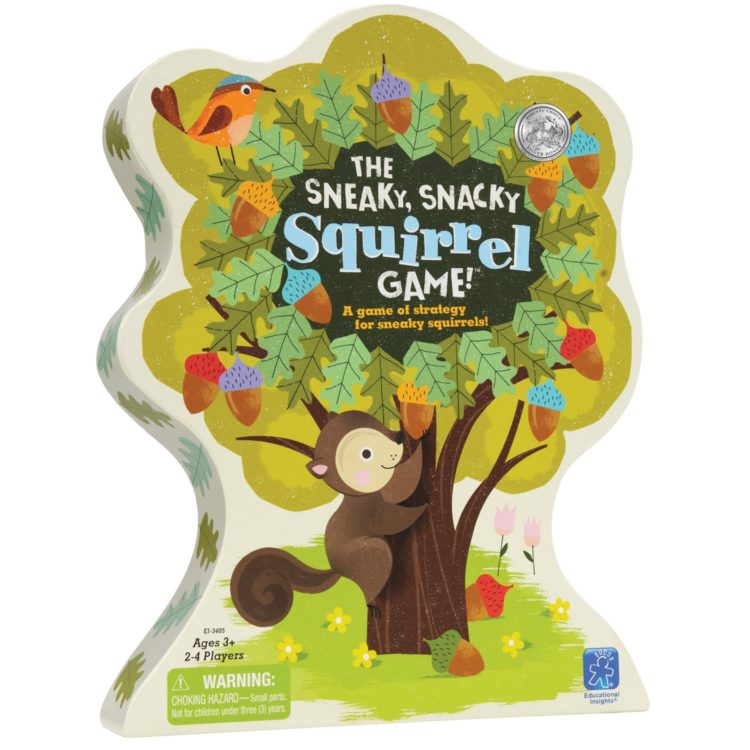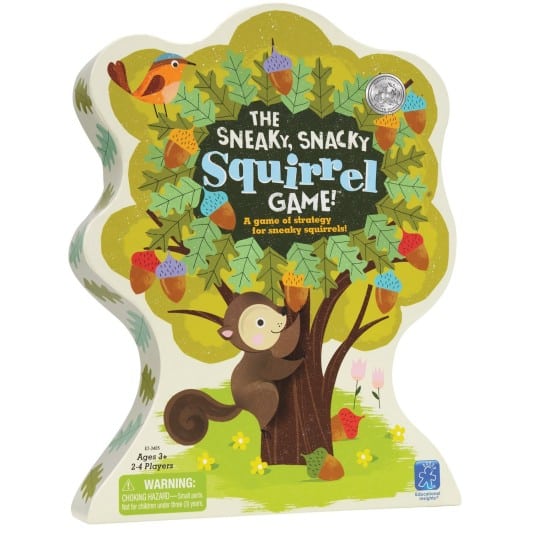 This game is, by far, the cutest game we own. The animation and pieces are just darling! It reminds me of High Ho Cherry-O. Each player has a little tree and is on a mission to fill it with acorns. The squirrel is Ruby's favorite part. You use him to pick up the acorns and place them in your tree! Ruby LOVES this game. ($15)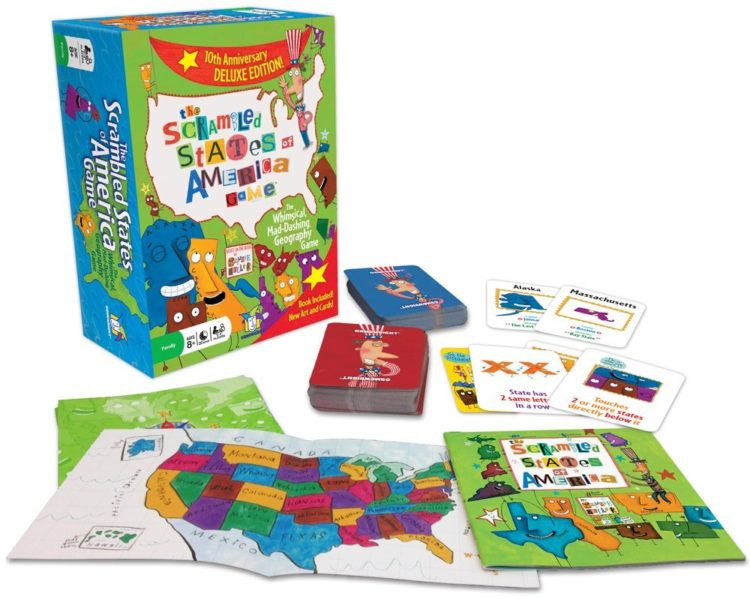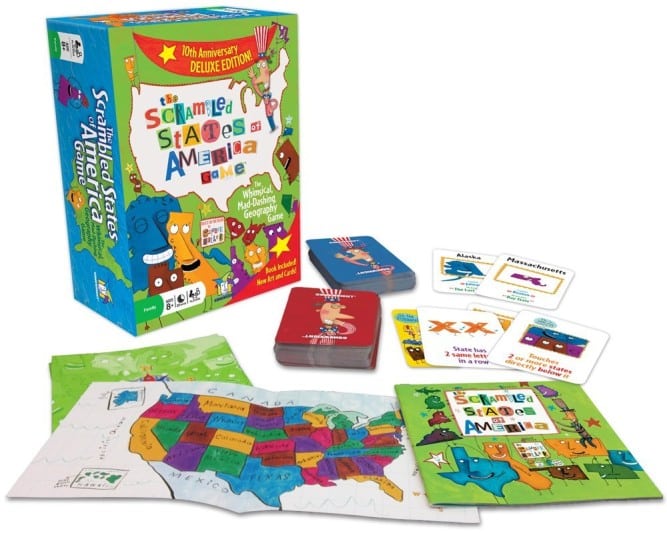 A fun and educational game, The Scrambled States of America teaches the kids geography in a super fun way! It comes with a story to go along with the game that you can read ahead of time. The states decided that they were bored where they were and decided to switch things up, but in the end and the other states decided that it was better to be where they were in the end as well. The object of the game is to help unscramble them! ($14)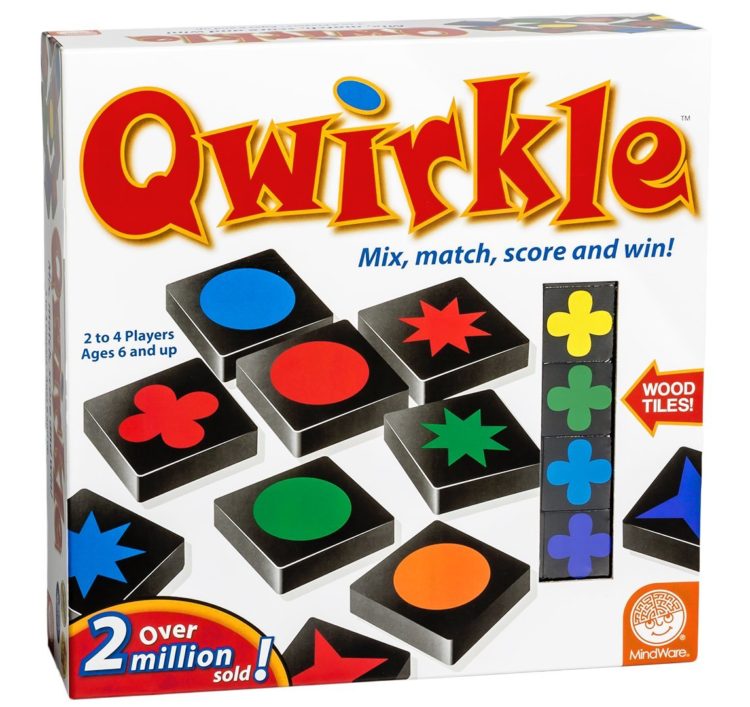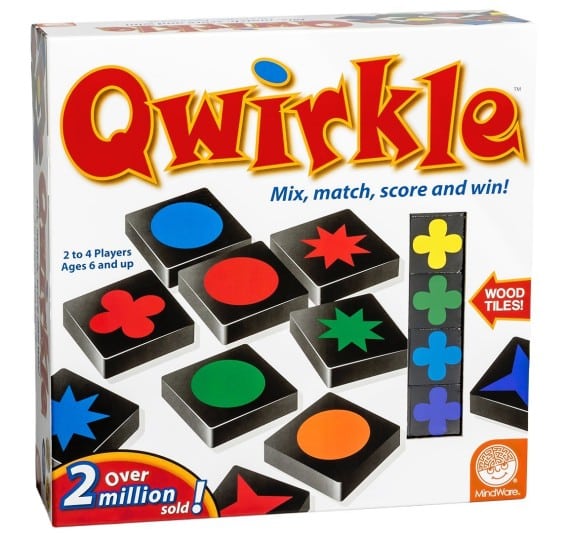 We bought this several years ago on a whim, and it was the best impulse purchase ever. I hadn't heard much about it, but thought it could be one that the kids would enjoy. They definitely do, but even more so, Derrick and I enjoy playing it too! We'll even play it without the kids, ha! ($25)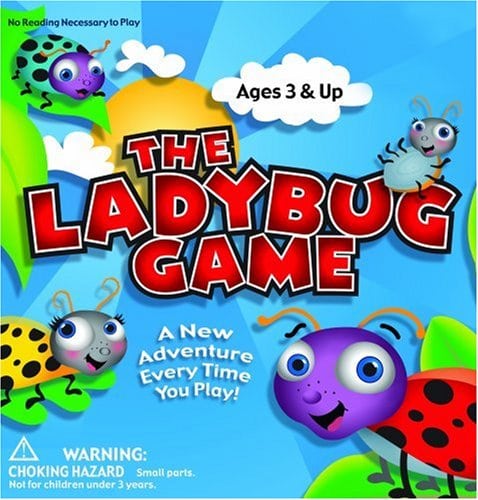 The Lady Bug Game is perfect for non-readers. We bought this probably 6 years ago or so after a recommendation from Glen Beck, and it is a cute counting game. It was created by a young girl (a 2nd grader, I think!) Make your way across the board, collecting aphids, until you get to the end. Watch out for the twists and turns that come with some of the cards. It could set you back or make you lose a turn! ($13)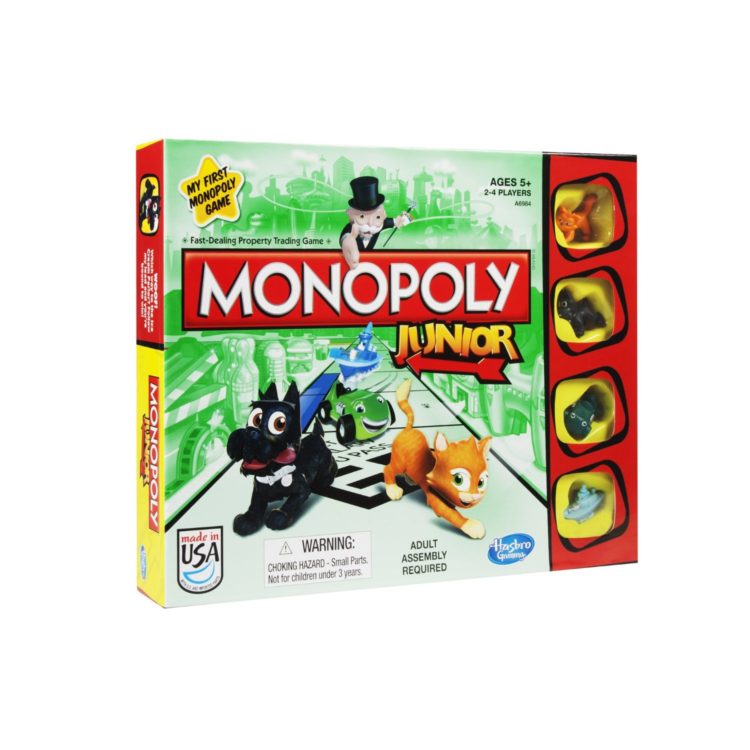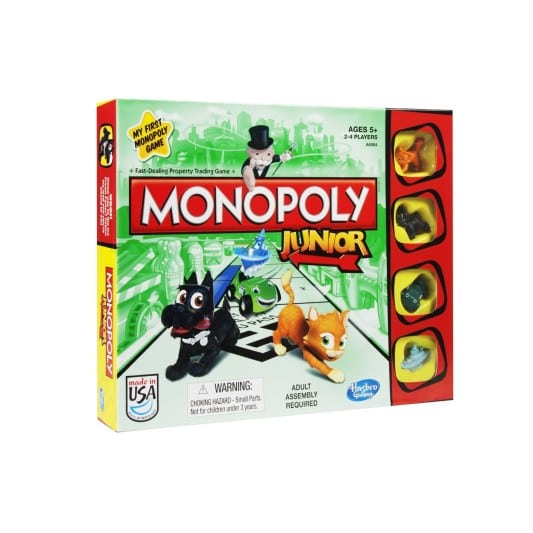 This is the only Monopoly game that I will play because it doesn't take hours! It is a lot less daunting for the kids too, but they can still collect a Monopoly of properties and get you with the rent! ($12)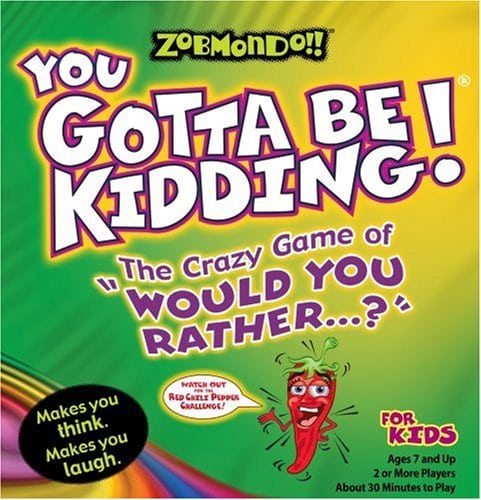 This is the kids version of the "Would You Rather" Game. It is absolutely hilarious. The kids laugh so hard every time. There may be dancing, singing, and other crazy tasks involved, so prepare to get silly and be embarrassed! And the cards? Oh my gosh….."Would you rather lick the bottom of a dog's foot or sit in a bathtub full of worms?" I totally made that up, but this is EXACTLY what the questions are like and you have to decide what you'd rather do. It really gets you thinking! ($15)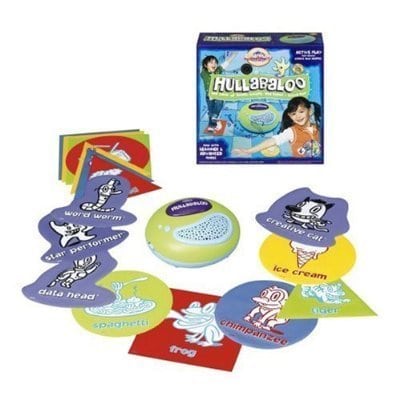 We own 2 versions of this game. The DVD version and the battery operated console version. Both games are super fun and the kids have a great time jumping or crawling from space to space, acting out animals and finding the colored spaces. ($40)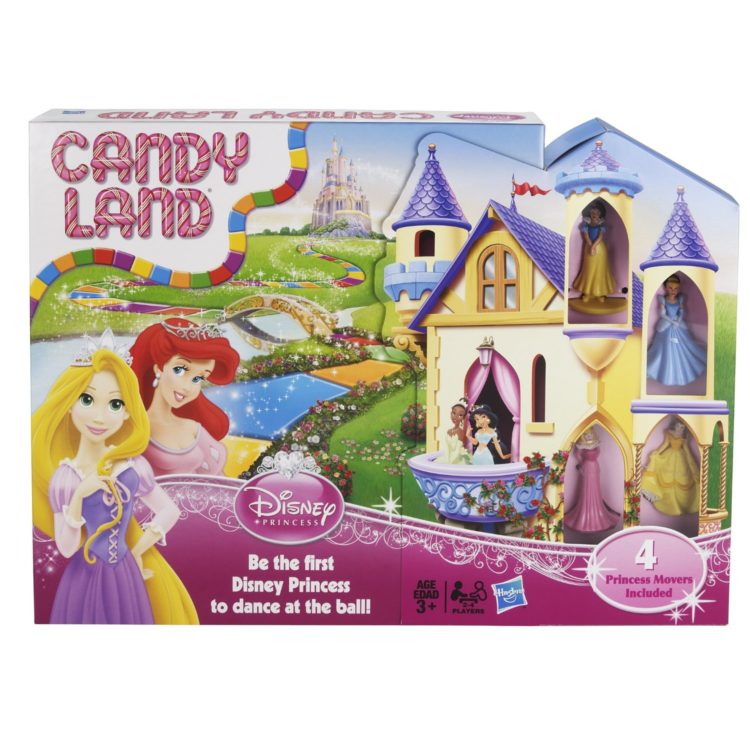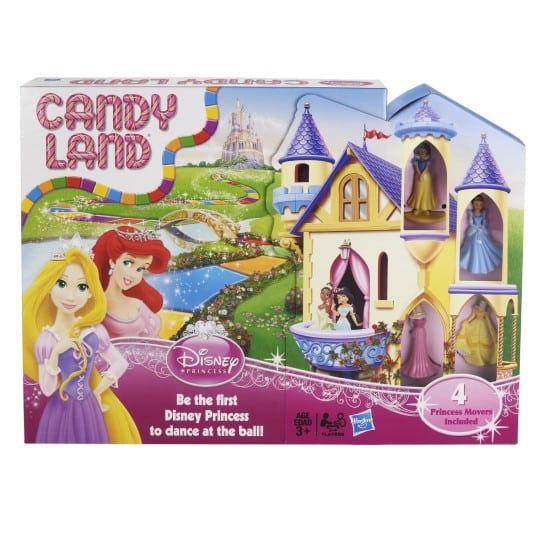 If you have little girls you need to buy this game. Now. Ruby has been playing this since she was 2 years old and absolutely loves it. She's so cute and can persuade pretty much anyone to play it with her. Easy to learn, easy to play, and a pretty quick game too. ($15)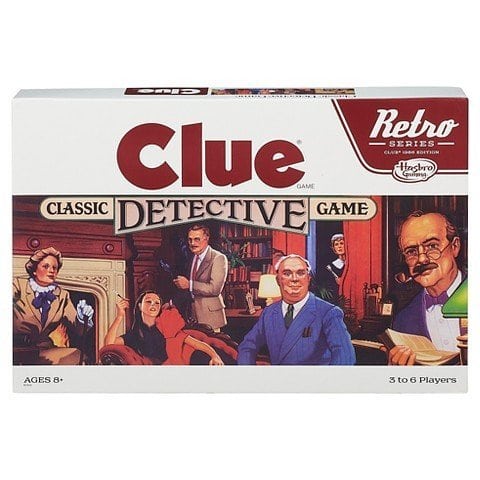 We own 3 versions of Clue, but the original is our favorite. I would NOT recommend Clue Carnival. None of us really enjoyed that one and we ended up getting rid of it and making space for better games. Clue Junior is good too, but nothing beats a good game of the original Clue game. Kaylee is 7 and is almost to the point of playing on her own, but for now the girls usually play on teams with one of us. ($32)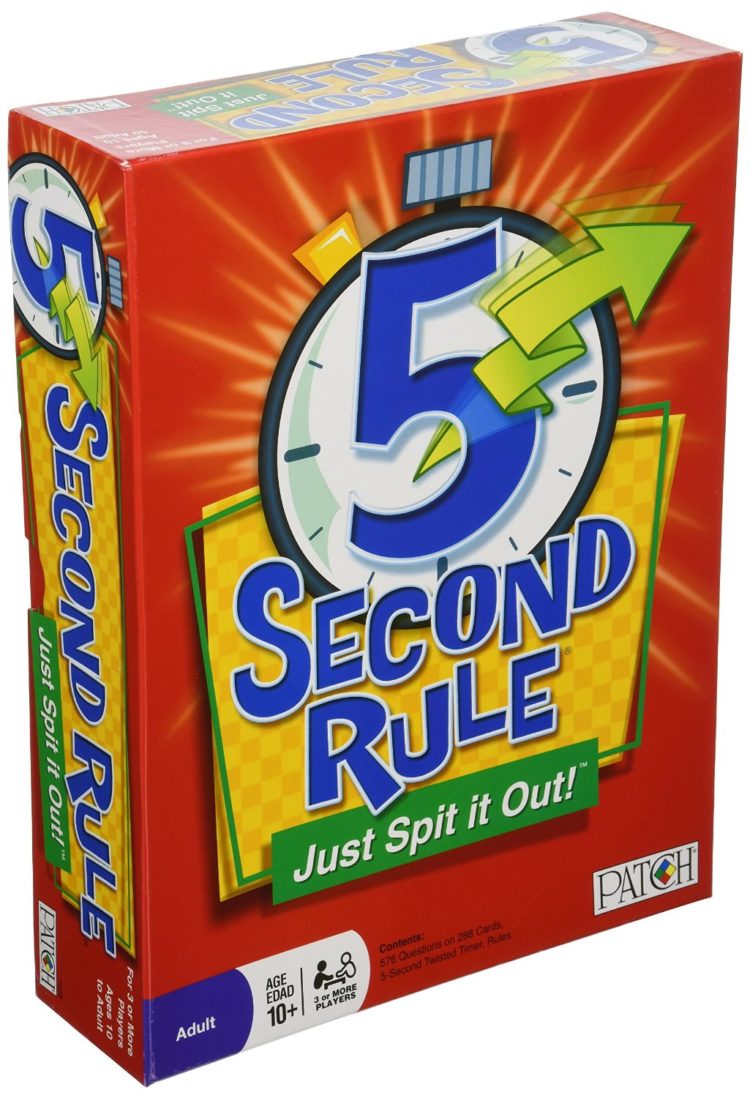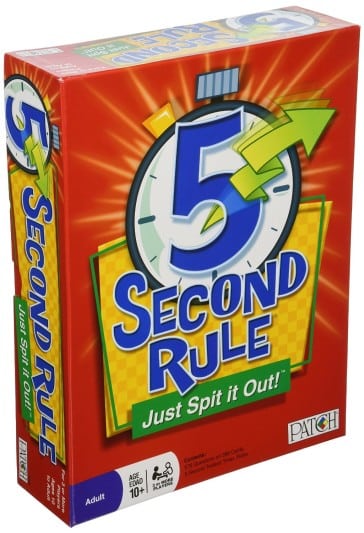 This game is super fun and easy to learn. You have 5 seconds to pick a card and say 3 things that fall under the category on the card. Seems easy, but unless you work really well under pressure and time constraints it can be challenging! ($19)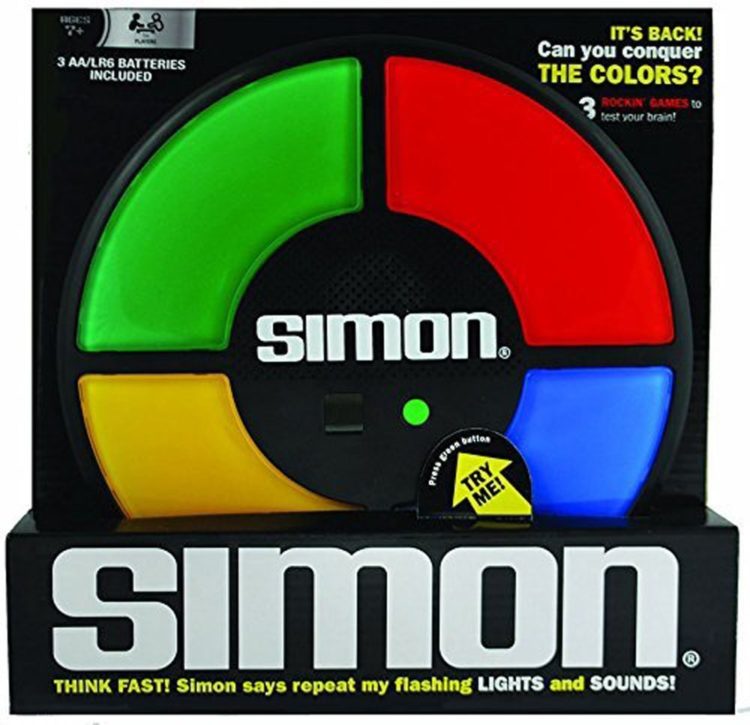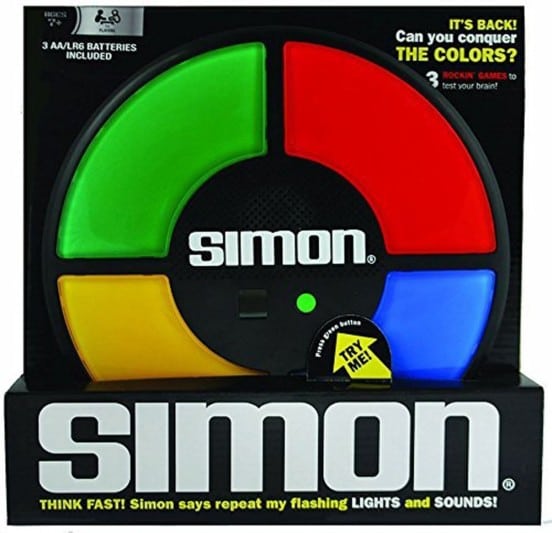 A CLASSIC! We bought this for Dallin for Christmas last year and everyone has fun thinking fast and remembering the sequence. This game has been around forever so you know it's a good one and not going anywhere! ($22)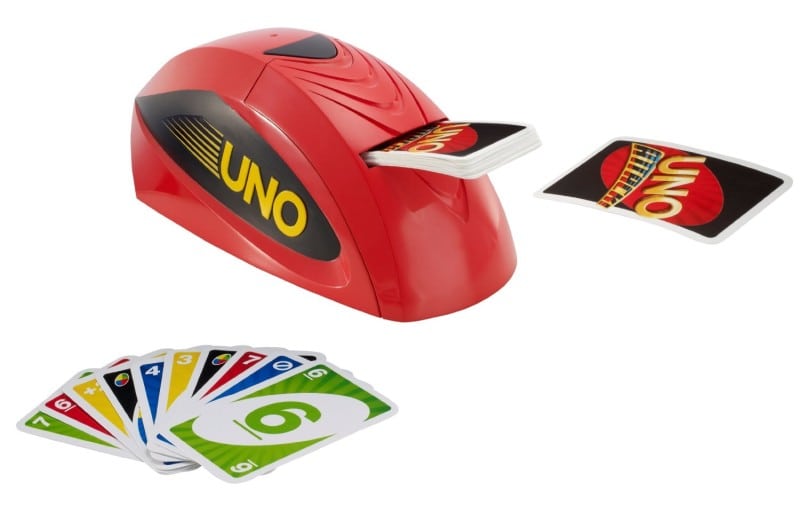 I'm a very jumpy person so this game gets me every time. You never know when the cards will spit out at you and you end up with an extra 5 cards in your hand! It's a lot of fun and takes Uno to a whole new level! ($22)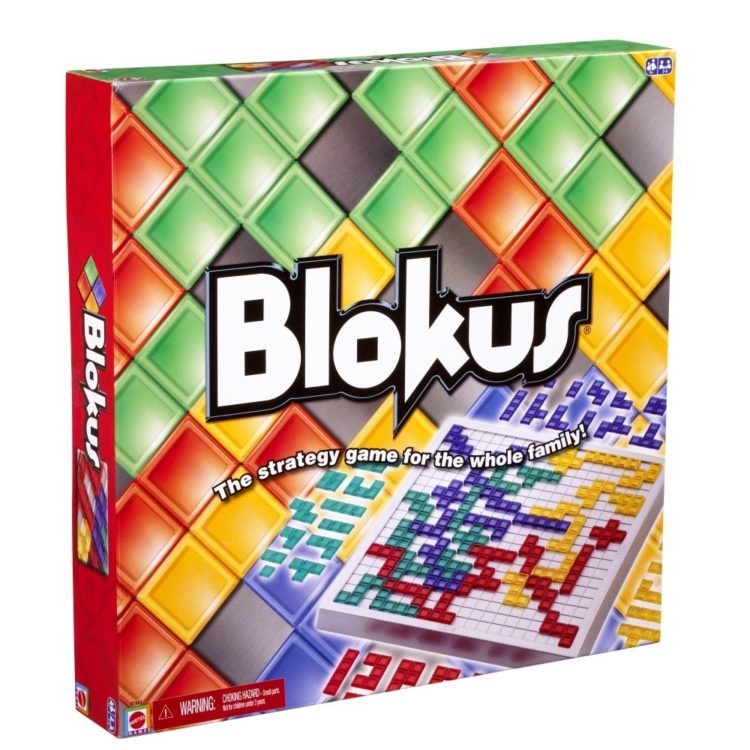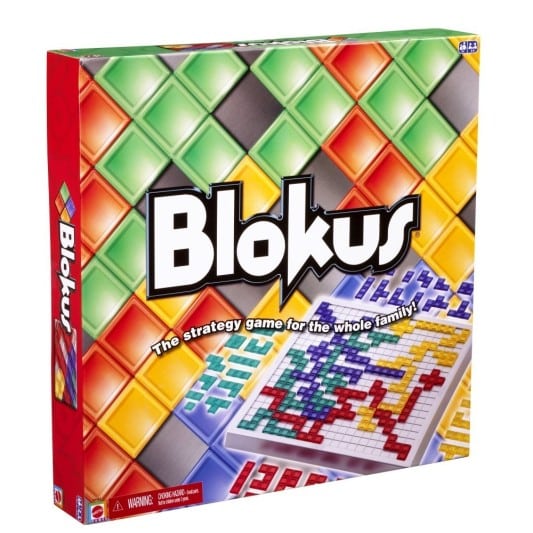 We played this at a friend's house years ago and added it to our Christmas shopping list that same year. We have both Blokus and Blokus Junior for the kids. Both are great and a fun strategic game. My husband beats me EVERY. SINGLE. TIME. I'm still perecting my technique, apparently! Our boys like this version, and the girls (Kaylee, who is 7) prefers Blokus Junior. ($18)
While some of them are affiliate links, we own every game here, paid for them with our own money, and am not being compensated for sharing these with you today.