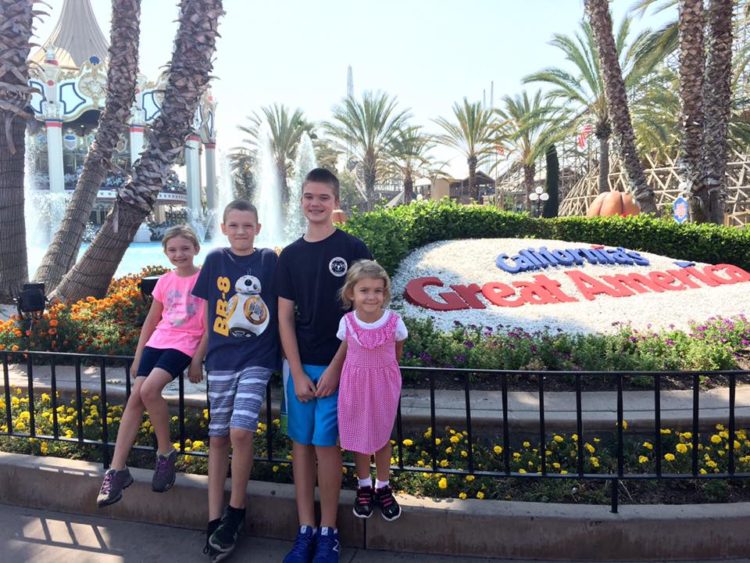 Whenever we have an opportunity to give one of our children (or all of them) an experience instead of a gift, we take it! I feel like we live in a society that is all about stockpiling "stuff". Toys, electronics, etc. I dread Christmastime because it means more stuff to find room for. Last year we gave the boys tickets to see the Piano Guys as their main gift. We took them to Reno, stayed the night in a hotel and enjoyed such an amazing show. An experience that they will remember far longer than a toy that they would have received.
We celebrated our oldest's birthday this year by taking the whole family to Great America. He is all about the big and crazy roller coasters and this was one park within driving distance that he hadn't been to yet.
It was a beautiful 70-degree day in Santa Clara, and since we went in the fall, the park wasn't crowded at all! Derrick and I hadn't been here since we were newlyweds and it was fun to see that a lot of our favorite rides were still there! Just under new names since it isn't owned by the same company anymore. I was pleasantly surprised with clean and maintained the park was for how old it was. That's always nice to see.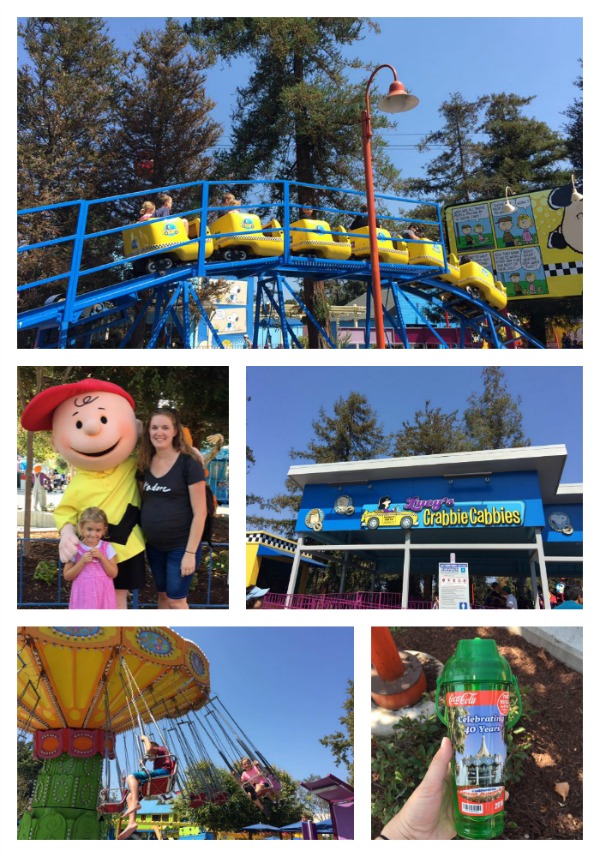 While the big kids hit the large coasters like Flight Deck, Gold Striker, Psycho Mouse, Drop Tower, and The Grizzly, Ruby and I set out to explore Planet Snoopy. She could see it in the air from the gondola ride that we took and even saw Snoopy walking around. Usually a very shy child, she yelled out, "There's Snoopy and Lucy! Let's go say hi!" So we did. And also saw Snoopy with Peppermint Patty, and Charlie Brown.
We spent the majority of our day in Planet Snoopy. There were so many rides for little ones and they aren't just your spin around in a slow circle kind of rides. Woodstock's rollercoaster is legit! All four of the kids went on it several times.
We purchased 2 refillable cups to stay hydrated all day long. These are a great investment if you go with the whole family, especially since they don't allow outside drinks into the park.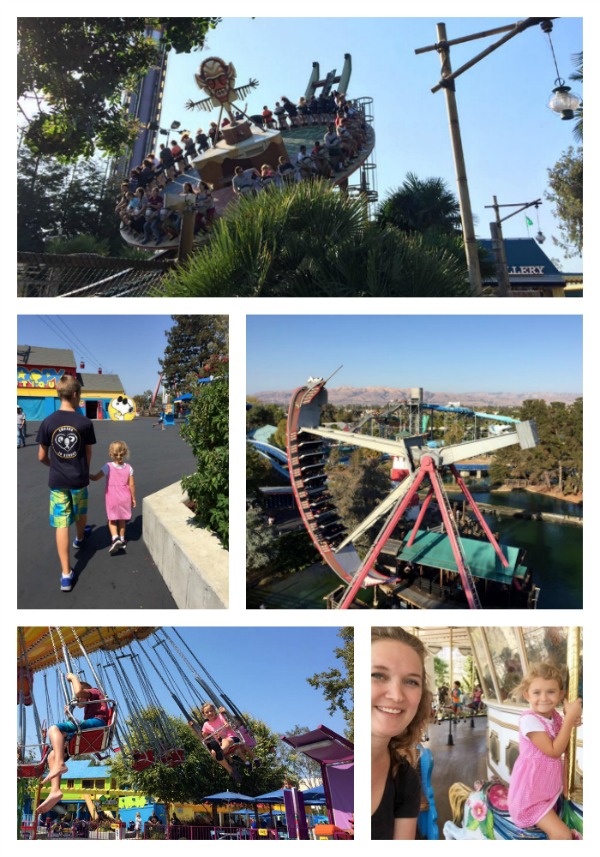 Being pregnant, there were only a few rides that I could go on, but it was fun to watch everyone else have the time of their lives. I had more fun watching their smiles for sure!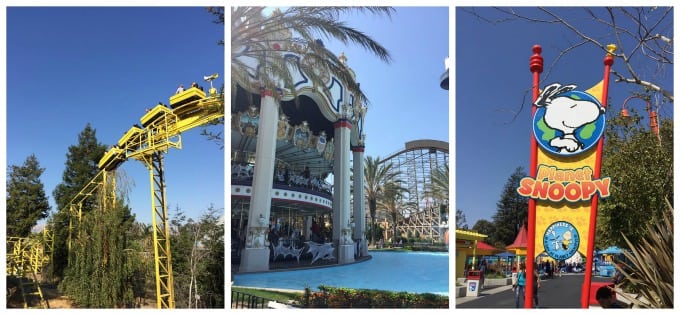 New to the park in 2016 is the 4D Mass Effect: New Earth experience!  Riders climb aboard motion-based seating and wear 3D glasses as they are taken on a thrilling adventure. A live performer curates the journey and appears to interact seamlessly with the next generation 3D visuals.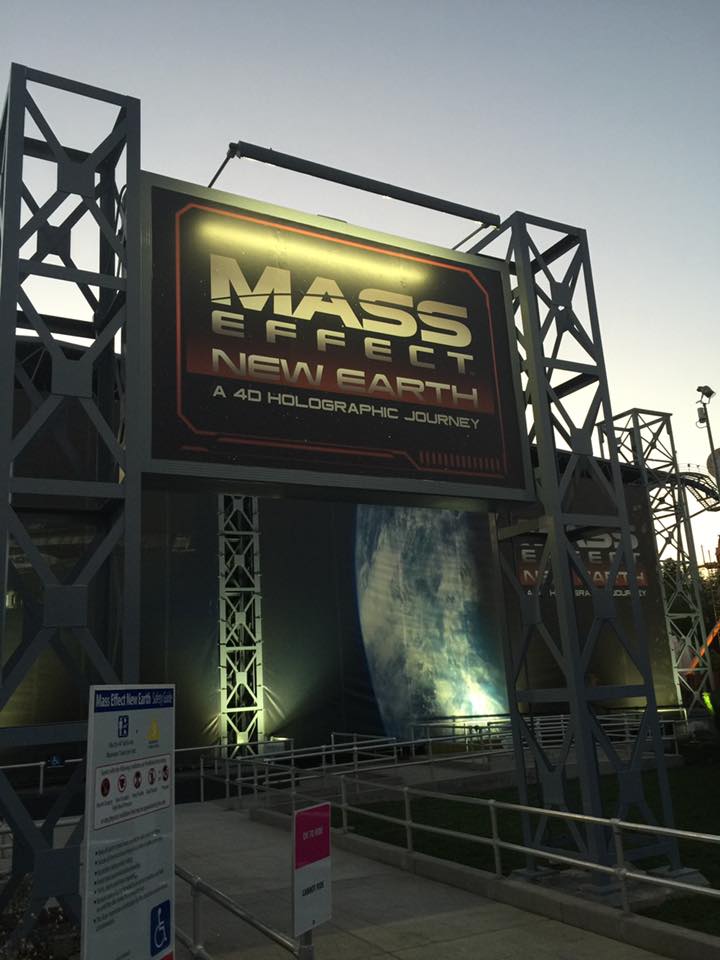 These elements are integrated with motion seating, high tech sound and other 4D effects to create a truly compelling and immersive attraction. Guests travel through space to a distant planet, face off against bigger than life adversaries and ultimately help save the day. The kids said that it was a blast and there were even parts where they got wet and smelled things!
Would you like to treat your family to an experience at Great America? My Readers can Save $23 off Tickets at California's Great America Theme Park #greatamerica use code: BLOG4CGA http://www.cagreatamerica.com
This post has been sponsored by Great America.