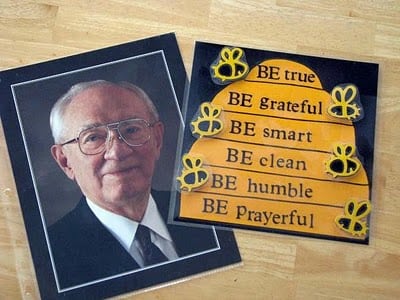 Church was cancelled a week ago so we did Primary at home with the kids! I asked Dallin the night before what he would like to learn about. He said that he wanted to learn about President Hinckley since he was his favorite prophet.
Gordon B. Hinckley
is the former president of our church. He was truly an inspiration and we just love him. When I was a teen he shared the "6 Be's" with us. I remember the talk and thinking that it was something that would become a standard with the youth.
Be Grateful
Be True
Be Smart
Be Clean
Be Humble
Be Prayerful
I found pictures in the gospel art kit that went along with each "Be" as well as songs. It was a nice lesson and the kids liked putting the bumble bees next to each topic.
I thought that since I was putting a lot of time into this little poster that I would give it a dual purpose. I made it the same size as the
Cardstock Busy Book
pages that I have been working on. Perfect for church.
The "bees" are actually fireflies from my cricut cartridge "Stretch Your Imagination". I don't own a cartridge with bee cutouts, but these worked. I drew out a beehive shape on cardstock, glued it all together, laminated it, and added velcro tabs so that the kids can move the bees around.