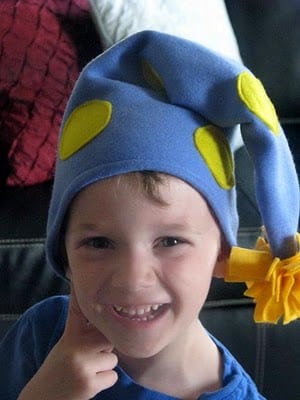 This little guy asked me to make him a night hat a few weeks ago. Apparently, he needed one to keep his head warm when he sleeps. After all, summer is coming and we all know how cold it gets here in this Hot and Humid climate, lol.
I thought he was crazy. Every couple of days he'd remind me that I said I would make him one sometime and so I finally made him one.
I had no idea how I was going to do this, but figured the best way to get a cone shaped hat would be to just cut out a large triangle and sew up the sides. The base was the circumference of his head. It worked like a charm.
He wanted it blue, with yellow polka dots and an orange pom pom. We had the fabric already in my stash so it was a fun, quick, and inexpensive project. Best of all, he LOVES it. As soon as it was done, he ran into the living room, grabbed a blanket, and pretended to sleep so that I could take a picture of him.
I asked him where he saw someone wearing a night hat and he said that he saw it on a Muppet movie.
He is a CRAZY little guy and we love him.