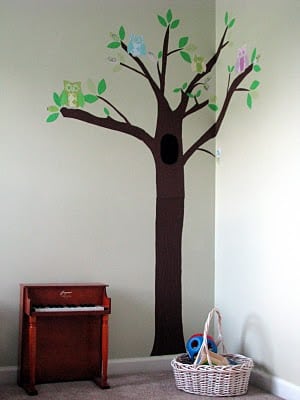 Right before Kaylee was born, I painted her room a really pretty green. Celery green. It matched the shabby chic rose bedding that I bought for her crib, but that's as far as I got with any sort of decor. I've been wanting to do owls in her room for a long time and when I saw this idea on Brittney's Budget Crafts, I got started!! It was perfect! We are a military family and one thing that is certain about being in the military is that you are going to move.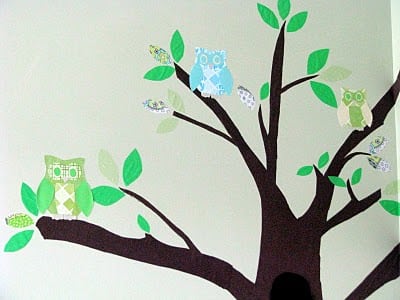 I didn't know that you could use spray starch to apply fabric to a wall. It worked great! I sprayed the fabric for the tree until it was SOAKED, applied it to the wall (it's a little tricky, but straight pins help hold it into place) and let it dry completely. To remove it, just peel it off! My boys thought that the tree needed a hole in it for an animal. So I hot glued a piece of black felt on it. They want a squirrel to live in it, but I haven't figured out how to make a cute squirrel to put in it…yet. They also thought I should add a few little birds. I think I might later on. I love having input from my kids!
Brittney cut out her tree in one piece. I used brown scraps so mine is actually several pieces. The branches are all serperate and just over lapped. You can kind of see that in the photo above.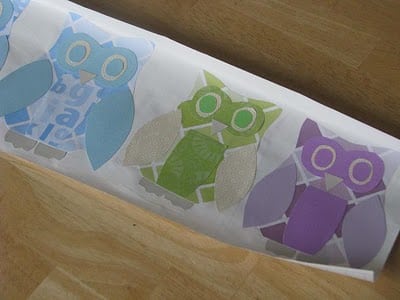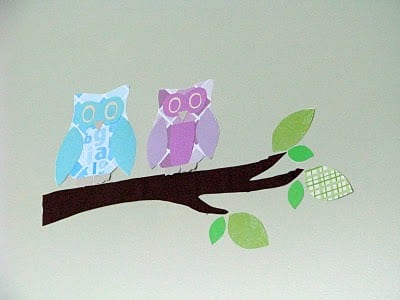 These little owls are made with my
Peel & Stick Decals
trick that I shared on my blog a couple of weeks ago. They are made with
cardstock
and contact paper.
Removable
as well. The pattern for the owls is actually a
pillow pattern
. I just cut out the pieces using paper instead of fabric. The only change I made was to add wings. The pattern didn't have wings and I thought my little owls needed some. I put the owls together using a glue stick, then mod
podged
them onto some contact paper. When they dried, I cut them out and they became peel & stick decals!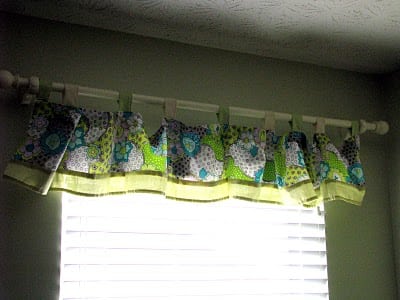 I had some fabric that I bought awhile ago. JUST ENOUGH to make a little valance. Barely.
I think it is looking really cute so far! And I haven't had to spend any money except for that piece of fabric that I bought a couple of months ago. Eventually I'd like to make her a blanket for her toddler bed, but since she is still in a crib, that can wait.