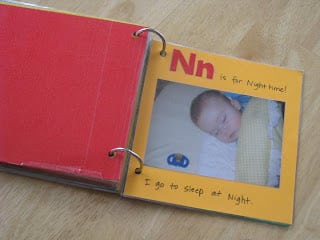 I made this little alphabet book when
Dallin
was around 2 years old. I filled it with pictures of him with different objects and in different places. Z was for "Zebra". I had a picture of him at the Sacramento Zoo. He still likes looking through the pictures and reading the book to Aaron. I thought that since he loved it so much, I'd make him another one. This time, using all lower case letters. He is still working on "q", "g", and a few other lowercase ones that look
similar
to
each other
. I filled it with superhero pictures. He helped me choose which ones to use and after
preschool
, he helped me laminate the book. It's small enough that he can take it in the car and browse it whenever he wants. I asked Aaron if he'd like a photo alphabet book of him and he said NO! I asked him several times and it was clear that he didn't want one.
Hmm
..I may make him one anyways, because knowing him, he'll freak out in a day or so wanting one. He did say he'd like another Elmo book that is laminated. He made one when he was 2. He said he'd do an Elmo alphabet one. Not sure what we'll come up with for that but we'll figure it out.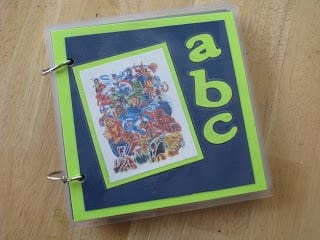 The hardest part was finding all of the characters! I did Queen
Amidala
for "Q", Young Avengers for "Y", and "X-Men" for "X".
Those
were the hardest ones. There are superheroes for every letter of the alphabet, but it was hard finding the ones that
Dallin
knew/recognized and that weren't bad guys. All of the ones in our book are the "good guys"! I used my cricut for the letters. I didn't have a cricut when I made Dallin's first book and cut out all of the letters by hand! So this saved a lot of time.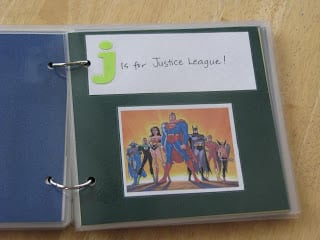 Justice League and
Optimus
Prime. We opted for Wildcat instead of Wonder Woman for "W" since she wasn't very modest, but then I noticed that she is there in the Justice League picture. Oh well. 😉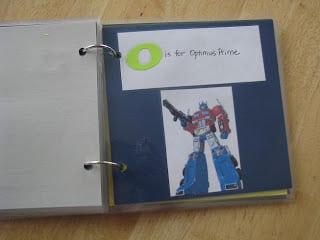 Since I had the laminator out, I also made ID cards for the kids. Dallin's preschool sent home a form for these a few months ago. They were $7 each! I wasn't going to pay that if I could do them at home. I'm just irritated with myself that it took me this long to get around to it! It's a great idea, especially with how often we are in public at parks, the library, grocery stores, etc. I am very cautious in public with them, but with three kids heaven forbid I got separated from one and didn't have a current photo of them with me. So I took a wallet sized photo, put it on card stock, then printed out all of their information on the computer. I also added a right-index fingerprint from the boys on the back of their cards, laminated them, and put them in my wallet. Peace of mind.