This post brought to you by
Dollar General
. All opinions are 100% mine.
Tis the season for colds, flu viruses….AND holiday gatherings! For the first time in 9 years, we are celebrating Thanksgiving with family. That's one of the down falls with always living at least 1500 miles from our closest relatives. Traveling during the holidays just doesn't always happen. It's expensive, hectic, NOT FUN with kids, and we've run into some nasty weather conditions traveling across country in the winter.  So this year we are excited to be closer to family. And with their visit just around the corner, I am already stocking up on the needed supplies. And that doesn't just include food for our holiday dinner.
We've had a nasty cold/cough go through our home. So far 4 out of 5 of of us have had it. I'd like to do my best not to pass it onto our cousins so I've been wiping down all hard surfaces, door knobs, etc. with Clorox®  wipes. And on the big day, they will definitely come in handy for spills on the counter, floor, and wiping down the tables before and after eating. Yep, I'm a fan of these babies and make sure to never run out.
It's not usually something you think about when it comes to preparing for the holidays. Usually it's menu planning, utensils, dinnerware, gifts, and other supplies. Cleaning isn't something usually associated, but is a necessary evil.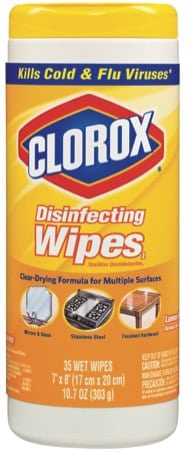 So be sure to stock up on your
Clorox® Holiday home prep
 at your local Dollar General store. Their prices are very affordable.