This post brought to you by White Cloud. All opinions are 100% mine.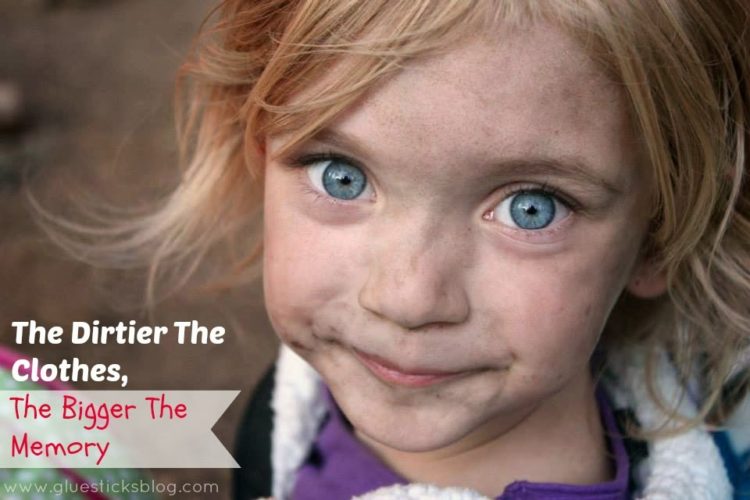 Isn't that the truth? The photo above was taken 24 hours into a camping trip last summer. We went to King's Canyon with cousins and had a great time. I don't think I've seen my children so dirty before. It began within minutes of getting out of the truck, and continued until they had baths 3 days later. They were so filthy, didn't have a care in the world, were electronic free all weekend, and created some pretty awesome memories. It was the first time the boys slept in their own tent and the first time the girls had a tea party in the woods. They can't wait to repeat the experience this year in Fort Bragg with friends. I don't like camping. It's a huge hassle and stressor for me, but it makes it worth it to see my children so happy and getting to be kids!

Each laugh, high five, photo, smile, and memory is  worth the mess that may have been involved to create it… usually 😉
Kids make messes, they get dirty, and they mess up their clothes. It happens every day and in every season.
We all know White Cloud for their diapers and training pants but they make so much more! Paper towels, facial tissue, toilet paper, and now a Laundry Care Product. White Cloud Laundry Care offers 3-in-1 Micro Clean Technology to gets out the toughest stains and comes in 3 scents: Blooming Lavender, Summer Breeze (My Favorite!), and Tropical Fiesta. It comes in both liquid and powder form to fit your needs.
White Cloud is known for their affordable and quality products, but to make them even more affordable when trying their Laundry Care for the first time they are offering a $2 off coupon through their Facebook page! Like White Cloud on Facebook to be given the opportunity to receive the coupon when you share via your favorite social media channel, and a $1 off coupon for those who simply wish to print and go.
What is your messiest memory with your children? I'm sure you can come up with one that tops ours!
Be sure to Follow White Cloud on Twitter and Follow White Cloud on Pinterest to stay up to date with their great line of products. Use the Store Locator to find a Walmart near you.
Coupon Details:
Limit one coupon per purchase on product specified. No cash back if coupon value is higher than purchase price. Void if reproduced, transferred, used to purchase products for resale or where prohibited/regulated by law. Not valid on trial sizes. Consumer pays sales tax. Redeemable at participating retail stores. Valid only in the U.S.