DIY pixel characters with Quixels! So much fun and hours of entertainment for kids. Make figures, magnets and more. This post contains affiliate links.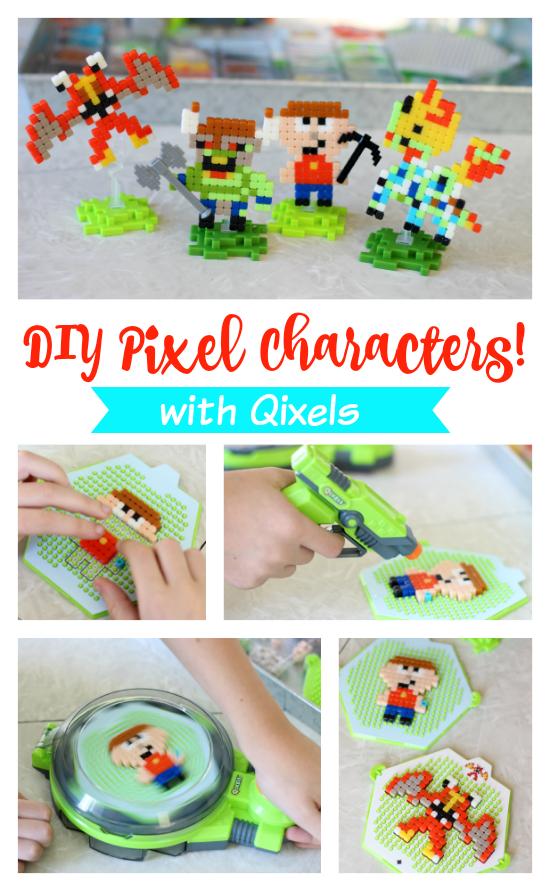 Do your children love pixel characters as much as mine do? Hours have been spent around our kitchen table creating a variety of fun characters that are bond with water! No ironing or heat source necessary. I love toys that inspire creativity!
I recently chaperoned a field trip where a couple of the boys were so wrapped up with conversations about a certain video game that they forgot anyone else was even in the car. They completely excluded the other boys who were sitting right next to them for the 60 minute drive. Let me tell you, that was a LONG drive of hearing about one video game! It reaffirmed my quest for a balance between screen time and playtime which can be hard since we live in such a digital age. All 3 of my older kids use laptops at school and are more computer savvy than I am!
My children enjoy playing a video game that has all sorts of pixel characters. They have fun making accessories and objects out of the blocks in the game so when I found Qixels I thought it would be a fun (and creative) extension of some of those elements!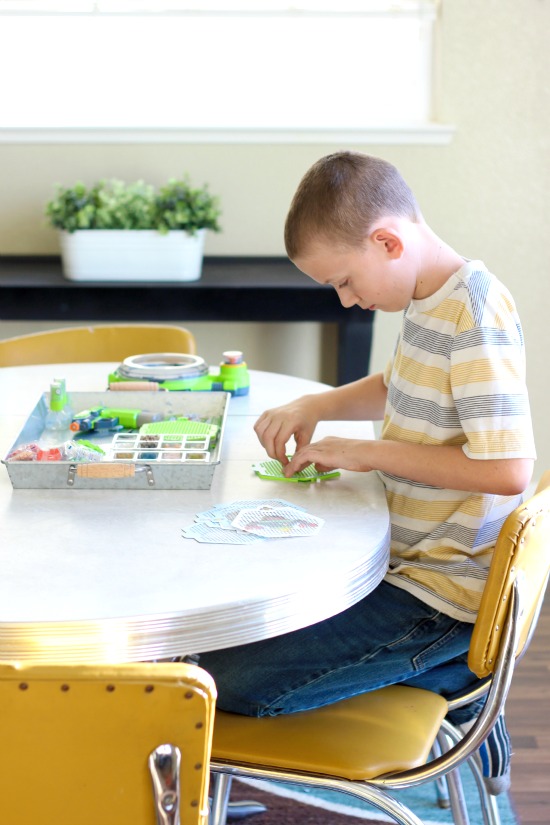 DIY Pixel Characters from Quixels are So Easy for Kids To Make
Aaron has especially enjoyed playing with his Qixels set. He saw the demo and began stalking the FedEx man until his own package arrived! Qixels encourages boys to step away from the screen and sparks their imagination to create an 8-bit world of monsters, warriors, ninjas and more.
Even though we started out with probably 1500 cubes, I can see that needing to purchase refills is definitely something that will be happening in the future.
More Creative Kits for Kids That You'll Definitely Want to Check Out!
DIY Finger Knitting Kit for Kids
Text Bracelets for Kids to Make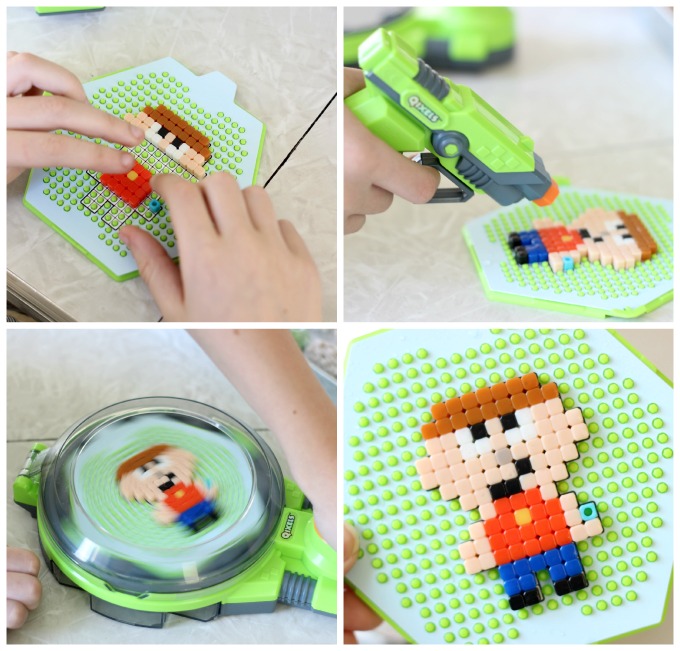 Unlike some of the other cube kits, the DIY pixel characters that you make using Qixels are held together with WATER!
No ironing or heat involved. They can be sprayed with a pump that comes with the main kit, or with a Fuse Blaster that comes in one of the extension kits. Of course, Aaron chose the Fuse Blaster. What boy wouldn't? The Turbo dryer speeds up drying time, but is completely optional as these will air dry on their own.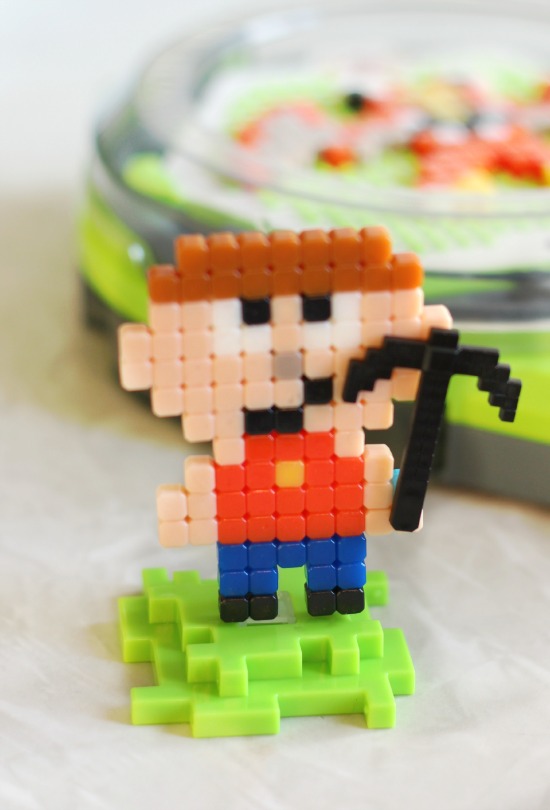 Once they are dry they can be attached to a stand!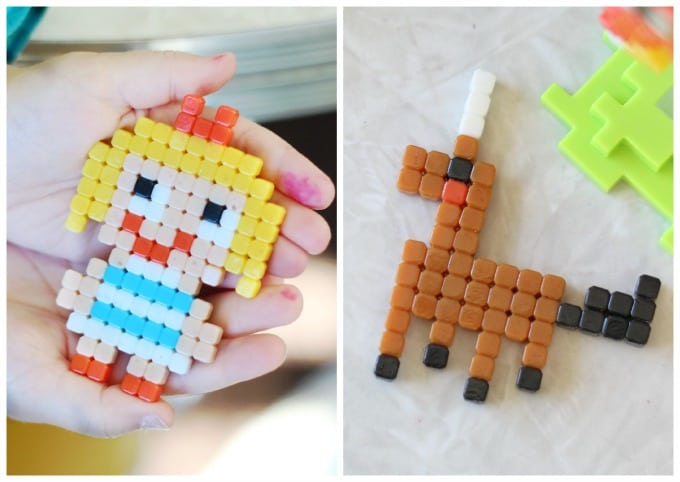 The kit comes with templates for ninjas, warriors, animals, and people, but you can create anything you'd like! Aaron even helped the girls make some original characters like Ruby's little princess and Kaylee's horse.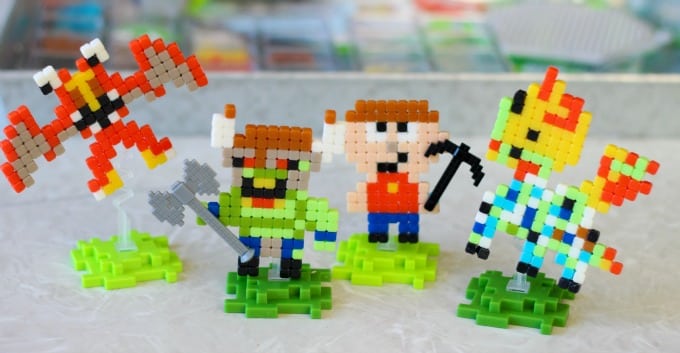 I think these are kind of adorable and don't mind that my kitchen table has been taken over with templates, cubes, water sprayers and about a dozen characters! I almost wish I hadn't let him break into this before Christmas since this would have made the perfect gift for him!
What are your favorite creative toys for kids?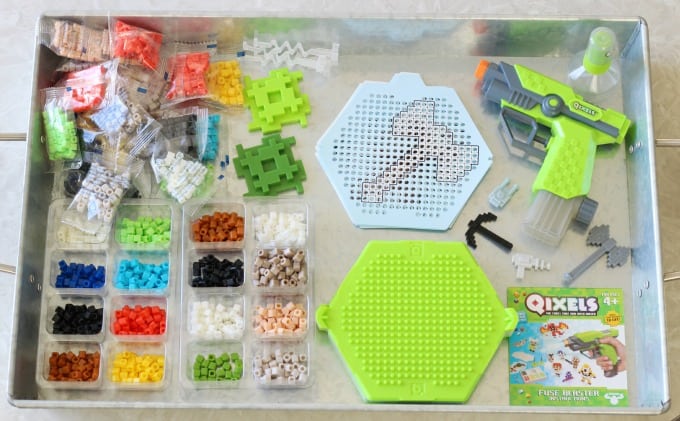 You can buy 1 kit, or all 3 for all of the elements we shared above.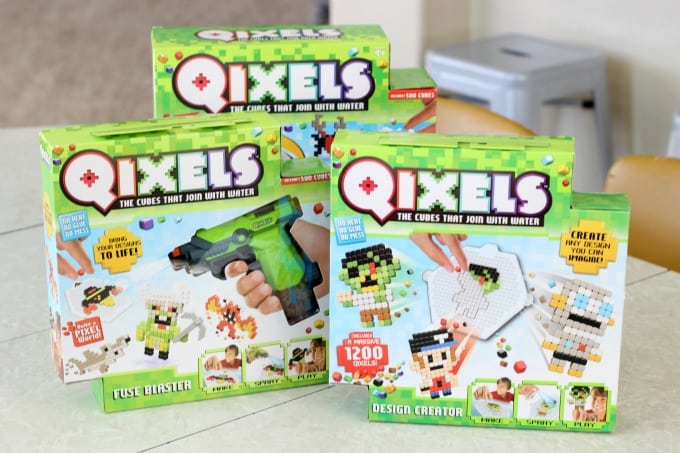 Here is what is included in each kit!
1200 x Cubes, with some that glow in the dark
8 x Design Templates
1 x Design Tray
1 x Storage Tray
1 x Water Sprayer
1 x Instruction Booklet
1 x Fuse Blaster
500 x Cubes
4 x Design Templates
2 x Design Trays
2 x Display Stands
2 x Display Bases
2 x Plug In Accessories
1 x Bag Tag & Thread
1 x Instruction Booklet
1 x Turbo Dryer
500 x Cubes
4 x Design Templates
2 x Design Trays
2 x Display Stands
2 x Display Bases
2 x Plug In Accessories
1 x Bag Tag & Thread
1 x Water Sprayer
1 x Instruction Booklet
I was selected for this opportunity as a member of Clever Girls and the content and opinions expressed here are all my own.