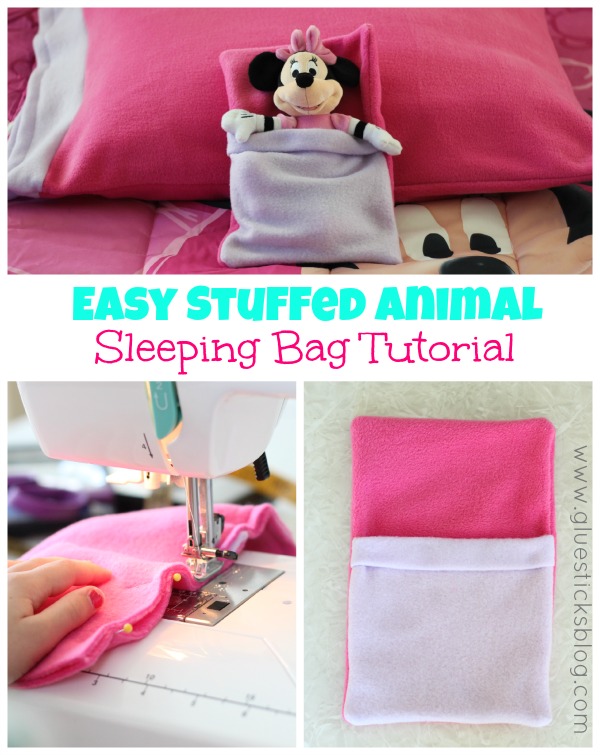 These little stuffed animal sleeping bags take about 10 minutes to make and are so much fun. Ruby never lets Minnie go to sleep without being tucked in. Each sleeping bag is made from scraps. So buy a yard of fleece and make your child a 3 step fleece pillowcase with a matching stuffed animal sleeping bag and you'll have the perfect birthday or Christmas gift for any child! I made pillowcases for my nieces and nephews last year and they loved them. Fleece is so soft and cozy, why wouldn't a stuffed animal enjoy it too?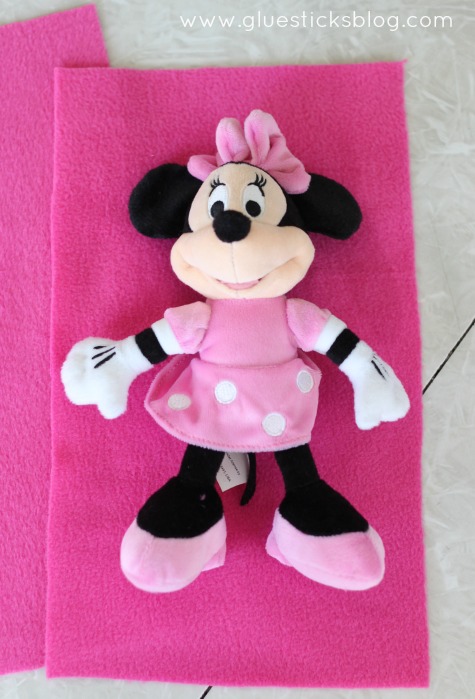 The size of the sleeping bag will depend on the size of your stuffed animal. You can see how I sized mine by laying Minnie on top of the fabric. I left about 2″ on top and bottom as well as on the sides. I didn't take into account her arms since they would be sticking out of the bag.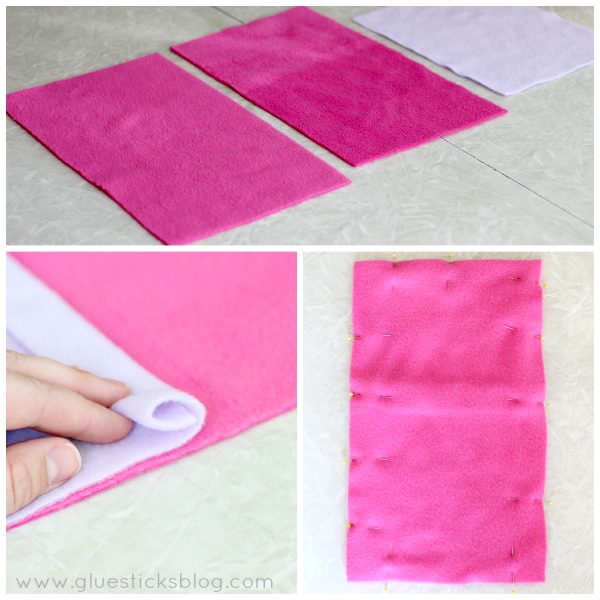 1. Cut 3 pieces of fleece. Two the same size, and the third 3″ shorter than the other two.  In the photo above the pink were the same size and the lavender was 3″ shorter (but same size in width).
2. Lay one of the longer pieces on your work surface, right side up. Place your shorter piece on top, matching edges. Fold shorter piece over 1″. Fold over again. Pin. This makes it look like the sleeping bag is rolled down a bit.
3. Lay the 2nd longer piece of fleece on top, sandwiching the lavender one inside. Pin all the way around.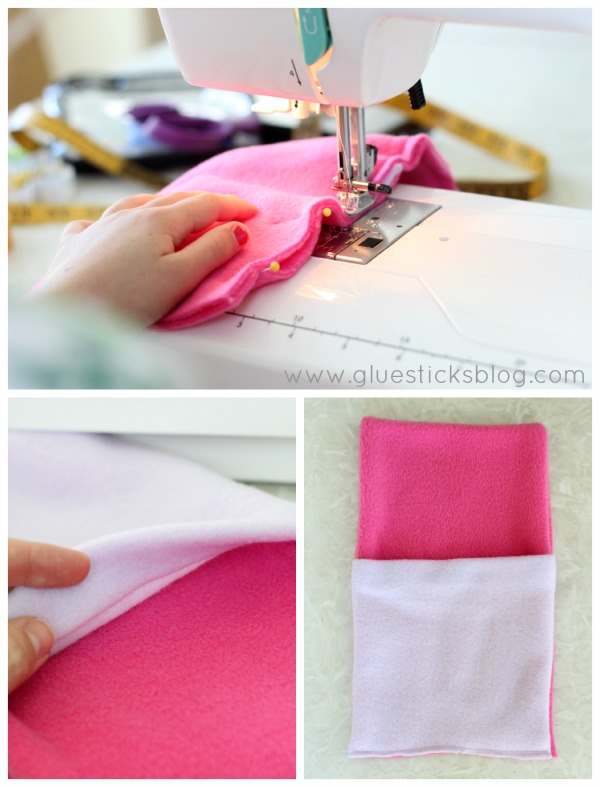 4. Sew sides and top, leaving bottom edge completely open. Trim corners.
5. Turn right side out. Make sure that the fold you made on the shorter (lavender) fabric is facing down (bottom-left photo above). It should look smooth on the outside.
6. This is better illustrated in the bottom-right photo above. Then sew bottom closed.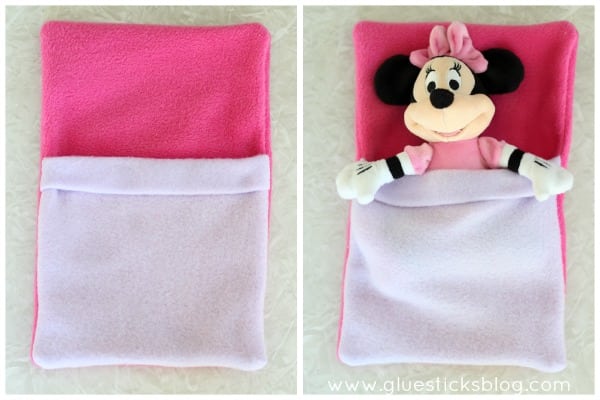 7. Now turn right side out one more time and your folded edge will now be on the outside. No raw edges or top stitching. The sleeping bag is completely enclosed with clean edges.
8. Add a special friend and you are done!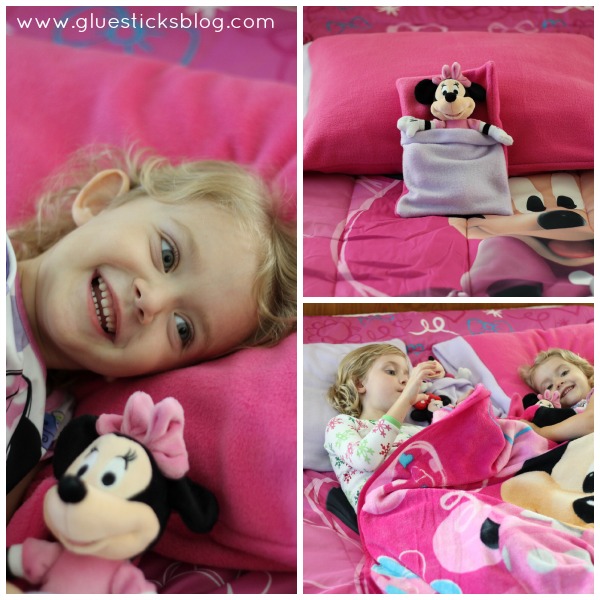 I love the comfort that a small stuffed friend can bring to a child. Children are so sweet.
Now make a matching pillowcase and you have the perfect gift for any child!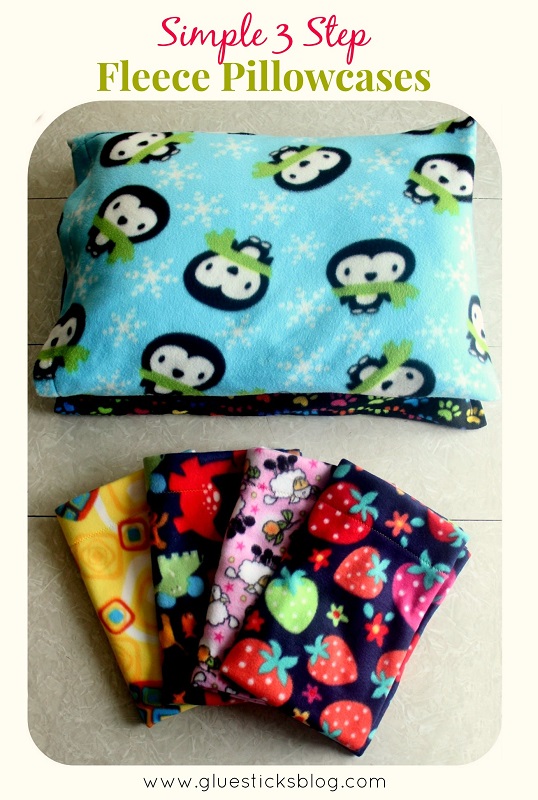 Simple 3 Step Fleece Pillowcase