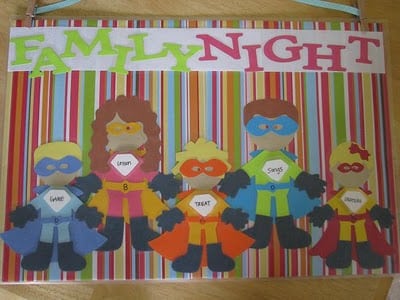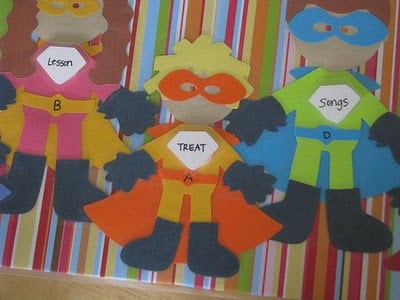 I had fun making this Family Home Evening this afternoon. Aaron helped me and made his own little super-hero to play with at the same time.
Dallin
came upstairs and got into the action too. I decided to do something different than the typical vinyl letter/board with nail pegs on it (NOT that there is anything wrong with that one! I just wanted something different…and free! 🙂
I cut out the super-heroes with my
Cricut
. I glued them onto a piece of thin cardboard that was covered with scrapbook paper. Then I added the letters, covered everything with contact paper, and attached
velcro
tabs on the chest of each figure. The badges/logos are laminated and have
velcro
on the back to attach to the chest. Each week, the badges rotate! The kids loved it, and I like Aaron's crazy hair,
lol
. I used the Raggedy Ann hair cutout for that one.