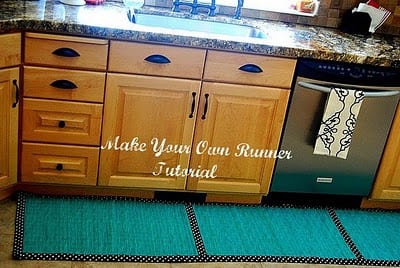 (photo above from Tatertots and Jello)
Jen, from
Tatertots
and Jello, shared this adorable floor runner on
Somewhat Simple
recently. I LOVED it and the colors matched my kitchen perfectly with all the accessories that I made in my no cost
kitchen makeover
!
But there was a problem….the entire thing is HOT GLUED together! It looks cute and would probably work in many homes, but not mine. With it being right there at the sink and washer, dirty dishes would drip across it and it would need to be washed. And it was made from ribbon which wouldn't hold up in the wash since I wash my kitchen rugs every couple of weeks or so. So her tutorial wouldn't work for me, but I still wanted one!
Derrick helped me come up with a design and I went to
Joanns
to get fabric. I chose a heavy duty corduroy for the base and some home decorating fabric, which is heavy as well, for the border. The rugs were from
Walmart
. I spent about $20 on everything.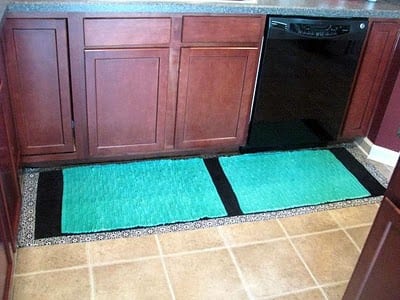 I
prewashed
the rugs and fabric before sewing. The length of the space is 2 1/3 yards so I bought a little less than that so that I would have room to add a border. I cut it up the center, flipped it so that right sides were facing
each other
and sewed the border on the longer ends (which is 4″ wide and folded in half to make it thicker and 2″) in between the layers. Then I turned it right side out and sewed the borders on the shorter ends.
That was probably confusing, but I'm not that great at giving directions. Basically, I made a long table runner out of durable fabric….there.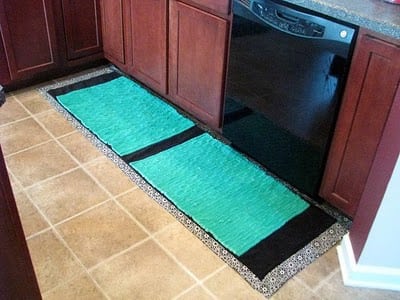 I simply plopped down the rugs on top of that. It's been in the kitchen for almost a week now and is working out great.
And the best part??? When it gets dirty, I can simply take the rugs and throw them in the wash and then wash the runner as well. Everything is machine washable. It doesn't look as put together as Jen's, but it works for my kitchen, so I'm happy!