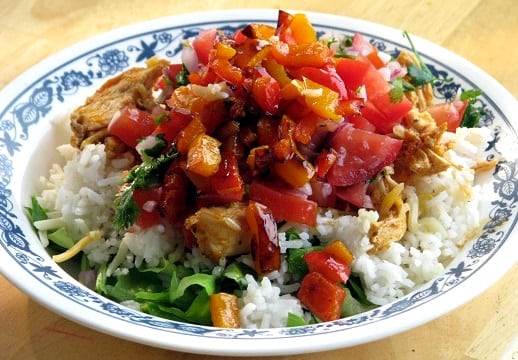 I love fresh Mex. I could eat it every single day. I love that you can switch it up so many ways and it is always amazing. Fresh ingredients, fresh flavors, and a bit of heat. And it is so inexpensive. I love Chipotle, but can't afford to eat there as often as I would like, and honestly I can make the same thing without leaving my home!
We like making Mexican bowls. Filling and healthy especially when you skip out on the tortilla and pile it all into a bowl.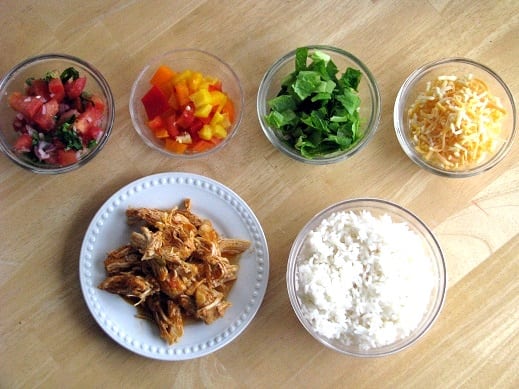 Pico de Gallo makes everything taste like Fresh Mex. I made this with cilantro from our garden! Too bad the cilantro will be done for the season by the time the tomatoes and onions are ready. Oh well. I'll have to plan better next year. Usually, we add black beans to the mix as well and sometimes frozen corn. Guacamole is always good, but I used what I had on hand tonight. It doesn't matter what combo we use, it always tastes awesome:
Pico de Gallo
boston lettuce
diced bell peppers*
Mexican shredded cheese
Mexican shredded chicken**
steamed rice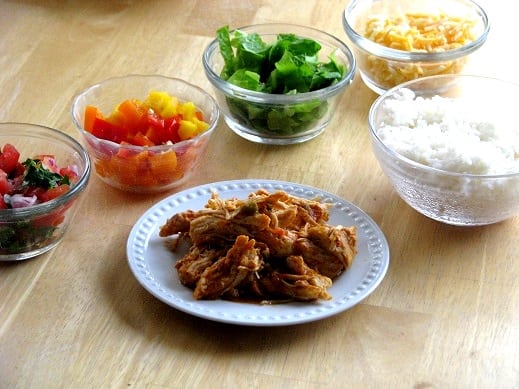 I start with a bed of lettuce, add the rice and chicken, then top with everything else.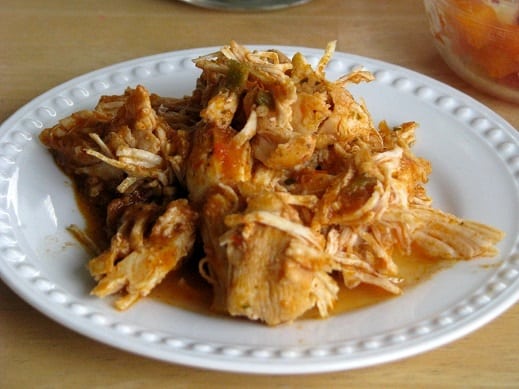 *Bell Peppers:
I wasn't ever a fan of onions or bell peppers until I was an adult. Now I love them! Especially sauteed. I chop up a bunch and add them to a skillet with 1 T. olive oil and saute until golden on the edges.
**Mexican Chicken
I've made chicken like this in the crock pot, but it can easily be done on the stove while the rice cooks as well.  I make a packet of McCormick's Baja Lime marinade (including the oil and water that it calls for) and add 2 T. lemon juice + 3/4 c. salsa + another 2/3 c. water and pour it over 3 chicken breasts in a skillet. I bring it to a boil, cover it with a lid and let it simmer on low-med heat for 25 minutes. It finishes up right after the rice is done cooking! Then I shred it up and add the chicken back to the sauce for serving.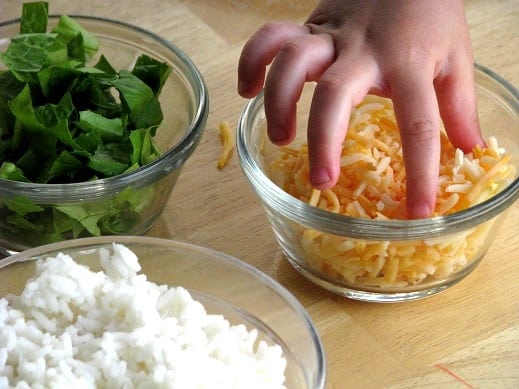 Kaylee loves cheese 🙂
It's the perfect meal for eating out on the patio during the summer and takes about 30 minutes to make so it doesn't heat up my kitchen too much. Bonus!