I love butter cookies. Usually they are made around Christmas time, but I like coloring them to match different seasons. I made a triple batch of orange ones and Kaylee and Aaron helped me add sprinkles before baking. I like a lot of flavoring in my cookies, so these are a mixture of butter, almond, and vanilla flavorings…yum! Recipe at the end of the post!
I made a bunch of treat boxes as gifts for teachers, visiting teachers, bus driver, etc. They were easy to put together, just a little time consuming. I may have made way more cookies than I needed, but the kids didn't seem to mind.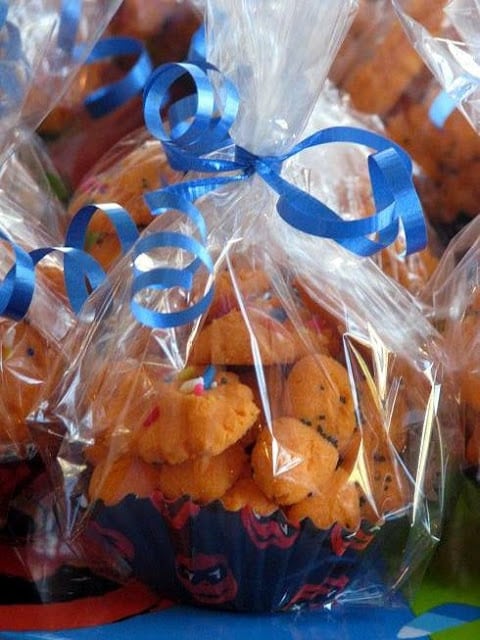 I had just enough pumpkin cupcake liners in the cupboard which helped hold the cookies in place while I wrapped them with cellophane.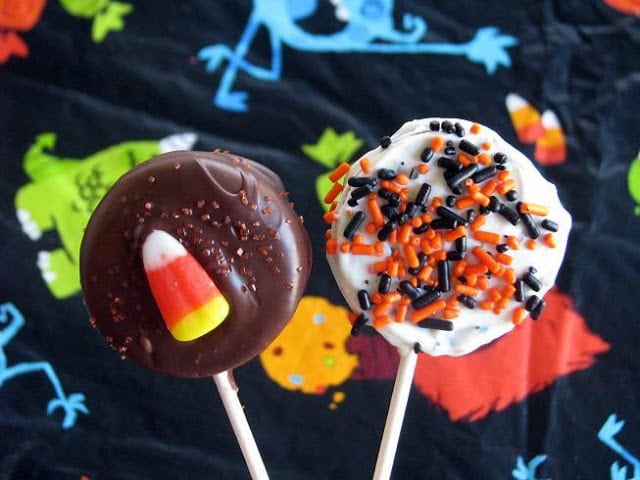 Oreo pops!  I used double stuffed oreos so that I could just slide the stick in. I got the stick wet first, then slid it in between the layers, dipped in melting chocolate, and placed on waxed paper. I wasn't always able to get a clean dip in the chocolate. I had to use a butter knife to spread the chocolate around on most of the pops (my melting chocolate was being tempermental today),but they were still quick and easy to make. Then I added sprinkles.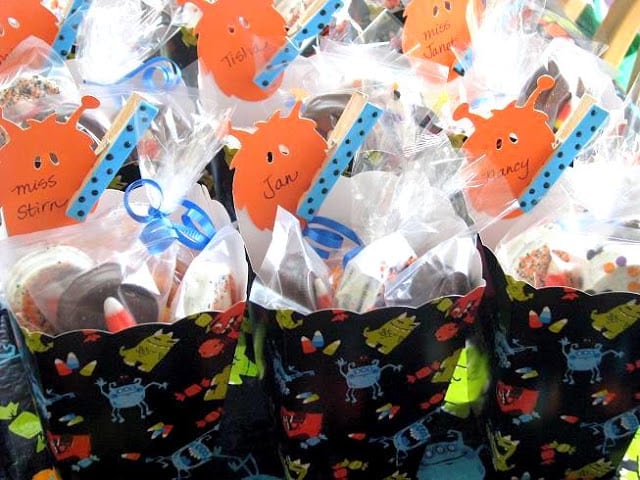 I used the cricut paper doll cartridge to cut out little monsters for tags, and made some decorative clothes pins (applied mod podge, then scrapbooking paper, then another layer of mod podge….then added dots with puffy paint).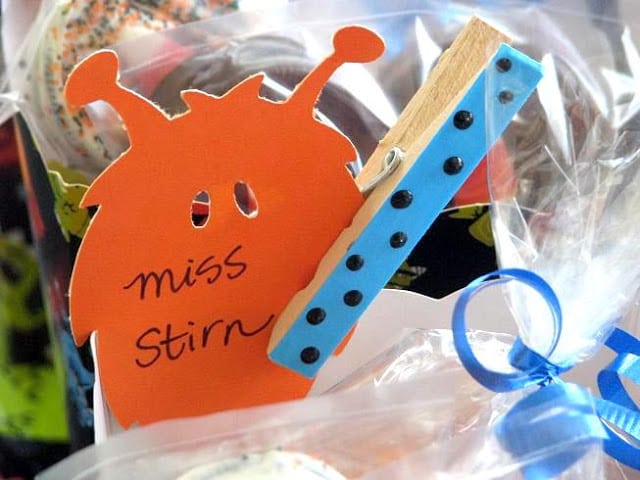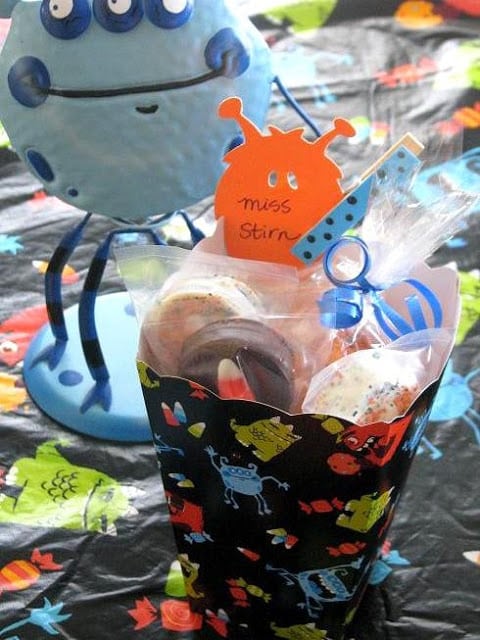 Spritz Butter Cookies
1 cup butter, softened (or butter flavored crisco..NOT margarine)
1/2 cup sugar
2 1/2 cups flour
1 egg
2 tsp. vanilla
2 tsp. butter flavoring
2 tsp. almond extract
Cream butter and sugar. Add egg and flavorings. If you want to color your dough, you can add the coloring now as well. I like Wilton's concentrated paste because it doesn't water down the recipe.
 If you are using salted butter, you don't need to add salt in your recipe. If you are using unsalted, add 1/4 tsp.
Add flour (and salt if needed) to butter/sugar and mix until dough forms.
Drop onto ungreased cookie sheet using a cookie press. Add sprinkles. Bake @ 400 degrees for 7 minutes.
Store in air tight container. These cookies freeze really well.
Yield: 4-5 dozen cookies.
The first time I made pressed cookies, I vowed I would never do it again. They were a nightmare, but I've worked with the consistency of the dough and sometimes find that if I refrigerate the dough in between batches for 5 minutes or so that it helps hold it together and form the cookies better. If the dough is warm they turn to mush coming out of the press. Slightly chilled or almost room temp is best.  I make them a couple of times a year now and have had great results. So even if you have a less than perfect cookie press like me, you can still get some good cookies from it 🙂