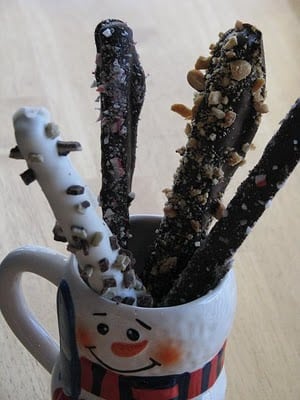 We make chocolate pretzels year-round, but are more creative at Christmas! My man has some major skills 🙂 He made all of these for his co-workers. Tons of variations as well as
English Toffee
. I made
chocolate covered marshmallows
(again), baked cakes for Aaron's birthday and made
buttercream
icing and marshmallow fondant. There is always one day a year that is spent crazily baking treats for Christmas and today was that day!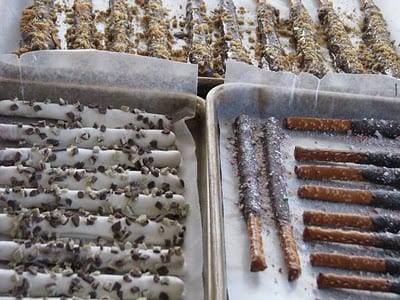 For your viewing pleasure there are white chocolate/Andes mints, chocolate/peppermint
candy cane
, chocolate/wintergreen
candy cane
, chocolate dipped peanut butter pretzels, chocolate/Andes mints/white chocolate drizzled, and chocolate with white chocolate drizzled
pretzels
. YUM.
To make your own you will need:
Pretzels (any shape)
Chocolate or white chocolate. Melting bars or chips work well. (You can get a block of
Ghiradelli
chocolate at Sam's Club and the chips at any craft store.)
toppings (optional)
waxed paper
Melt your chocolate in a 2 c. glass measuring cup for small
pretzel
rods or mini
pretzels
. For the large rods, a plastic cup works well. Microwave 30 seconds at a time, stirring after each interval until melted. Dip pretzels, tap to get rid of excess chocolate and place on a cookie sheet covered in waxed paper. Sprinkle with toppings (sprinkles, nuts, candies), drizzle with a different kind of chocolate or leave plain!
For peanut butter pretzels: coat pretzel rod with a coat of peanut butter using a butter knife. Dip in chocolate and place on waxed paper. These are
SOO
good!