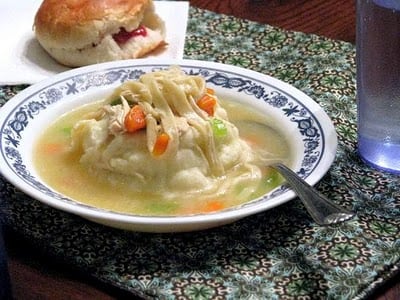 Wait! Don't hit the back button yet. This is definitely a "don't knock it til' you've tried it" dish. When I first heard of this I thought it was a little odd. I hadn't ever heard of noodles with potatoes growing up in California. I mean, that just seemed like way too much starch in one dish. But they serve this all over the place here in Ohio. So now I wonder is it an Ohio thing, a Mid-West thing, or an Amish thing? Whatever it is, it is the best comfort meal around. Seriously. We've seen it at Amish Restaurants and Bob Evan's.
Here is how I make it:
Homemade Noodles
(this is a half recipe from Betty Crocker…plenty to serve 4)
1 c. flour
1/4 tsp. salt
1 egg
2 T. water
1 1/2 tsp. oil
Mix flour and salt in medium bowl. Make a well in the center of flour mixture. Add egg, water, and oil to well; mix thoroughly. If dough is too dry, add a little more water. Gather dough into a ball. Knead 5-10 min. until smooth and elastic. Cover with plastic wrap and let stand 15 minutes.
Divide dough into 2 portions. Roll out to 1/8-1/4″ thick. Cut into strips with a pizza cutter and dry on a rack (baking rack) for 30 minutes.
While noodles are drying:
Boil 2 chicken breasts in a medium pot. Shred.
Add 1 chopped carrot, 1 stalk celery, and 1/3 c. chopped onions to 1 T oil in a large heated pot. Saute until onions are clear. Add 8 cups of chicken broth, 1/2 tsp. poultry seasoning, and bring to a boil. Boil 5 minutes. Add noodles and boil another 5 minutes, or until noodles are firm but tender (they will be floating). Add shredded chicken. Remove pot from heat.
In small bowl combine 1/4 c. corn starch and 1/4 c. water. Stir into soup to thicken. You can add more 1 T at a time of both cornstarch and water if you want to thicken it more.
Serve over mashed potatoes (whatever kind you like. I make my own).
Oh, and if you want to add even more starch to an overly-starchy dish…serve with
French Bread Rolls 🙂
Serves 4