How Does Santa Get Into Homes Without a Chimney?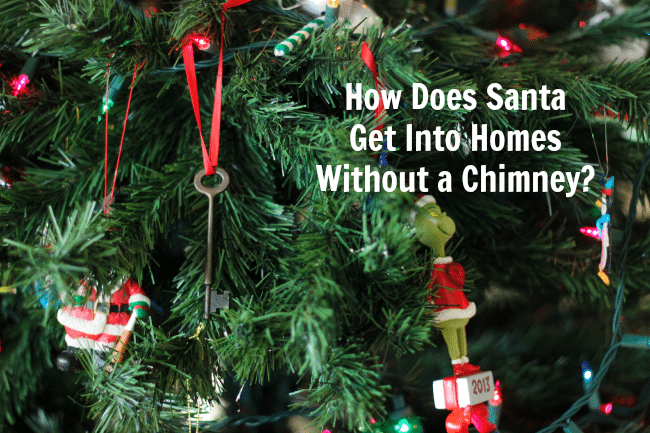 That is the question that I had as a child and one that many children have today! Only one of the homes we've lived in has had a fireplace. I love fireplaces because they had such charm to a home, but when we were deciding what options/features to have built into our new home here in California we decided to fore-go the fireplace. We live in an area that gets to freezing temps, maybe one week out of the year so it just didn't make sense to have one. The one draw back is that I really miss having a mantel and the whole "Santa coming down the chimney" concept.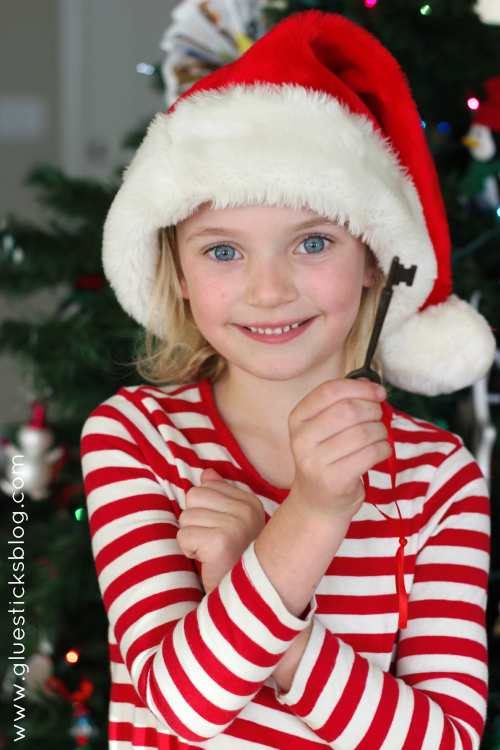 When our oldest was old enough to start getting into Santa I found a little key ornament. A magic key that only Santa could use. In theory, you hang the key on the front door on Christmas Eve and Santa would use it to open the front door. I can vouch for the magical properties of the key because even on the years that we forget to hang it on the front door, he still visits and bring presents. That Santa is a sly guy, I tell ya!
Trulia had the same question and to celebrate the festive season, they scoured real estate listings for mentions of fireplaces and chimneys to see just how many Santa-friendly homes are across the country. While fireplaces are a common amenity, Trulia research shows that many new homes lack chimneys for Santa to climb down.
So if your home doesn't have a chimney, how do your kids think Santa gets the presents under the tree?! Trulia wants to know!
We created a video sharing how we think Santa comes into our home:
So what do you think? Does he pop through an instant fireplace like in the movie "The Santa Clause"?, Does he just walk through the front door or does he just instantly appear?
Create a video to share and you will automatically be enter to win $500 for the holidays!
Here's how to enter:
Create a video asking your children "How does Santa get into homes without a chimney?"
Submit the video to Trulia on twitter by sending it out in a tweet and tagging @Trulia & #NoChimneyNoProblem
10 winners will be chosen and a matching donation of $5,000 will be presented to Toys for Tots.
Contest ends December 8, 2014. contest rules and details
Whether you're curbside at a listing or searching online from home, Trulia simplifies the home search process by delivering block-by-block insights on the area along with detailed photos and features of the home.
Trulia's website and mobile apps provide helpful content and advice on a wide range of topics including selling, buying, and renting to give consumers the confidence they need to make life changing decisions. With up-to-date listing data to useful tools and expert content, Trulia makes finding a home so easy!
<