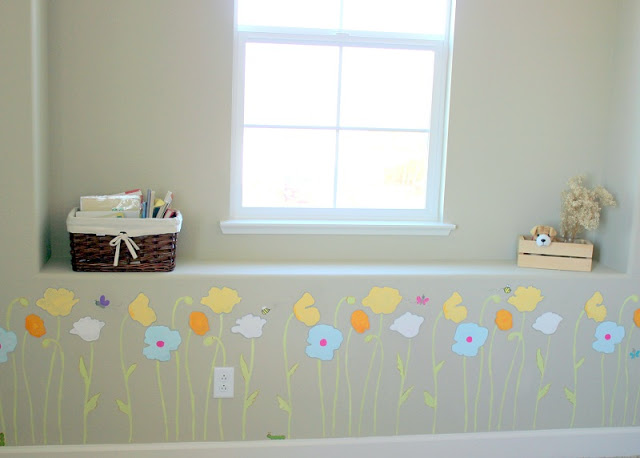 Kaylee just loves flowers. We had to put a child lock door knob on our previous home because she would go outside and pick the flowers in our front yard on a daily basis. It wasn't enough to lock the door and head upstairs to take a shower. More than once I would come down and find her outside singing and skipping as she picked clovers in the lawn or spring flowers from the beds. We always have bouquets of fresh dandelions and clover in little vases in the house. So it just seemed appropriate to incorporate her love of bright colors and beautiful scents into her new bedroom.
The first stage of her room is finished. Next I am going to make some window treatments and wall decor. Maybe a bunting to go across the wall or something in coordinating colors. That will be shared in a future post, so stay tuned!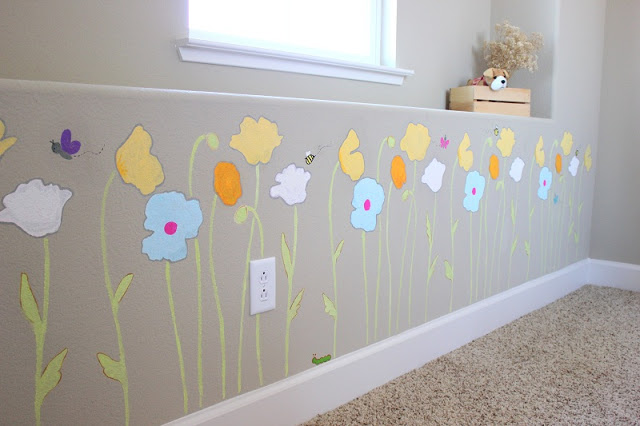 Today it is about the main focal point, her flower wall. And it isn't the typical "I painted these, they were easy and I loved how they turned out" kind of story, ha!
I found the
Poppy Field
 stencil from Cutting Edge Stencils and loved it.
It was the perfect height to put under her window ledge. The stencil was perfect. Great quality, fairly simple to apply. I used painters tape to tape down the edges, but I think if I ever did a stencil again I'd use some spray adhesive to make it even easier. This was my first time doing a stencil so if it turned out for me, anyone can do it. Seriously!
I started the flowers and ended up switching the color scheme midway and re-doing the first flowers. I just didn't care for the colors that I originally chose once it was on the wall. Then I took a step back and hated it. Gah! The stencil was fine, it went on like it should have, but  it was just not how I visioned the final product to be in my mind….which happens often with projects.
 At that point I decided to clean up, go to bed, and take another look in the morning. Sometimes I just have to do that. Even with a project that turned out perfect, it oftentimes looks even better in the morning. Kaylee saw it before she went to bed and said, "Ooooo I love it! I really do! But I would like some bumble bees on there too." Hmm… my main concern was that it didn't have enough details. Adding a few little insects might work!
So the next day I went back and free handed some bumble bees, butterflies, and two tiny caterpillars. I added some detail work to the flowers, outlined them in a contrasting color, and painted over some of the leaves so that it didn't look too busy after the addition of the insects.
I'll let you guys be the judge, what do you think?
Kaylee loves it, I am happy with it and it is as close to what I had envisioned in my mind before starting. It's bright and cheerful, clean lines, and perfect for the little girls in our home.