Every little princess needs a sparkly dress and carriage. How to make a princess dress and tiara for dress up or Halloween. A beautiful puffy dress with lots of sparkles and NO zippers or buttons!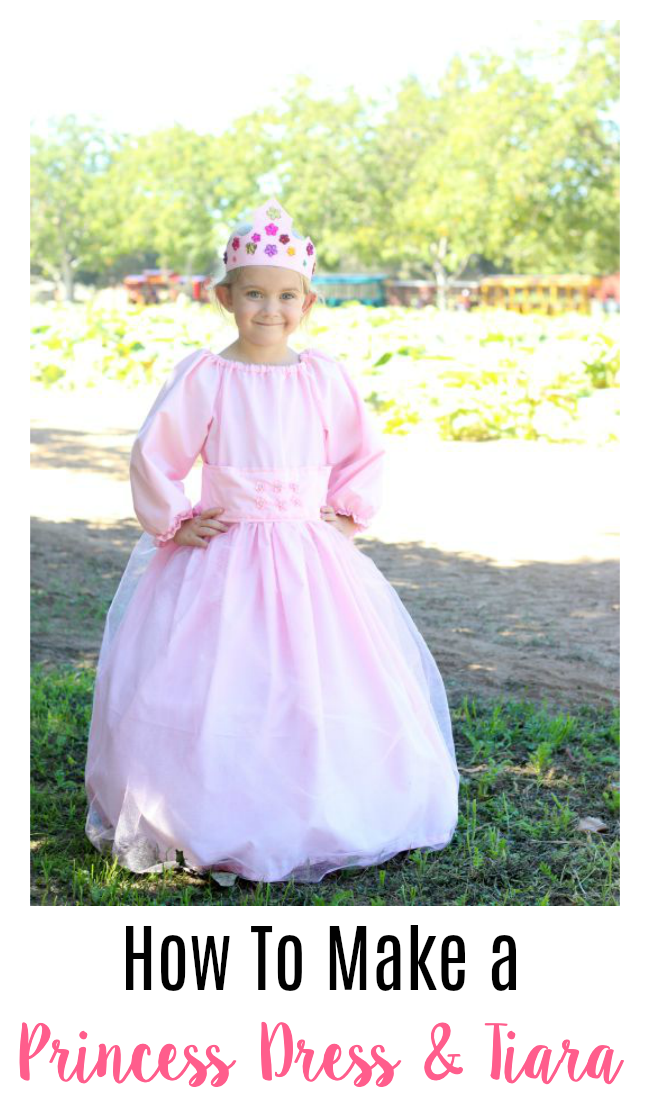 Ruby has known what she wants to be for Halloween for about 10 months now. Are your kids like that too? Halloween ends, Christmas comes and goes, and it's back to thinking about Halloween again. She wanted to be Glinda from the Wizard of Oz because, well, the DRESS! We came up with our own little spin off dress that is easy to pull over her head and made from cotton, elastic, and a bit of sparkle.
More homemade costume ideas:
Quick and Easy DIY Halloween Costumes for Kids
How to Make a Princess Dress and Tiara for Dress Up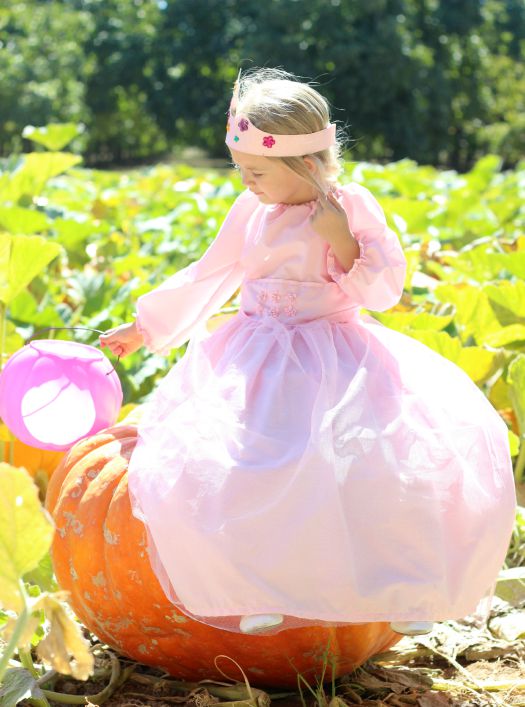 Princess Costume Dress
I started with a modified peasant top with long sleeves (cotton as the bodice lining, and sparkly tulle for the outer). The sleeves are cotton. You can purchase the pattern from  Whimsy Couture.
Here are the modifications to turn the simple peasant dress into a princess dress.
Step 1: Make two separate skirts, one from sparkly tulle and one from cotton and attached them to the bodice, each using about 2 yards of fabric (similar to this tutorial here).
Step 2: Create a cotton waist band that wraps around the back with velcro to bring in the waist.
Step 3: Purchase a hoop skirt for extra fullness.
I love the simplicity of this princess dress. No buttons, collars or zippers and the elastic neckline makes it a simple pull on style dress that is easy to get on and off.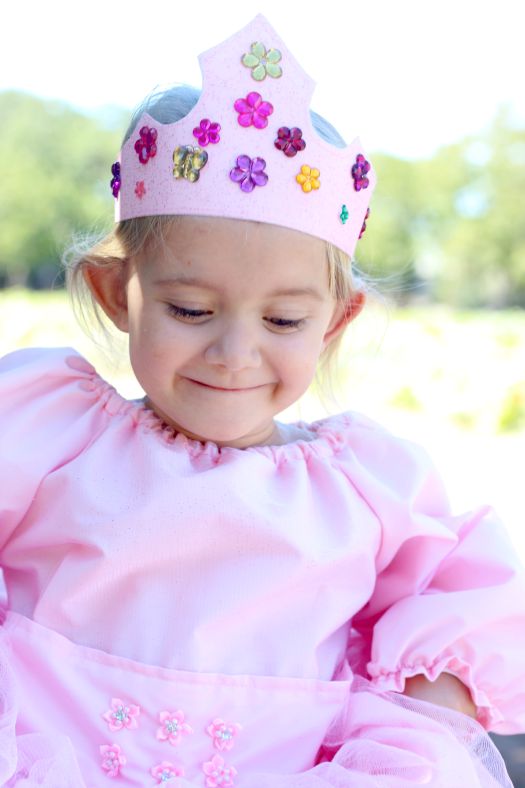 I wanted Ruby to help customize her costume so we decided to make a sparkly tiara that she could decorate.
Princess Costume Sparkly Tiara
Poster board
spray ahdesive
fabric
gems
craft glue
sticky back Velcro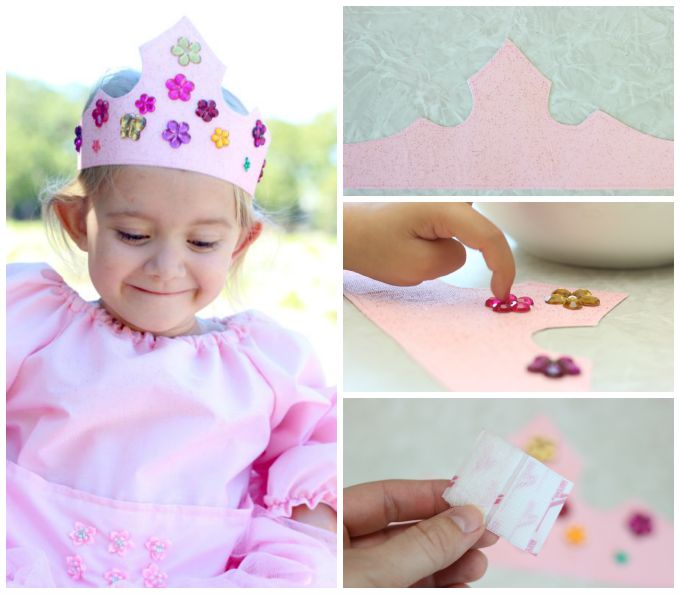 Step 1: Use this
free template
and traced it onto poster board and cut it out.
Step 2: Spray it with spray adhesive and add a layer of pink fabric and trimmed it to the size of the poster board.
Note: You can leave it just like that, but for added stability top stitched 1/8″ around the edge on your sewing machine. Yes, you can sew on poster board!
Step 3: Accessorize it with gems and add some sticky back velcro for closure. So easy and so cute!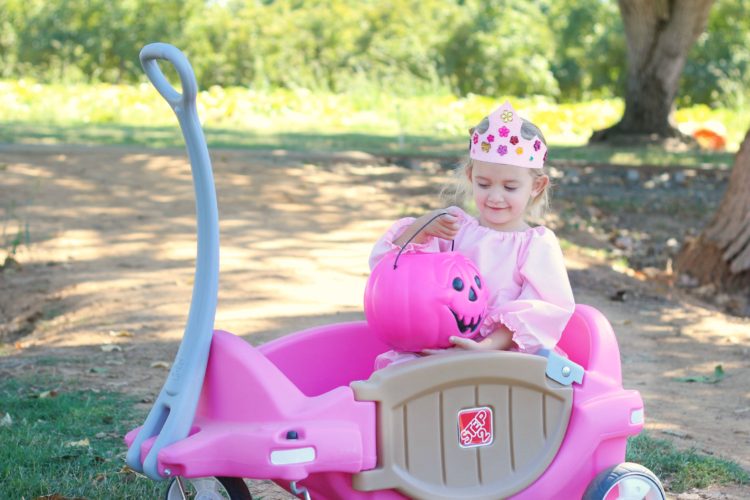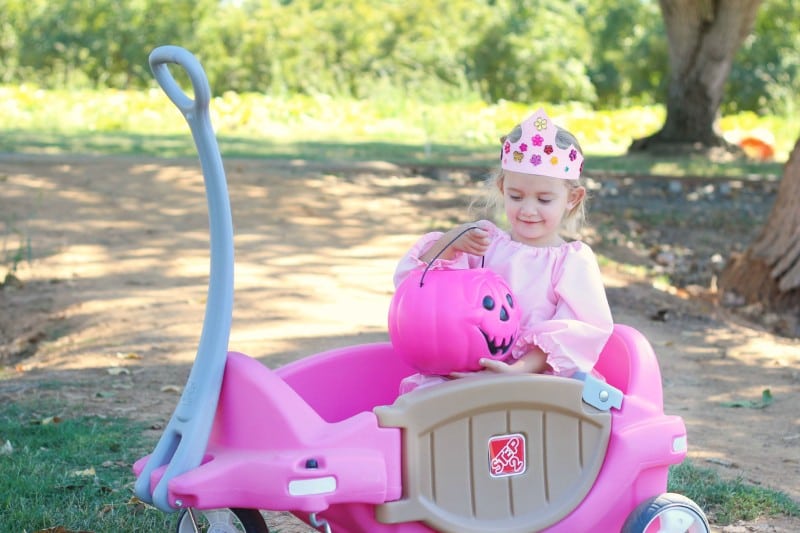 Every princess (or knight) needs a mode of transportation. Whether it is a carriage or horse drawn wagon, this little Easygoing Wagon from Step2 fits the bill.