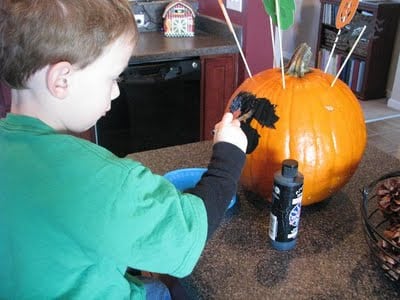 Aaron does preschool at home so we decided to do a preschool Halloween party for him over here with all of his little friends from his church class. He was so excited for it and sat at the kitchen table 30 minutes prior and waited….and waited! Every 2 minutes he'd ask me how much longer and ask why I planned the party SO LATE! 🙂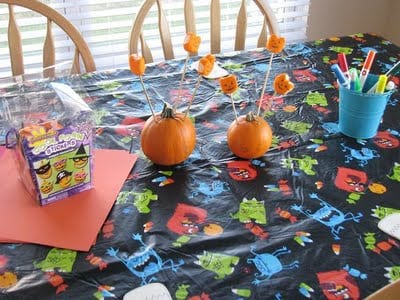 Arts and crafts as well as some pumpkin peeps centerpieces.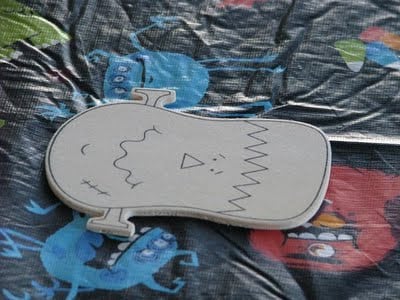 Wooden monster magnets to color. I got these on sale at Joanns for .12 each and added a little magnet to the back of each one. Aaron colored 3 of these and was sad that I didn't have any more extras after the party!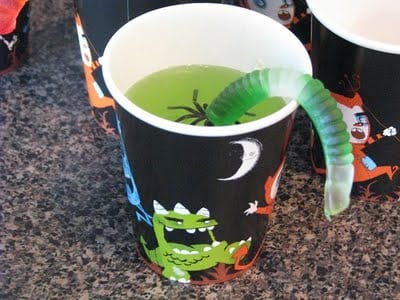 Green monster juice. Strawberry/kiwi Hawaiian punch with spiders and a gummy worm. The kids liked finding the spiders. At one point, almost every child at the table had their hand in their cup, picking out their spider.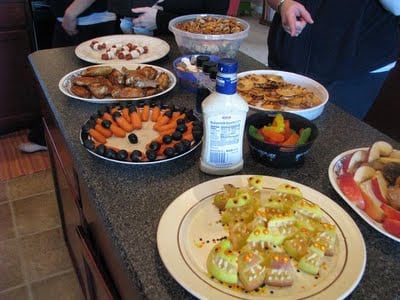 The spread. I provided
hot dogs
and chicken wings. Everyone else brought the cutest Halloween snacks! We had Ritz spiders, donut holes & apple slices, monster apples, witches fingers (2 varieties), Halloween snack mix (pretzels,
Chex
, raisins,
Reese's
Pieces, chocolate peanuts, and candy corn) and lots of
Halloween
candy corn/marshmallows.