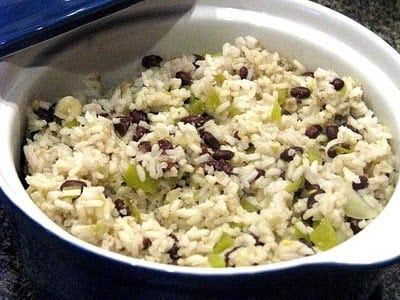 Most recipes that I use have been copied from others, or are recipes that friends and family have shared with me. This one is MINE! Super easy and healthy.
I serve it with chicken or grilled fish.
1 c. rice, uncooked
2 c. water
1 tsp. kosher salt
Place rice, water and salt into a pan. Bring to a boil then reduce heat to low. Cook 18-20 minutes until all of the water has evaporated. Fluff rice with a fork.
1/3 c. chopped onion
3 garlic cloves, minced
1 T. olive oil
1 15.5 oz. can black beans, rinsed and drained
1 small can mild green chiles, chopped
cilantro
In a separate pan, saute onion and garlic in oil until onion is clear. Add beans and heat through. Add rice and stir in green chiles.
Right before serving, add fresh chopped cilantro.
Serves 6 (1/2 c. servings)
Flavorful, easy, low fat…enjoy!

Sharing this recipe at All The Small Stuff