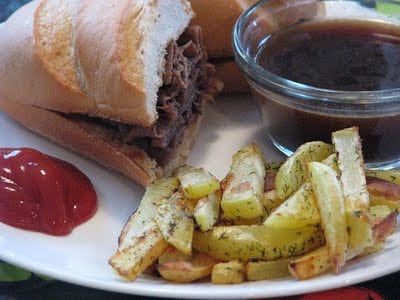 French fries with no oil?! Yep! And they are soooo good! We have these weekly. Baking times vary as ovens vary, but I'll share what works for us.
Potatoes (red, yellow or russet)
Non-stick cooking spray, butter flavored (it is fat free!)
salt
garlic powder
dill weed
Peel and cut up potatoes to wedges or fries. Place on a baking sheet that has been sprayed with non-stick cooking spray. Spray the tops of the potatoes and sprinkle lightly with salt, and liberally with garlic powder and dill weed.
Bake @ 375 degrees for 15 minutes or until the bottoms of the potatoes start to brown. Flip fries and spray with cooking spray one more time. Bake another 10 minutes or until the fries are soft when poked with a fork. Place on top rack and set oven to BROIL. Broil 3 minutes, watching closely to make sure they don't burn, until they are golden brown!
These are wonderful and have lots of flavor and better yet—they aren't fried! Enjoy!