On vacation, but thought I would schedule a recipe or two to post while I am gone. I always have so many to share and stored in my draft section on my blog. Enjoy!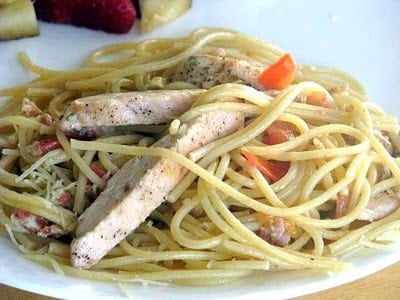 YUM. This was delicious! I used milk instead of cream, but followed everything else from the recipe.
3 boneless, skinless chicken breasts
coarse salt and freshly ground pepper
1 T. fresh rosemary,
minced
1 lemon, zested and juiced
3 T. honey
8 ounces thin spaghetti (I prefer Barilla Plus)
2 T. butter
2 cloves garlic, minced
1/4 cup real bacon bits
1/2 cup cream
1/2 cup shredded parmesan cheese
3 roma tomatoes, seeds and core removed, diced
2 T. capers (optional)
Start a pot of water boiling to cook the pasta. Spray your BBQ grill rack with nonstick spray and fire it up. Sprinkle salt, pepper and rosemary on each chicken breast and grill for 7-8 minutes on the first side. In a small bowl, mix 2 T. of freshly squeezed lemon juice and the honey together, then brush it on the tops of the chicken breasts before flipping them over. Brush the underside as well, and grill for a few more minutes until they are cooked through (actual cooking time will depend on how thick the breast is, and you could certainly pound them thinner to start with to make it go faster). Remove to a plate and cover to keep warm.
Toss your noodles into the boiling salted water if you haven't already. Once they are nearly done cooking, begin making the sauce. It comes together quickly. In a large skillet, melt 2 T. butter then add the garlic. Saute and stir for 2-3 minutes, then add the bacon bits and cook for another minute. Stir in the remaining lemon juice and all of the zest, then the cream. Stir in the cooked and drained noodles, adding a tablespoon or two of the pasta water if needed to thin the sauce. Slice the chicken breasts thinly. Stir in the roma tomatoes and parmesan cheese (and capers if you so desire – I'm the only one that likes them around here, so I tossed a few on my own plate), and serve immediately with a portion of chicken breast strips on top of the pile of pasta.