This is part 1 in a 4 part series about why I decided to straighten my teeth again with SmileDirectClub, 20 years after having metal braces, and how I am doing it for less than $1500.00. For an update on my progress click here!
2018 Update: it has been 20 months since I finished my invisible aligners treatment. The treatment plan that I used and the price that I paid in 2015 may not be current.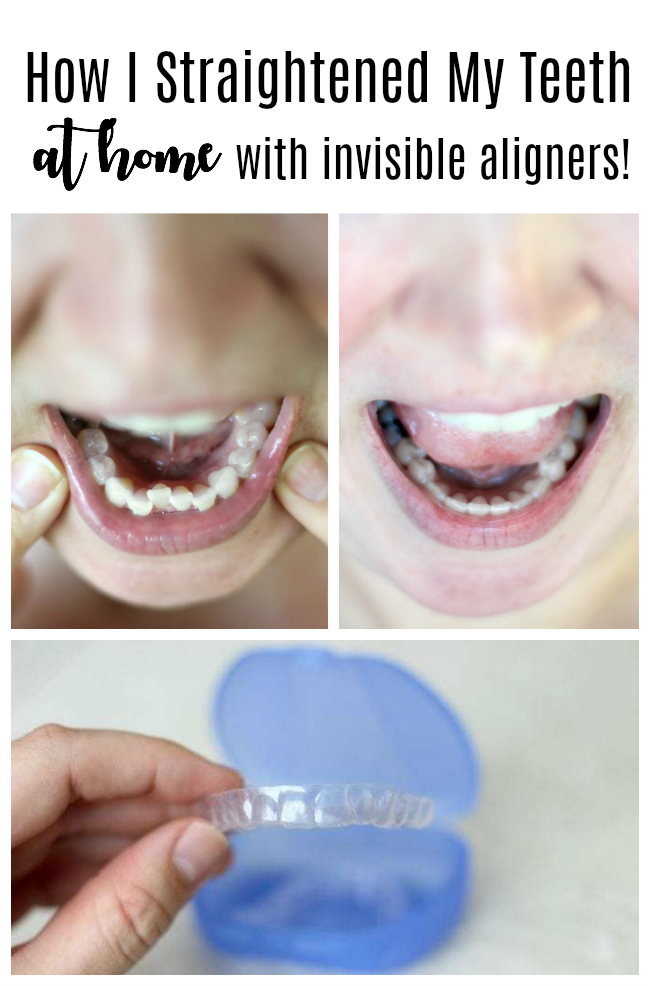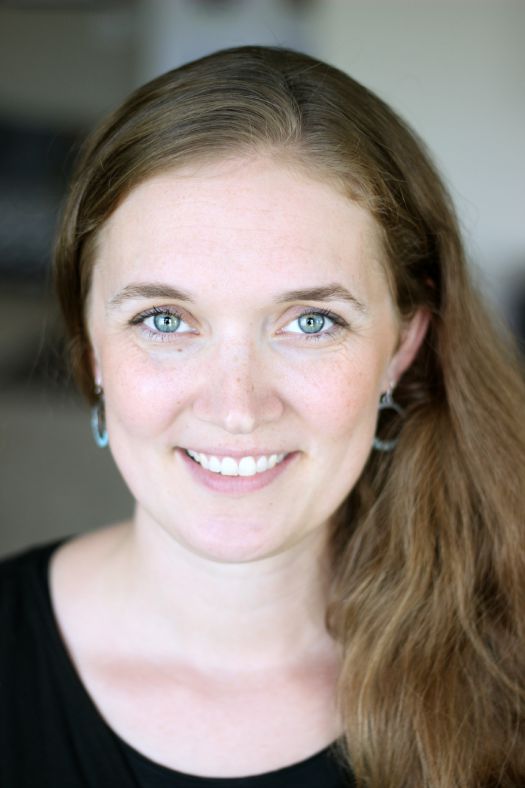 Like many people, I had braces as an adolescent. I had a giant overbite and could actually fit fingers into the gap. After two years of metal braces and bands that coordinated with every holiday, my braces came off.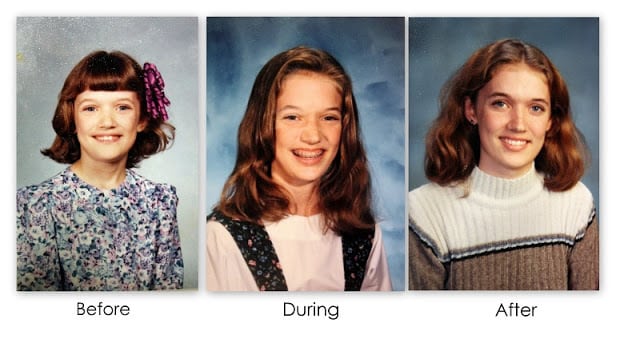 (don't judge me, it was the 90's!)
My smile was beautiful and my teeth were so smooth! I vowed to always wear my retainers and keep that pretty smile forever.
Then life happened. My retainers broke, I had them replaced, and slowly but surely I wore them less and less. Wisdom teeth came and went, stress clenching at night started happening, and now 20 years later I am experiencing significant crowding on the bottom.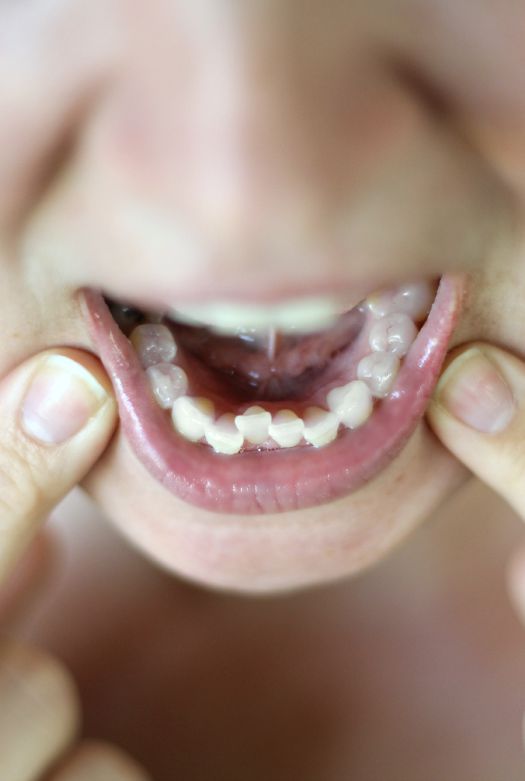 My teeth remained relatively straight until about 10 years ago. I think my wisdom teeth started the movement, ever so slowly, and after years of not really paying attention I looked in the mirror one day and realized that my teeth had shifted a lot!
Still, when I smile you don't even see my bottom teeth. When I talk you can sometimes see them, but it doesn't bother me. Even when Kaylee said, "Mom, you look like you have witch's teeth!" I laughed it off. What does bother me are the dental problems that I am experiencing from the crowding that I didn't have before.
Flossing = difficult. My teeth have NO spaces whatsoever and are incredibly tight. Since the teeth are out of alignment they are being stressed when I bite because I am not biting on them properly and since I clench my teeth at night (and don't wear my mouth guard like I should) that causes more stress on my misaligned teeth.
My dental hygienist recommended an invisible aligner system that they did in the dental office. I didn't have to get metal braces again? Awesome. Then she gave me a coupon for $1,000 off. If that was a coupon, what was the actual price? $5,000. I had no idea! It just didn't seem fair to have to pay so much when I had already had braces! My teeth definitely moved, but as the photos showed, it was only a few teeth.
My son, Dallin, is 12 and will be getting braces within the next year. We can't afford to have both of us in braces, and if I had to choose which one of us would be getting them—hands down it would be him. That's how we are as moms, right? We put our children first.
2 years passed and every time I went in for a cleaning different hygienists would comment on those teeth. Every time they would tell me how my dental health would improve if I had them fixed. I wasn't annoyed. I knew they were right and were just doing their job, but it always made me wonder if I should take the plunge or if it would be easier (and more cost effective) to just clean and floss the heck out of them on my own for as long as I could.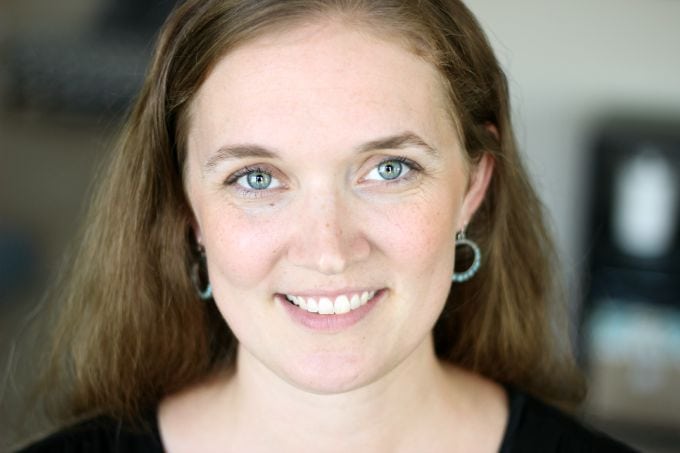 I finally stopped thinking of straightening my teeth as a cosmetic procedure and more of a health benefit. Picket fence teeth are easier to clean, plain and simple.
I looked online to see if there were alternatives to the system my dentist wanted to use. I found clear braces and metal braces. All ran the cost of $3,000 and higher. Then I stumbled upon a company called SmileDirectClub. The licensed dentists at SmileDirectClub create a system that is right for you and then the aligners are mailed directly to you. In most cases, no trip to the dentist is necessary which is why the cost is significantly less expensive. They create the aligners and mail them to you, with the dentists and orthodontists doing everything digitally to oversee your case, and treatment plans ranged from $900-$1,900 depending on what you needed to have done.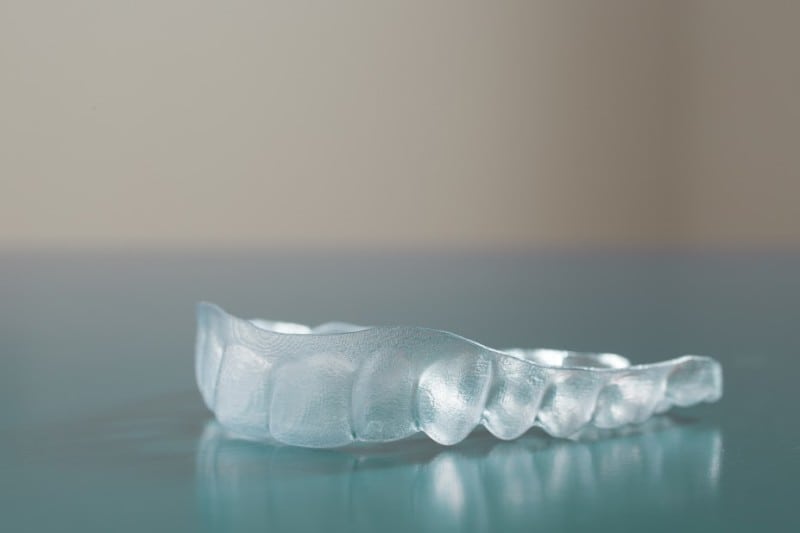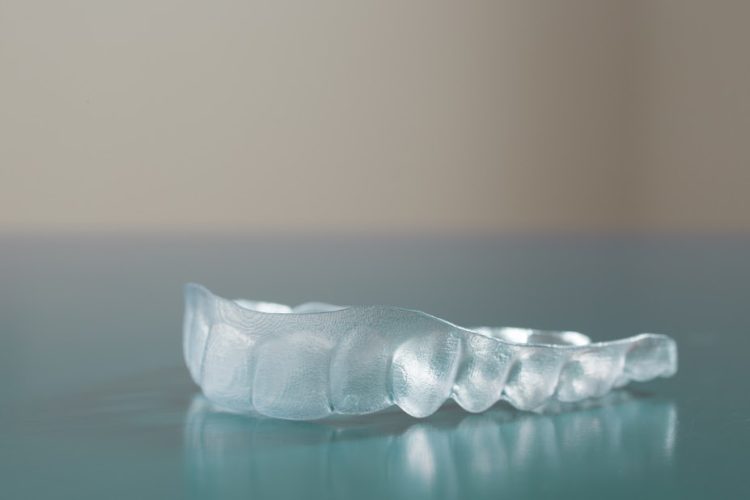 I was skeptical. Very skeptical. The company was relatively new and when I went to find testimonials I couldn't find very many, but the concept was GENIUS! For those like me who have already gone through braces or who only need minimal work done it really seemed like a great option.
Not everyone is a candidate for SmileDirectClub
, just like not everyone is a candidate for the alternate system my dentist uses. Metal braces definitely have their purpose, and for those who need significant movement (like I did as a child), they are the only way to go. My dentist said that I was definitely a candidate for his system so it left me wondering if SmileDirectClub could do anything for my crowding issues.
I "liked" them on Facebook and would periodically check the "posts to page" to see what real customers were saying…and I was impressed!
I also searched online every couple of months and started finding youtube videos of customers going through the process. I read the ENTIRE SmileDirectClub website, watched every video, and read the FAQs probably 3 times. Call me crazy, but I like to be a very informed consumer. Especially when we are talking about health and an investment that big.
Father's day rolled around and I saw that they were offering a promo to get the evaluation kit for $50. That was 50% off and if you didn't end up being a candidate they would refund you 100%. I had nothing to lose so I discussed it with my husband and ordered the kit. (You can use my link and get that same deal, 50% off!)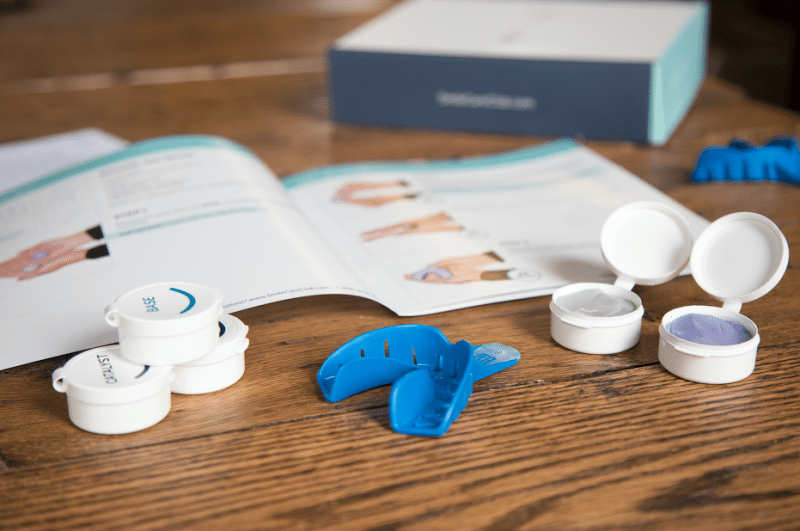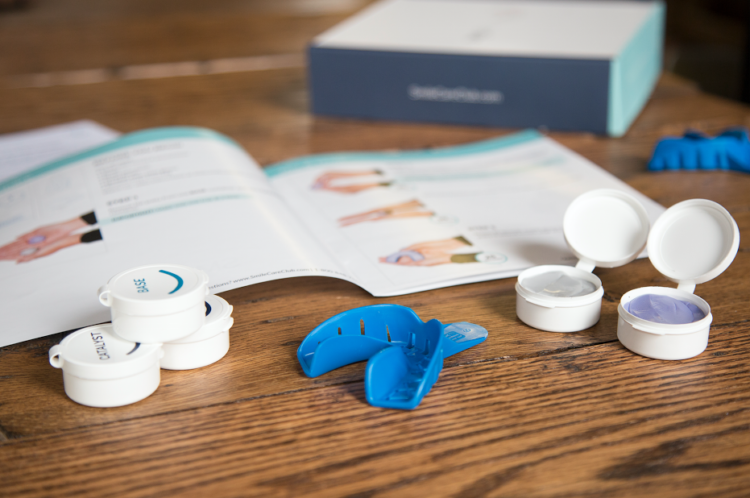 The evaluation kit contained everything I needed to take my own dental impressions and mail them back with a postage paid FedEx label. It was simple to do and within a week they e-mailed me back letting me know that I was a candidate and sent me a 3-D interactive image of the plan they had for me. I had questions about the plan and each question was forwarded to a licensed dental professional who quickly responded.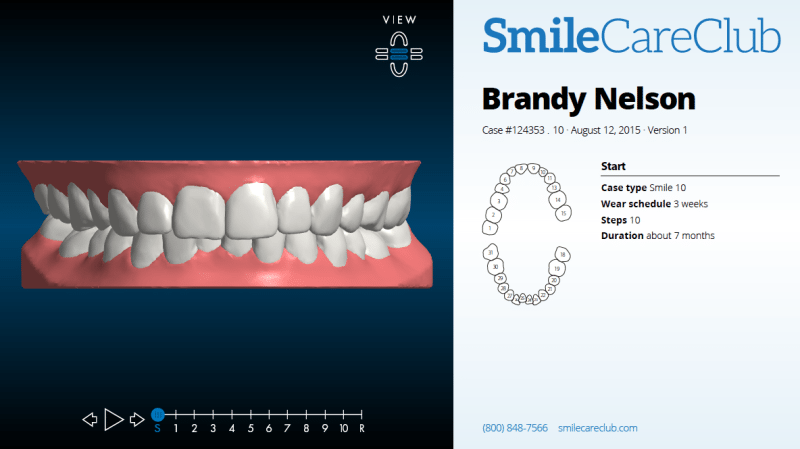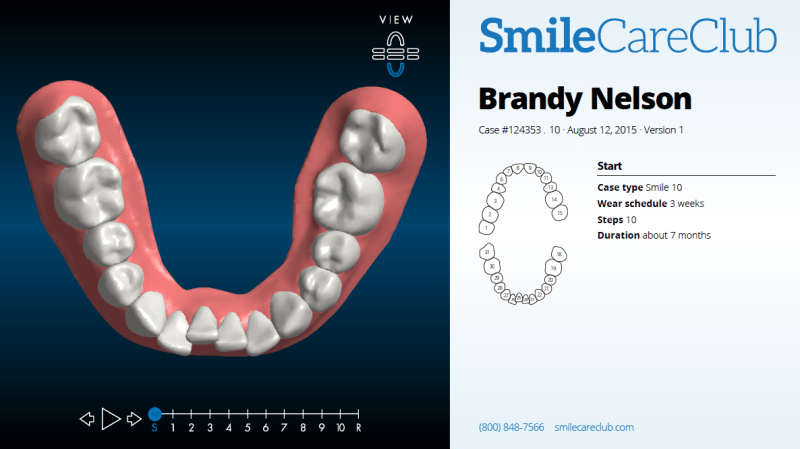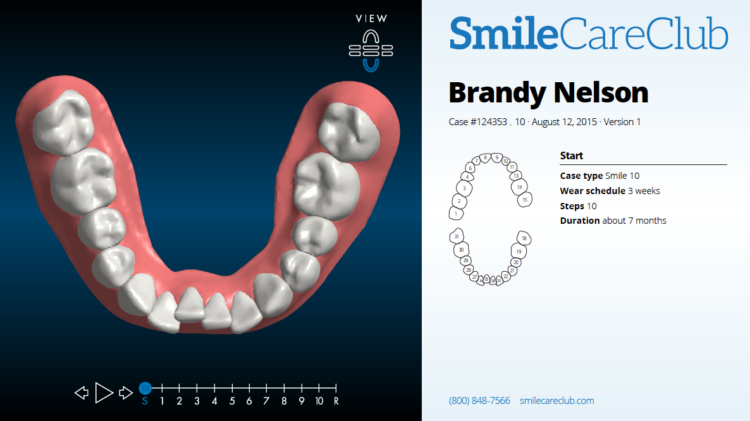 (I couldn't get it to download so that you could actually scroll through the numbers. There are 5 views of my mouth and each number represents the set of trays that I would be using for a specific period of time. The "R" represents getting my retainer at the end of treatment.)
Since I had moderate crowding I was put on an 8-month plan, 10 sets of invisible aligners that are to be worn for 3 weeks each, at a cost of $1200.00. They do work with insurance plans, but unfortunately not mine. If at any time I was not happy with my results I was assured that I could return any unused aligners for a refund. I asked them what they would do if it took over 8 months to fix my teeth, and I needed additional aligners or work done. They responded and said that it would be covered at no additional expense.
So here is where I am now: I've purchased my aligners and am waiting for them to be sent to me in 3 weeks. They are sending me a set to wear in the meantime so that my teeth don't shift while they are making my custom sets. This set will be fit exactly to the impressions I sent in and will help my teeth get used to the wearing aligners.
If you have spacing issues in your teeth, have teeth that you'd like to have straightened or are like me and have had movement after having braces off, I hope you find my story of value. I am a real customer.
Next month I will share photos of my new aligners, how I feel about wearing them, cleaning them, and anything else that goes along with the invisible aligners from SmileDirectClub.
If you have any questions, I'd be happy to answer them. Just leave a comment below!
Disclosure: Almost 10 months after first hearing about SmileDirectClub I had saved up the money and was ready to make my purchase. Before I finalized everything I decided to contact them to see if they would be interested in having me share my story as I go through the process. They graciously agreed and gave me a percentage off of my treatment plan in exchange for a series of posts that will end when my treatment ends. I was prepared to purchase my 10 sets of invisible aligners even if they did not offer the discount.  You can use my link to get started and receive an evaluation kit for 50% off from SmileDirectClub!