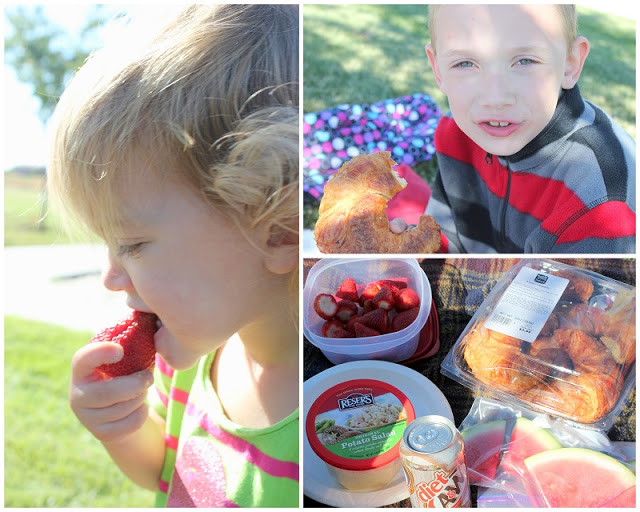 My boys are creating summer "bucket lists". I told them to write down EVERYTHING they want to do and we could go over the lists and make one for our family. Zoo trips, park days, swimming, Jelly Belly Factory, Six Flags, play dates with cousins and picnics are sure to top the list this year.
With being on the go so much, we seem to pack lunches several times a week during the summer. It saves so much money vs. eating out. I love finding quick lunch ideas to pack in the morning while we decide where we are going to go for the day.

Last week I stopped by a new (for me) grocery store, Fresh & Easy, to pick up some groceries for a picnic dinner that we had last night. They didn't have these in the Midwest so I wasn't really sure what it was. From the moment I pulled into the parking lot I was impressed. The store front was bright and inviting. There were picnic benches and shade umbrellas out front and a great assortment of lunch items when I first walked in. A great place to go on a lunch break or grabbing items pre-packed for lunches.
I was especially impressed with the produce section. The bagged lettuce (which oftentimes looks wilty even though the expiration date hasn't passed yet) was fresh and crisp. So much so that I grabbed 3 bags of it. I also grabbed a seedless watermelon for $3.99 and it was delicious! Score!
I really try to be good about making bread for my kids, but lately I just haven't had time. I picked up 2 loaves of the fresh&easy brand whole grain white wheat bread and it was fantastic. It wasn't air bread…at all. It had substance and toasted up like homemade bread.
I also found great individual lunch ideas like potato and macaroni salad and items I hadn't ever seen before like Hawaiian Hamburger buns (we are big fans of the rolls). My husband wants to grill burgers this weekend so I grabbed some of those and some other items like chips, plates, and water bottles.
I love that Fresh & Easy is a smaller grocery store. It makes it a quick and easy trip. Everything was easy to find and easy on my pocket book. I will be a returning customer.