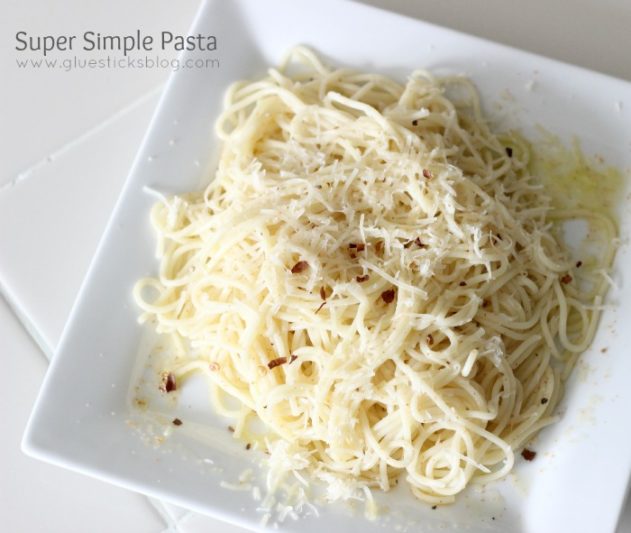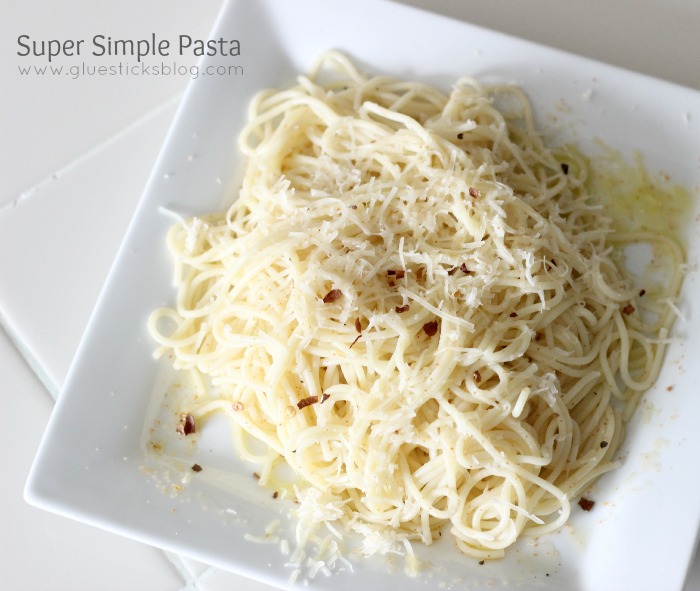 I love one pot dinners and this one is just that. Derrick doesn't like marinara or spaghetti sauce, so growing up, his mom would always put butter and seasoning salt on his. That is still how he likes his today and our kids love it that way too. I add Parmesan cheese, garlic, and crushed pepper flakes, but the concept is the same. Super simple!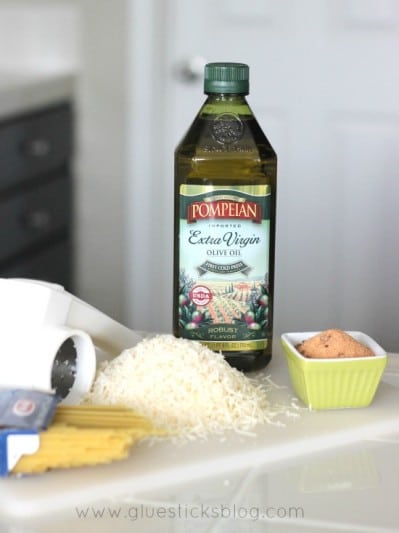 So today I am sharing this recipe with you. I made it the other night before leaving for swim lessons. It's one meal that I know everyone will chow down without complaint. I replaced the butter with olive oil which is easy to do in many recipes using this conversion chart. Since this is a throw together meal, exact measurements aren't important, but the chart comes in handy for other recipes. Add chicken, shrimp, tomatoes, asparagus, whatever you want! That night I added grilled shrimp to ours. The kids wanted theirs as is.
Super Simple Pasta
gluesticksblog.com
Makes 6 Servings
1 lb. box thin spaghetti
1 T. olive oil
3 cloves garlic, crushed
4 T. olive oil
1 c. freshly grated Parmesan Cheese
Seasoning Salt, to taste
Pinch of crushed red pepper flakes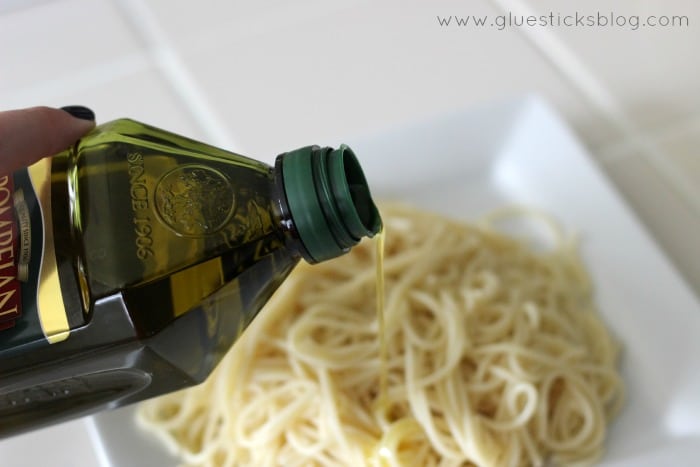 Cook pasta according to package instructions. Drain and rinse. Meanwhile, heat 1 T. oil in a pan over medium heat and sautee garlic until aromatic. Add to pasta. Toss. Divide pasts in 6 portions on plates. Drizzle  2 tsp. olive oil over each portion. Sprinkle with 2-3 T. Parmesan cheese and salt and pepper to taste.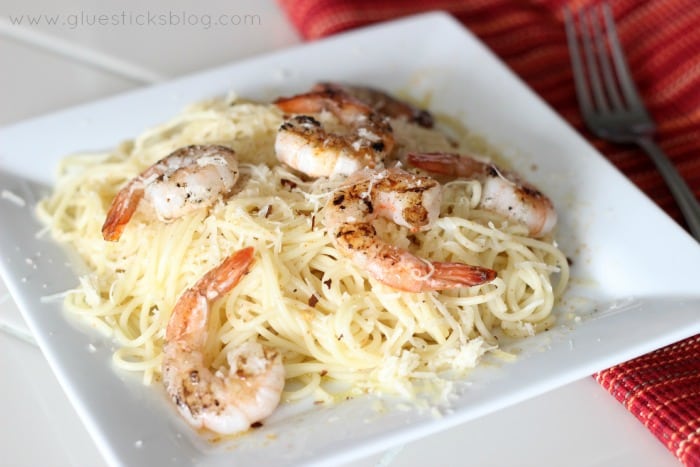 Have you heard of the Pompeian Challenge? Many of us don't realize how easy it is to swap butter for olive oil so during National Olive Oil Month, Pompeian will reward consumers who pledge to make the swap! Take the pledge by visiting this link and 1,000 fans who sign up will be selected to receive a free movie redemption code and a coupon for a free bottle of oil. PLUS, every week 5 additional fans will win a fun prize pack on Pompeian's timeline!
It's no secret that the biggest butter fanatics (my husband, Derrick, being the biggest) are also popcorn fanatics. The two go hand in hand! Pompeian is partnering with movie theaters across the country to swap movie theater popcorn butter with Pompeian Olive Oils.
Be sure to check out the conversion chart to see for yourself how easy it is to make the swap.
What recipe would you swap butter for olive oil in?
This is a sponsored post written by me on behalf Pompeian.