Thank you Fender for sponsoring this post. Learn guitar at home with Fender Play.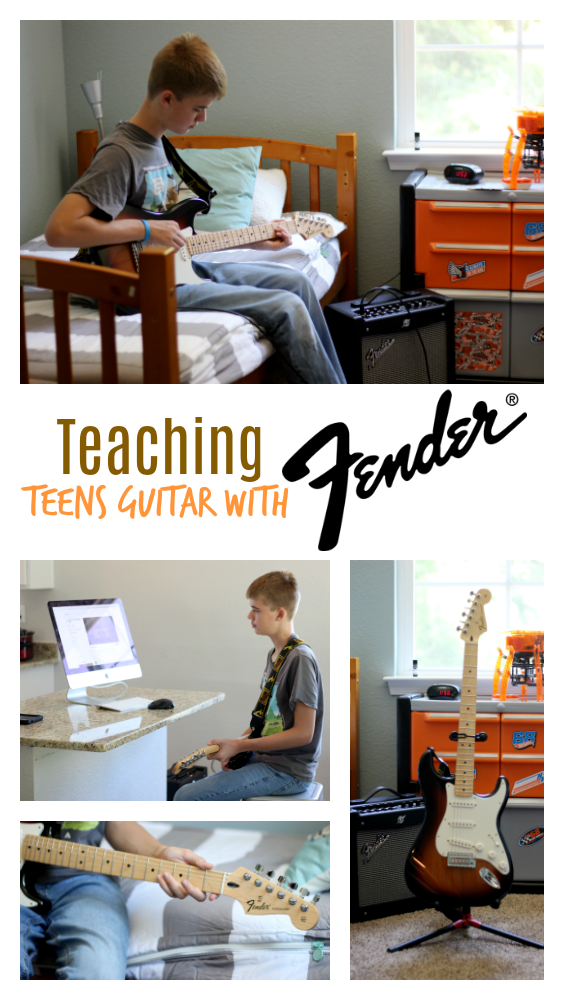 I'm sitting here trying to figure out how I already have a teenage son. Wasn't he wearing red one-piece pajamas and rain boots yesterday and pretending to be Mr. Incredible? Dallin has gone from a shy child to a teen with confidence, who is willing to try new things and is growing more and more independent every day. One of the things that seems to bring out the most confidence in him is his love of music. He started with playing the trumpet in middle school, and has branched out to the piano as well as guitar. He enjoys performing for others and getting him to practice isn't a problem. Let's keep it that way okay kid? Ha! I'm just happy that he enjoys music because it really is so good for kids socially to learn to play a musical instrument. Especially the guitar! It's so versatile and is one instrument that is appropriate for any occasion. When given the option of acoustic or electric he immediately chose the electric guitar. This is because two of his idols are amazing guitarists. They also happen to be his uncles.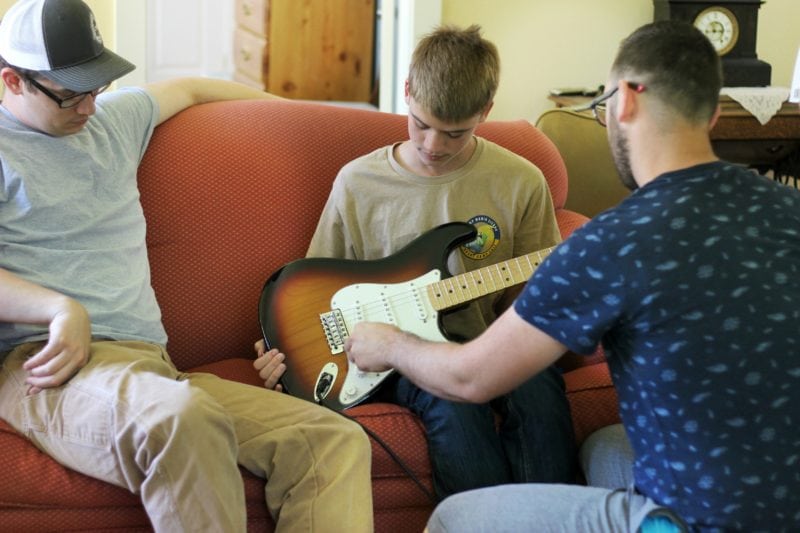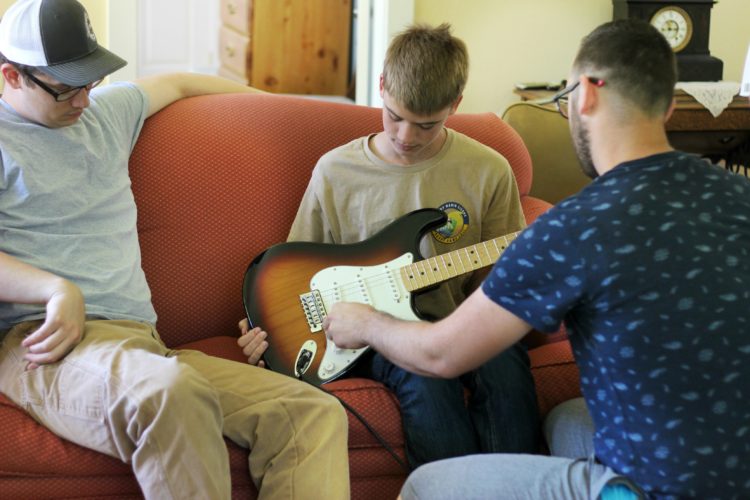 My brother Cody plays the bass, and Jason plays the electric guitar. They are also amazing at acoustic too! Jason is the manager at a guitar store and was our go-to guy when it came to selecting a great set up. We had the guitar shipped to us, but went with Jason to his store to pick out a Fender amp, a hard case, and a strap. Dallin even got a quick lesson while we were visiting at Grandma and Grandpa's house over the summer and Cody taught him how to play "Smoke on the Water" Thanks Cody, that little sequence of chords is constantly stuck in my head now, haha!
Unfortunately Jason and Cody live in Utah and we live in Virginia. These one-on-one guitar lessons just aren't in the cards for us. I told Jason about Fender Play, an online guitar lesson program that has recently been launched by Fender, a company that he distributes for. He had actually already heard about it when he had recently met with a Fender Rep!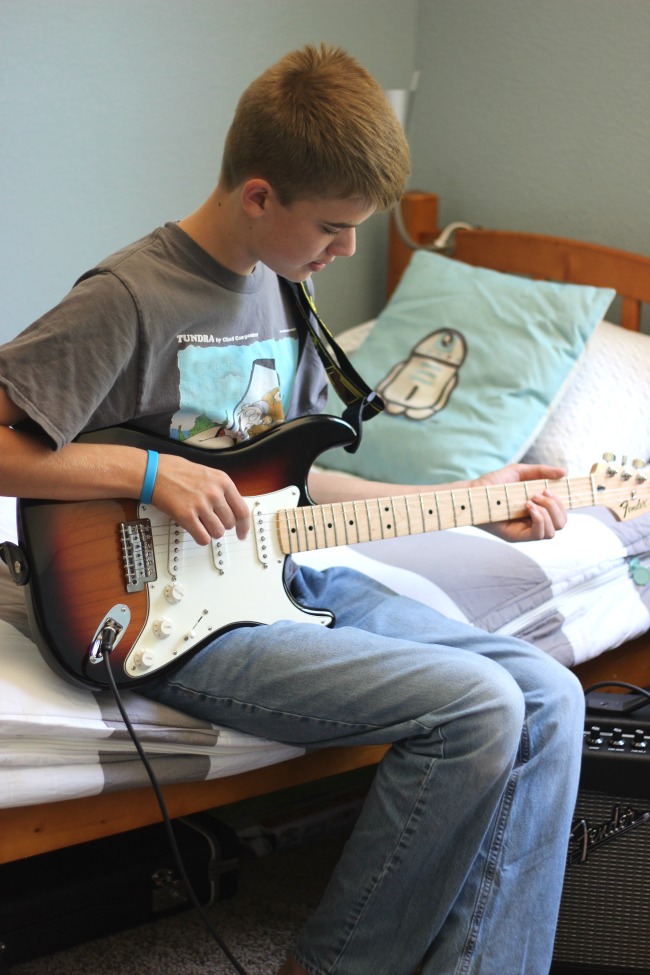 Right now they are offering a
free 30 day trial
so the was really nothing to lose. I signed Dallin up and he's been having a great time tinkering around and gaining more and more confidence.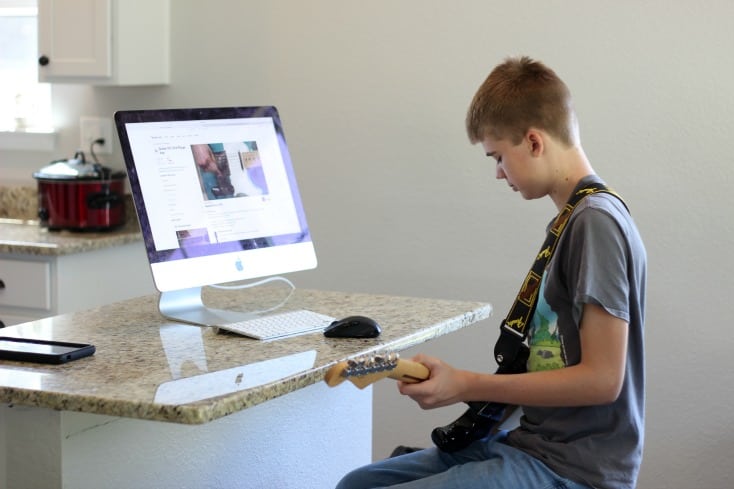 He simply logs into his account and picks right up where he left off. The
Fender Play
lessons are broken down into short and simple videos. Hundreds of them, actually, and hands-on exercises. He was able to choose a path (electric guitar) and Fender Play walks him down a customized learning program.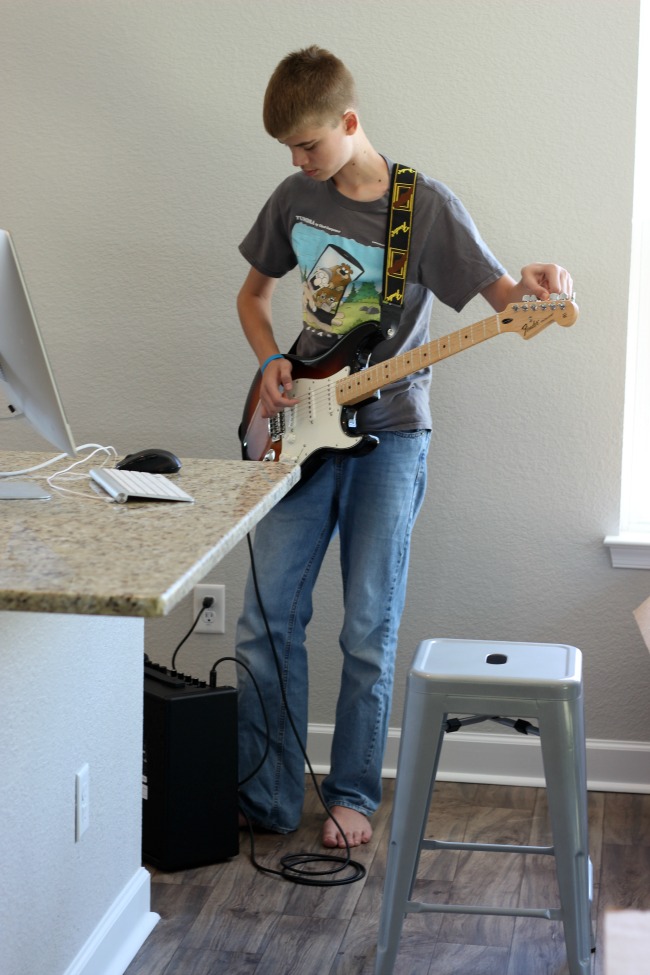 I love that the program is designed so that after only a few short lessons Dallin was able to play something pleasant to the ear, ha! He even learned how to tune his guitar with the online tuning feature.
His teacher, Matt Lake, is easy to follow and breaks everything down so that Dallin understands what he is doing and why he is doing it. The lessons are fun and song-based so it's great for keeping kids' attention.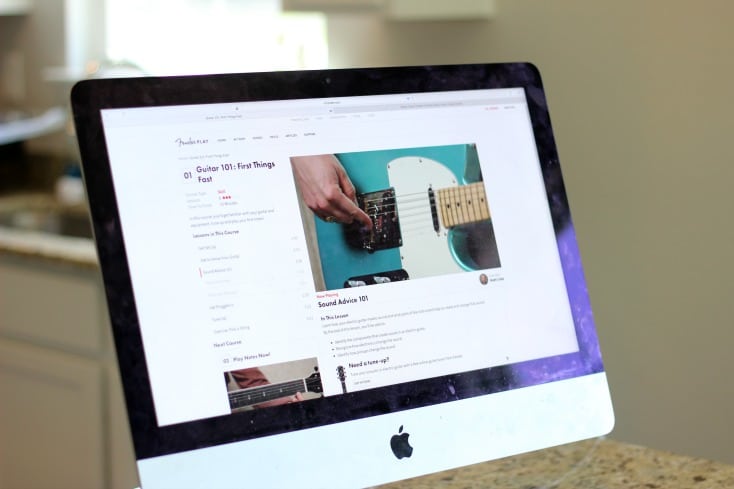 The videos are also shot in all different angles and incorporate top-quality 4K multi-camera video production to deliver a clear and unified curriculum. I especially love that the videos incorporate split-screen and over-the-shoulder angles that provide a unique and valuable perspective.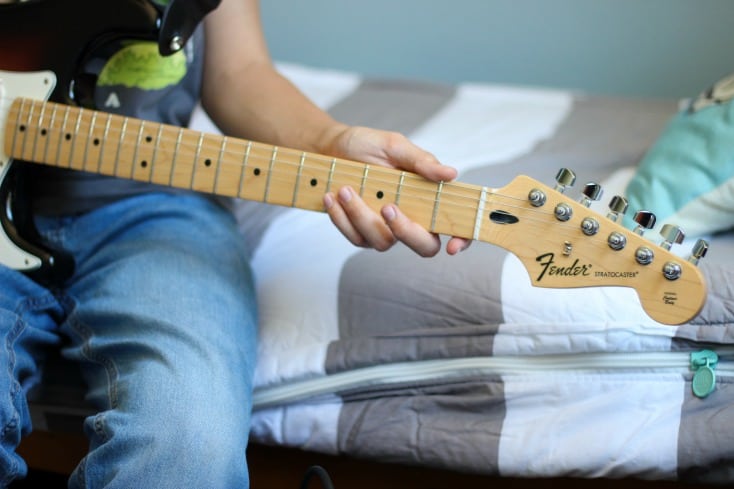 Fender Play is a monthly subscription service, but
you can try it for free
for 30 days! It's a great way to see if it's right for your child. I'd love for Dallin to be able to have one-on-one lessons with his Uncles, but they just live too far away and our schedule this school year is going to be a bit insane. This is why I'm so excited for him to continue on with Fender Play. He can learn at his own pace and on his own time.
I'm excited for the day when he'll be able to jam with his uncles!
I was selected for this opportunity as a member of CLEVER and the content and opinions expressed here are all my own.