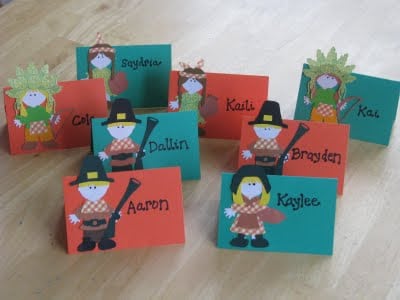 I made these place cards for the kid's Thanksgiving table this year. This is the first time we have gotten together with friends for Thanksgiving in probably 5 years. We usually keep it small with just our family for the holidays, but think that it will be a lot of fun!
I used my cricut paper doll cartridge to make these cute little figures and color matched the hair for each child. Aaron keeps asking why he can't carry his around. I told him he needed to wait until Thursday, then he can carry and bend it all he wants 🙂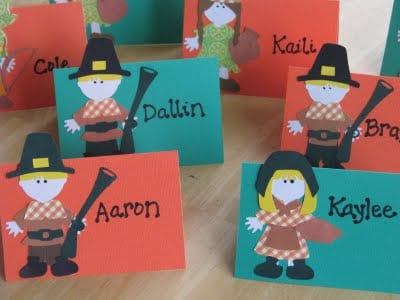 Tomorrow I will be busy making pies and this fun turkey cheese ball! My friend, Tanya, said that her sister makes a turkey shaped cheese ball every year for the table and the kids LOVE it! I saw a picture online (below) and think that I will pattern mine after it. I am not going to put cheese detail on the crackers….that's just too much effort, but I am going to make a cheese ball and put lots of crackers and pretzels in it for feathers and wings. We'll see how it turns out!