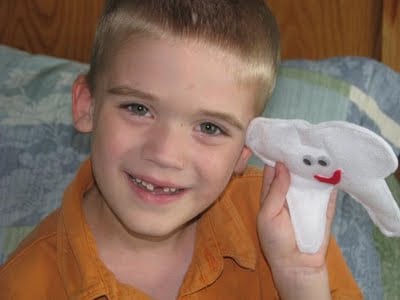 Dallin lost his 4th tooth tonight. I finally got around to making him something to put his teeth in for the tooth fairy! We named him "Timmy the Tooth" and the boys love him. Aaron even made up a little song about him.
I took a sheet of white felt that I had in my enormous felt stash (felt is good for sooooo many craft projects!!) and cut out two pieces in the shape of a tooth. I free-handed the tooth pattern and Aaron informed me that it looked nothing like a tooth. Well, it'll have to do.
I put some thin batting in between, then sewed around all of the edges, a close 1/4″ seam, except for the top. As you can see, I came down with the stitches and made a small pocket, then continued up and around the rest of the tooth. Then I glued a felt smile and two googly eyes on for the face! I also trimmed closely around the seam to clean up the edges.
The pocket is big enough to slide the tooth in and out of and keeps it nice and snug so that it doesn't fall out while under a pillow or being carried around the house (which is what has been happening here tonight).
Total cost for this little project, probably .25.
Somebody will be $1 richer tomorrow 🙂