Thank You Wendy's® for sponsoring my writing and pointing out the fact that I am old.
 As I look at my life, the things that make me happy, and the habits I've formed, I've realized that there are some sure fire ways that I know I'm a grown up. No longer is the first day of school and making sure I found all of my classes in High School a stressor for me. Exams are a thing of the past and first dates and break ups are forever gone. Thank goodness! Each stage of life is great, but there are some definite sure fire ways to know that you are no longer a child. I put a list together and added a few from my sponsor to create the following list:

1.  You ask for household items on your birthday list.
2. You would rather see Bill Cosby live than see a trendy music band (we did this just last week. It was awesome and we were the only ones under the age of 40 there!)
3. Your favorite songs from high school are considered "old school".
4. Your kids ask you something about "Back when you were little did they have ________?" lightbulbs, TV, etc. Mine do this and I have to remind them that I was born in the 80s. The 1980s.
5. The games you played as a child are considered retro. ie: Old Maid, Aggravation, Candyland Bingo (anyone remember that one?) and some aren't even around anymore!
6. Going grocery shopping on your own is a "night out".
7. Your Favorite Coming of Age Movies (Big, My Girl) weren't an after school special on the Disney Channel.
8. When you get sick you are on your own! Just the other day Kaylee said, "Who takes care of you when you are sick, Mommy?" As I handed her another tissue for her runny nose, I said. "I do!"
9.  Your childhood toys are not collectibles. I don't have any of my own, but my mother in law saved some of my husband's GI Joe Toys and things. They are awesome! I will definitely keep some for my kids to pass down to their children when I am, ahem…a grandma.
10. You pass on chicken nuggets for the grown up taste of sandwiches like Wendy's® Smoked Gouda Chicken on Brioche.
What things would you add to the list?
And now for a quick plug for a new sandwich catered to our "mature" flavor cravings..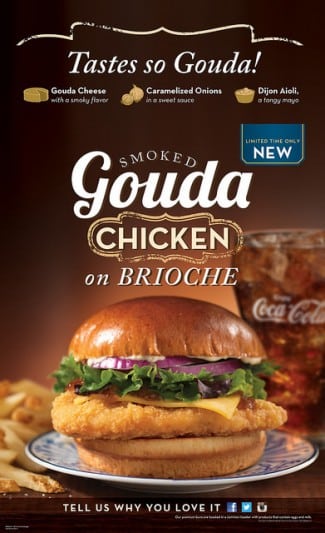 Gone is the dry chicken sandwich with lettuce and a stale bun that you may have experienced at other places in the past. The Smoked Gouda Chicken Sandwich on Brioche includes a thick, creamy Dijon aioli with a tangy mustard finish, a smoked, mild and rich Gouda cheese, a sweet caramelized onion sauce made from puréed caramelized onions, a warm, lightly breaded chicken breast, sliced red onions and fresh spring mix.
Wendy's® has been introducing high quality menu items that include unexpected ingredients for fast food – like natural cheeses, aiolis and artisan breads – all at a really reasonable price. The Smoked Gouda Chicken on Brioche is only available until the end of September so if you are craving a fast food sandwich with a sophisticated taste, be sure to swing by and pick up one for yourself!
This is a sponsored post written by me on behalf of Wendy's®.