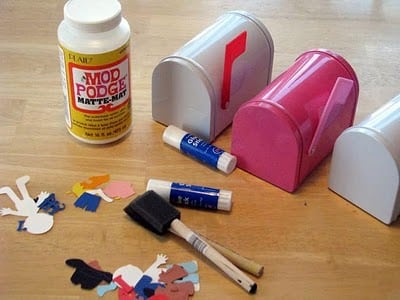 I saw these cute mailboxes at Target in the $1 section, and with Valentine's Day coming up I thought that the kids would have fun making little notes for
each other
. The kids love getting mail and now they can send and receive it all the time! They were
SOOO
excited to make these. They couldn't wait to start getting letters.
I told them that we probably wouldn't have time to make them that day. Aaron looked outside and said, "It's still sunny out! We have time to make them!" How could I argue with that?
The boys discovered the beauty of mod
podge
. They picked out what they wanted to have cut out on the
cricut
. Aaron wanted a pirate box and
Dallin
wanted a cowboy one. They brushed on a layer of mod podge, then attached their cutouts along with a stripe of cardstock to give the box a little more color.
Assembling their little paper cutouts and letters for their name.
Kaylee doesn't care about the
cricut
…she just likes pushing the on/off button. So I just let her color hers with some sharpie pens. She loved it. She also liked the fact that her box is magnetic and had fun putting little magnets all over it.
The first message arrived this evening! I left little notes and candy for the kids before I left for mutual (youth group) tonight since I wouldn't be home when they went to bed. I think we'll keep the mail boxes up year around!