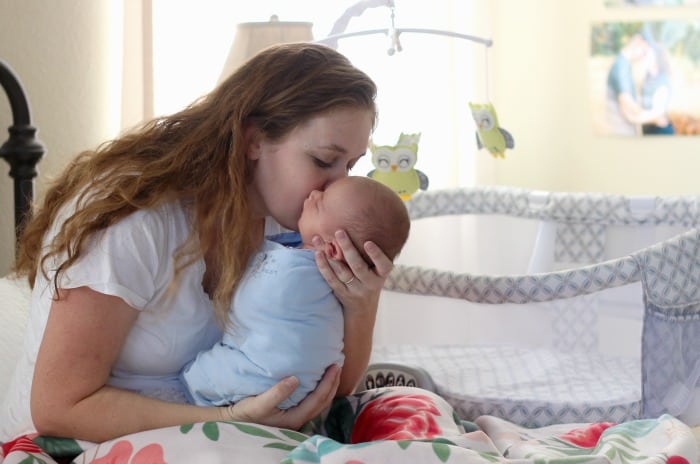 Is there anything more delicious than a newborn? I'd venture to say that there isn't. Especially when this little newborn has the most darling chubby cheeks! Mac just turned three weeks old and I am sitting here wondering how that even happened. The first week was such a blur with being in the hospital just shy of four days. It seemed as though all of the days blended into one very long one, but we finally were able to go home together and begin our lives as a family of 7.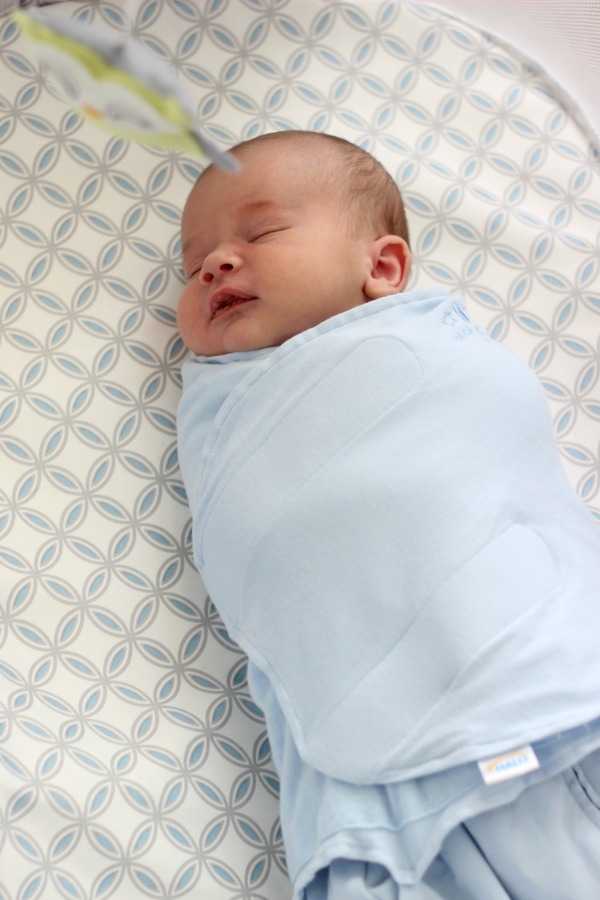 The first night home was an adjustment. I remember being so tired and sore and was battling an infection so that made things even worse. Mac had been in the NICU for a couple of days so I didn't have him with me in the in the hospital as much as I did with the other babies. Our first night at home was the most time we'd been able to spend together since he had been born. I decided to stay downstairs and sleep on the couch with Mac next to me in his travel crib so that we could deal with diaper changes and feedings with the lights on and not worry about waking up everyone else.
As expected with a newborn, very little sleep happened, but that was ok! With my first baby I would have been completely stressed out, but with my 5th? I know that this stage passes all too quickly, even the sleepless nights, but as those pass so does the tiny newborn stage. So I banked on the fact that my husband was off of work for a week and that I would be able to catch a nap the next day.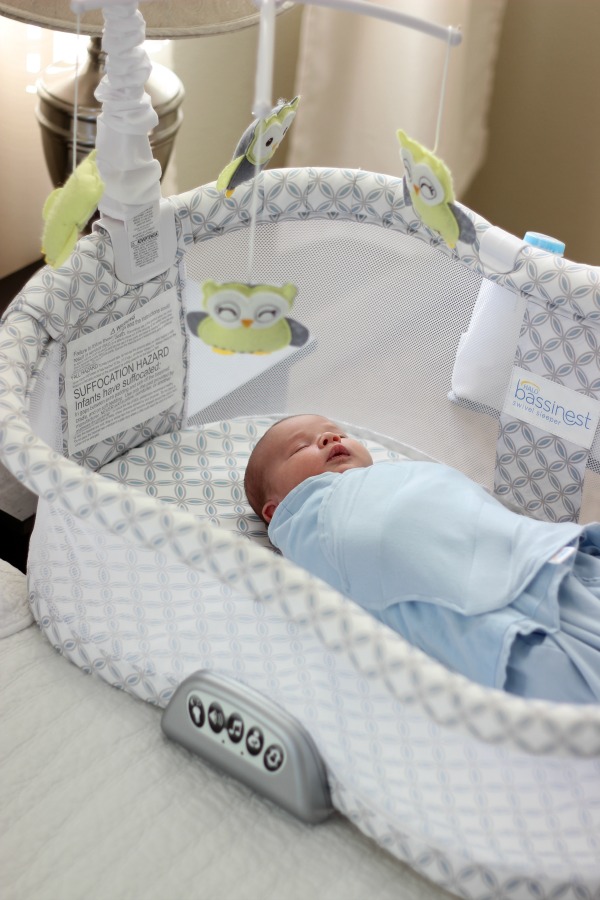 The second night, we moved upstairs. Sleeping in my own bed felt AMAZING! And having Mac right by me felt even better. My husband was sweet and put in a low wattage light bulb in my bedside lamp so that I could take care of feedings and diaper changes without ever leaving my bed.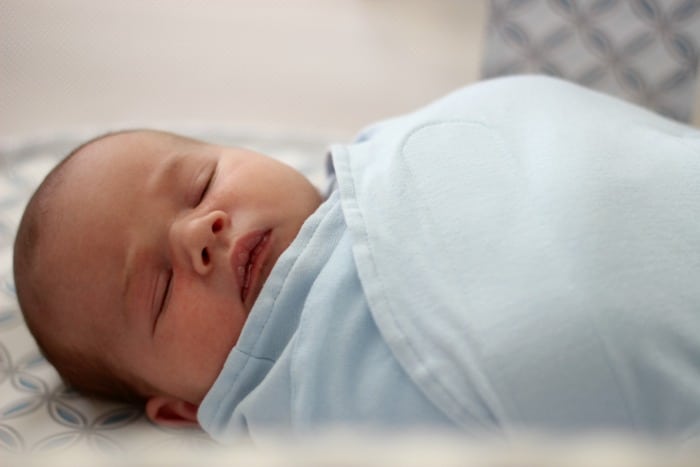 Mac loves being swaddled so I put him in a SleepSack Swaddle that doubled as a blanket to keep him warm. I would love to know where these were with my other babies!
The inverted zipper (which starts at the top and goes down) allows me to change his diaper without unswaddling him.
I've decided that I need to pick up a few more to have on hand. The SleepSack Swaddle really helps with the startle reflex in newborns and he sleeps much more peacefully.
In light of the new AAP guidelines that recommend room sharing the first six month we decided on the
HALO Bassinest
this time around. After watching a demo video on
Amazon.com
I was completely sold with the idea of having my baby bedside, with the option of sliding the Bassinest over the mattress for safe sleeping together. I love that I can be close to Mac and can hear him breathing next to me.  He is always within an arm's reach and I can even push the side down to easily lift him out. This would be especially be helpful for moms recovering from C-sections, but I also found it helpful with the pain that I was experiencing the first week as well.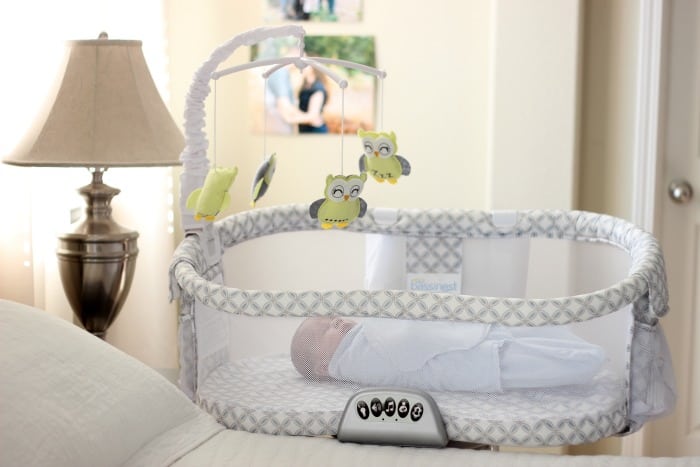 The Bassinest has an adjustable height so it fits perfectly next to our bed. It also swivels in a 360 degree motion so it easily moves out of the way when I need to get out of bed or need to rotate it to reach a diaper. I especially love the accessories like the darling owl mobile, storage caddy for diapers and wipes, and the washable mattress pad and sheet.  Everything I need to take care of my sweet baby is all right there.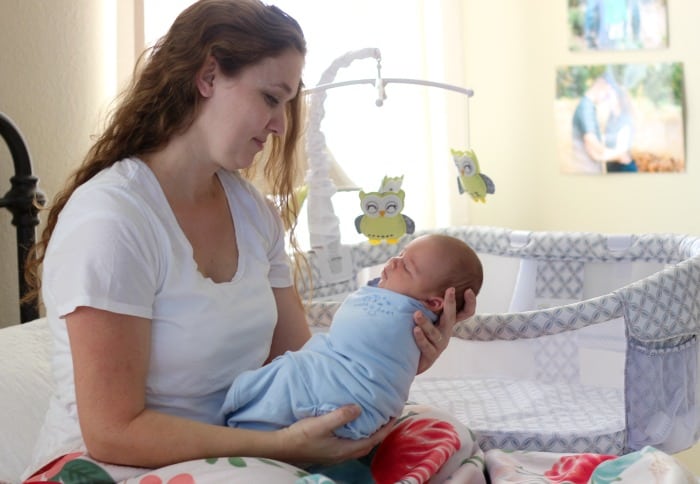 Now that it has been a couple of weeks we are getting into our groove.  Mac wakes up every 3 hours for a quick feeding, diaper change, and cuddles, and I have been getting longer blocks of sleep. I don't think I can really ask for more than that!
I'm so glad that we decided to have our bonus baby. He has brought more joy into our family than we ever could have imagined. Having a baby, whether it is your first or fifth, is such an amazing experience. I spend a lot of my day just staring at him and thinking what a miracle the whole process really has been.
Be sure to follow HALO on Facebook, Twitter, Youtube, Instagram, and Pinterest to stay up to date on their latest safe sleep products.