This post was most recently updated on February 6th, 2021
This post brought to you by Duck Brand. All opinions are 100% mine.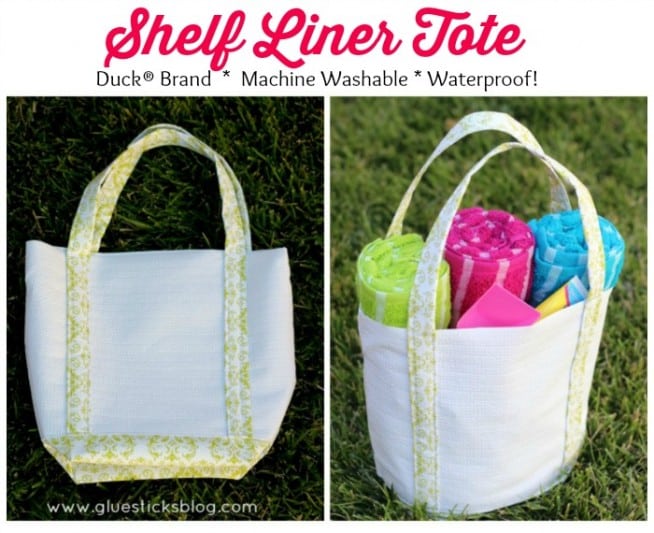 Summer is here and swim lessons are starting next week! The kids are so excited! I made a new tote to store towels and sunscreen for the pool.
And here's the kicker…the entire bag is made out of shelf liner! I bet you didn't realize that shelf liner was so versatile. It's water proof, durable, flexible and MACHINE WASHABLE. Perfect for so many projects.
Would you like to make a new tote to take to the pool, to the lake or on a picnic? Let's get started!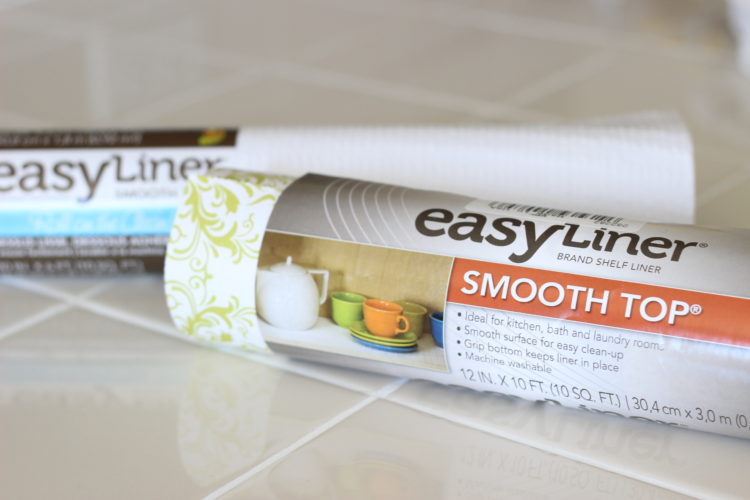 Duck® Brand Shelf Liner Tote
(1″h x14″w x5d")
gluesticksblog.com
1 roll Duck® Brand Shelf Liner, white (Smooth Top)
1 roll Duck® Brand Shelf Liner, contrasting color (Smooth Top)
thread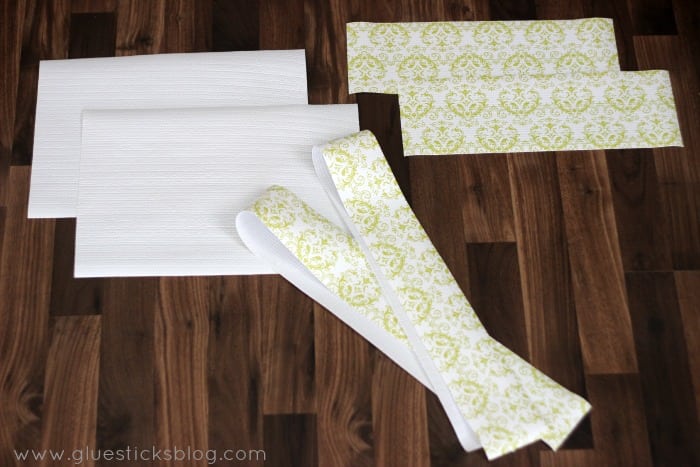 Cut your liner pieces. You will need 2 large (11×15″) rectangles, 2 small (5×15″ rectangles) and 2 strap pieces (3×40″).
Sewing with Shelf Liner
Sewing with shelf liner is different than sewing with fabric because…well, it isn't fabric! It has a grip bottom, perfect for keeping it in place, but not perfect for a sewing machine. I covered my feed dogs with tape to create a smooth surface. You can also lower your feed dogs. I also added tape to the bottom of my pressure foot.
Also, DO NOT iron the shelf liner. Just fold it or press down firmly to flatten seams, etc.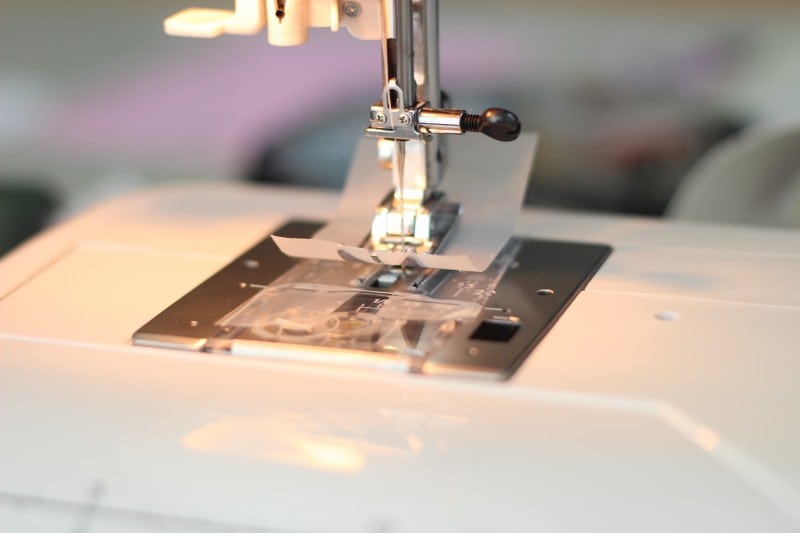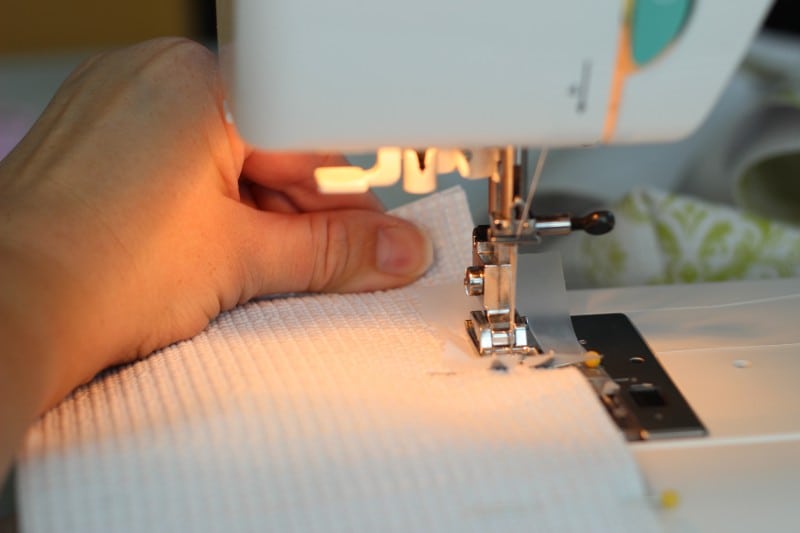 Even after adding the tape, you will still have to pull that fabric through the machine, especially when you are sewing sections that have grip surfaces on top and bottom. Just pin your work surface and give it a tug and you'll be fine!
Now let's make the straps!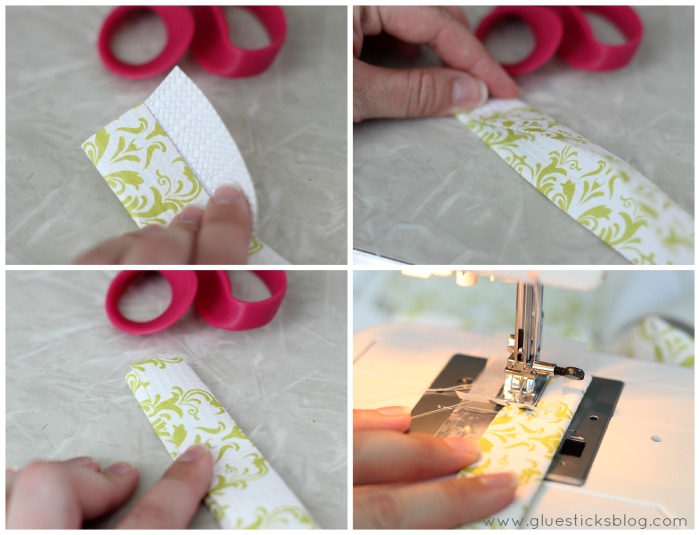 Fold your strap in thirds (1″) each. Just fold over the left side, then the right side. Stitch close to the edge. Repeate for the next strap.
Now let's work on adding those straps and creating the front and back to your bag!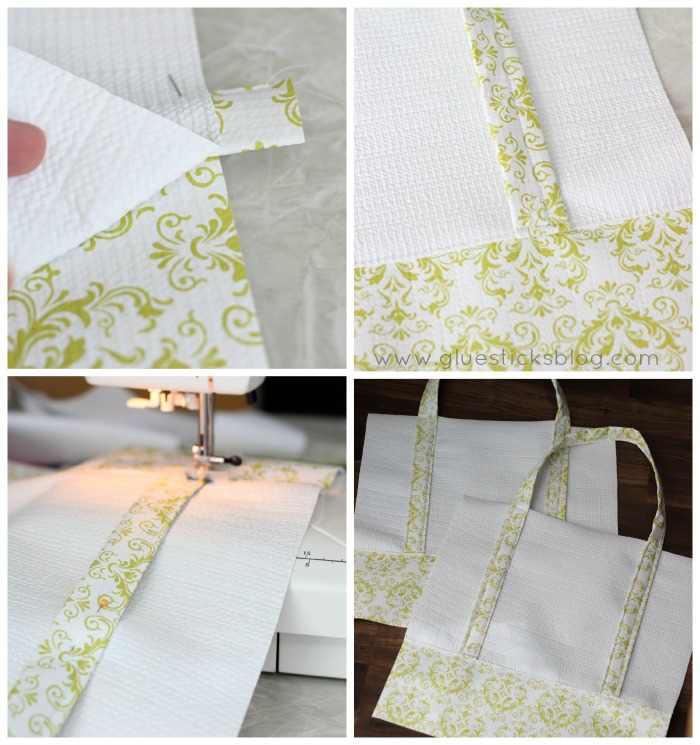 Lay one small rectangle on top of one large rectangle (right sides facing eachother). Pin one side of a strap 3″ from the outer edge and through the two rectangles. Pin the other side of that same strap 3″ from the other edge and through the two rectangles. The strap will be sandwiched inside the rectangles. (photo 1 above)
Stitch across, catching both strap edges in the seam. Open. fold seam towards the top and top stitch across top of the seam and the straps as well. (photo 2 above)
Now sew your straps flat against the bag front. Start at the bottom and top stitch to the top of the bag and down the other side of the strap. (photo 3 above)
Repeat with the other 2 rectangles and other strap to create the back piece of the tote. (photo 4 above)
Sew front piece of tote to back piece by lining them up, edges matching, and right sides together. Stitch sides and bottom.
You can stop here and flip your tote right side out and be done, or you can box the bottom corners so that your tote has a flat bottom.
Here is how to box your bottom corners!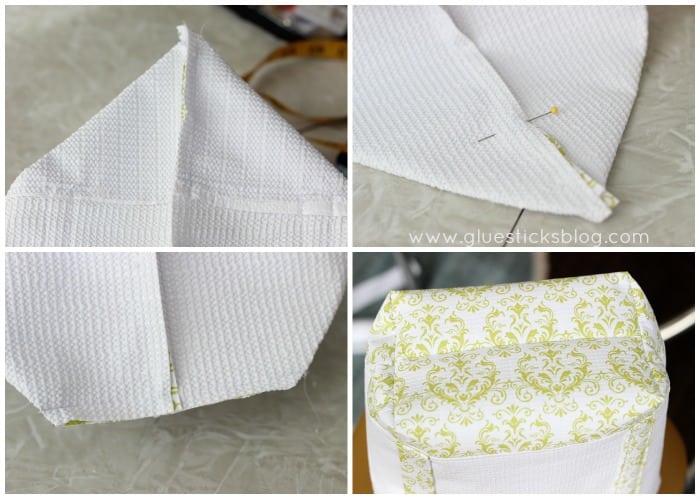 Fold one bottom corner flat into a triangle, with the seam running along the bottom. (photo 1 above)
Measure 2″ from the tip of the triangle and pin. Stitch along the pin line. (photo 2 above)
Trim close to seam. (photo 3 above)
Repeat for other side.
Flip right side out. (photo 4 above is showing the bag upside down so that you can see the boxed corners)
If that didn't make any sense at all, here is a video that I found for ya!
Flip that bag right side out and you are done!
I just love how this tote turned out and it is so durable! I loaded it up with 3 small towels, sunscreen and snacks and it held up perfectly!
You can find Duck Brand's Shelf Liner in all sorts of fun designs (floral, geometric, solid colors), both adhesive and non adhesive, which make them perfect for many organizational projects. You can line your pantry shelves, cupboards, refrigerator, drawers…and even sew with it.
My favorite thing about the Smooth Top Easy Liner was the fact that it is machine washable which means it is durable!
Go ahead and think out of the box…what would you do/make with a roll of shelf liner?
Follow Duck® Brand on Pinterest and Facebook to stay up to date with new products and ideas!