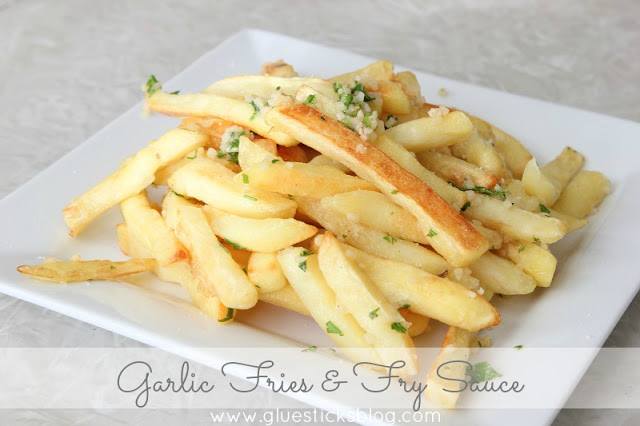 I ventured to the State Fair this summer with my 4 kids. We had a great time seeing the exhibits and going on a few rides. One of the things people always talk about when going to a fair is the FOOD. All of the yummy fried foods. We splurged and decided that we would share an order of garlic fries. I saw an add for them in the flyer we got at the main entrance. We searched all over and finally found the booth that sold the "famous" garlic fries. We waited over 10 minutes for them to be made and carried our little bucket over to the shade to enjoy them. I took one bite of my first ever garlic fry….and was SO disappointed. It was hard. And not like an over-fried hard, but a cold hard. Like it was still frozen! I thought maybe it was a fluke and so I grabbed a few more. They were mushy. The kids thought they were fine and by this point I was not going to go back and wait in line for more. $7 for a bucket of mushy and half-cooked french fries. I was done with garlic fries.
Then I went to Trader Joes and saw them in the freezer section. $3/bag. I decided to give them another shot. This time we had success! They were so amazing and we all agreed that they were 500% better than the State Fair flops. I decided that we needed to figure out how to make our own. Here is our version. Use fresh potatoes to make your fries, or your favorite brand of frozen french fries. Either way, they are yummy. If you only clicked on this post for the fry sauce, scroll down to the bottom!
Garlic Fries
gluesticksblog.com
3 T. fresh parsley, chopped
3 T. minced garlic
3 T. butter, melted
sea salt to taste
Arrange your fries on a baking sheet and cook according to package instructions. Make sure they are nice and CRISPY! You can even broil them for a few minutes after baking them to make sure.
Melt butter in microwave and add garlic, parsley and salt (about 1/2 tsp.) and add more after the fries are baked.
Pour into a large bowl.
As soon as fries come out of the oven, dump them into the bowl and toss with tongs until completely covered. Add more salt if necessary.
Serve immediately!
Perfectly crisp (not undercooked) and full of garlic flavor. We couldn't get enough of them!
Be sure to serve them with your favorite sauce. Ranch, ketchup, or fry sauce. I love Chick Fil A's fry sauce and this one comes close (at least I think it does).
Fry Sauce
gluesticksblog.com
1/2 c. mayo
1 T. bbq sauce (Sweet Baby Ray's is our favorite)
1 tsp. ketchup
Mix and refrigerate 30 minutes before serving to allow flavors to meld.
What is your favorite dipping sauce for french fries? Do you have another variation for fry sauce? I'd love to try it!