Our Living Room
We have games, lots of games. This is just the over-flow from our game closet. The ones that the kids like to get out frequently. My rocker is seeing better days, but it still works. When I came from the hospital after our first daughter was born, it was sitting in the living room. My husband and boys put it together for me and it was such a sweet surprise.
 Our Great Room
I love this room. It is open and right next to our dining area. This is where everything happens. We've had this furniture for 10 years (the tables and sofas) and it has held up amazingly with four kids. My trick? SPRAY PAINT. Every now and then I take out the coffee table and end tables and give them a quick coat of spray paint. They're good for at least another year after that! The wicker storage totes are from IKEA and hold the baby's toys. It's easy to do a quick pick up at night and keep them there instead of hauling them upstairs.
Our Kitchen
See that movie theater popcorn popper? That was a present for my husband's birthday last year. He is a huge popcorn lover and so are the kids. They eat it every night. I was so excited to surprise him with this machine, but accidently had it shipped to our OLD address in Ohio! Our nice renters mailed it out to us, but I was still out a lot of cash for shipping it. Oh well, it is a story we'll remember and a lesson LEARNED. Double check your shipping and billing addresses every time!We've had these bar stools for 5 years and I decided to do away with the tan micro suede and give them a quick face lift. New fabric, and several coats of Scotch Guard later, they look brand new again and are super easy to keep clean.
Our Dining Room
 My grandparents purchased this dining set it in the 1950s. My mother inherited the set after they passed away and is letting us have it in our home. My kids still call it "Grandma's Table".
The rug is actually from Walmart! I found it online for around $60. Recently I noticed that they have some pretty fun rugs in their stores too for around the same price.
My Girl's Room
The flowers were a stencil. My daughters both love picking flowers and are always bringing me dandelions so I thought I would add some flowers to their bedroom.
Our Boy's Room
We stopped by a Williams, AZ. near the Grand Canyon on Route 66 last summer. It was a fun little town and we picked up some souvenirs for the boy's room. I also hung up their pinewood derby cars on the wall. They are so proud of those. Photo bomb by little sister.
Our Home Office
It only looks like this if I am not in the middle of a project or if the kids haven't been crafting that day. Otherwise it looks like this…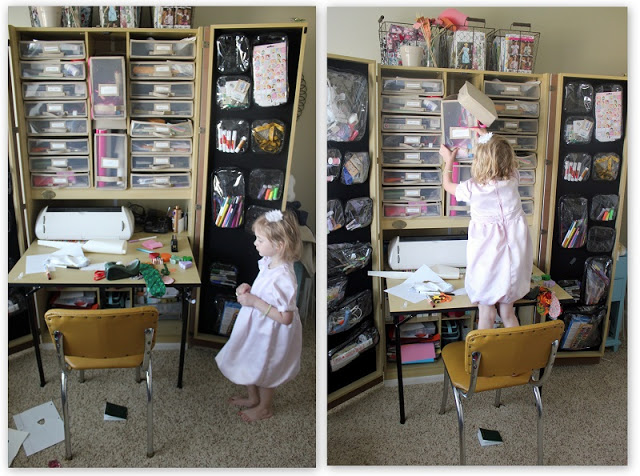 Haha, you can get the scoop on that photo in my "If You Give a Child a Crayon" post!
Now back to the cleaner pictures…