This shop has been compensated by Collective Bias, Inc. and its advertiser. All opinions are mine alone. #HandsOnCrafty #CollectiveBias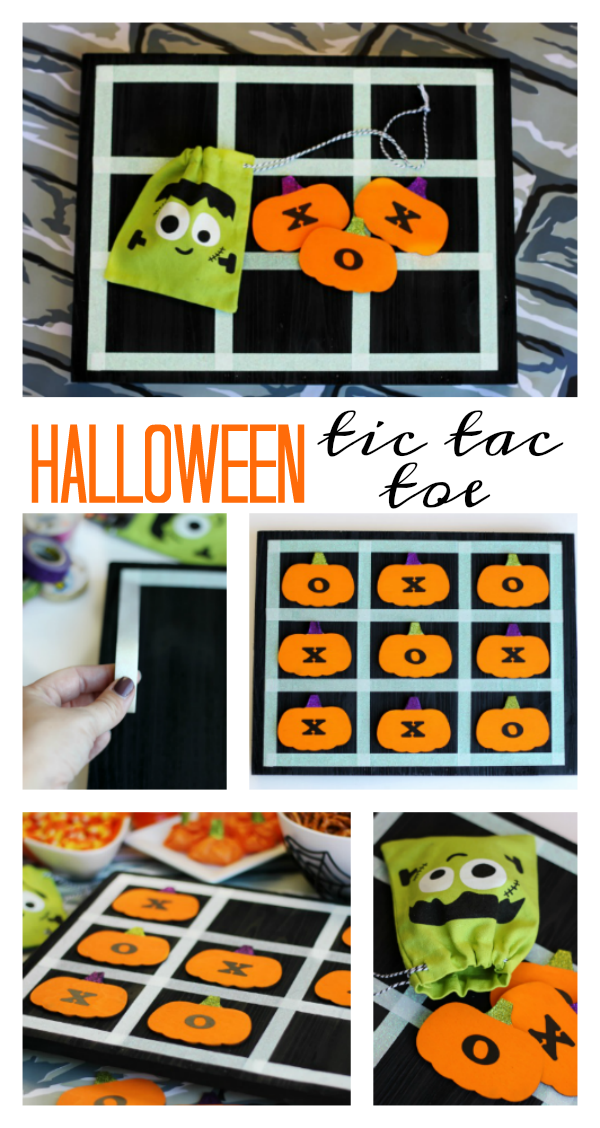 A darling Halloween tic tac toe game, perfect for a classroom or kids costume party! It comes together easily using Scotch® Expressions Tapes and craft paint. Store the pieces in a drawstring bag in between uses.
You know that feeling when you are walking through the craft aisle and all of a sudden a light bulb goes off in your head? That happened to me when I saw all of these sparkly Scotch® Expressions Tapes at Walmart. In fact, I bought every color that they had! Here are two easy crafts to make for your next Halloween get together!
Halloween Tic Tac Toe
Supplies:
Scotch® Expressions White Glitter Tape
Scotch® Expressions Purple Glitter Tape
Scotch® Expressions Green Glitter Tape
Unfinished wood board (I found mine at Walmart, 12″ x 16″)
Sponge paint brushes
Craft paint
12 unfinished wooden pumpkins
Small drawstring bag
Permanent marker or vinyl letters, optional
Scotch® Create Mounting Squares, optional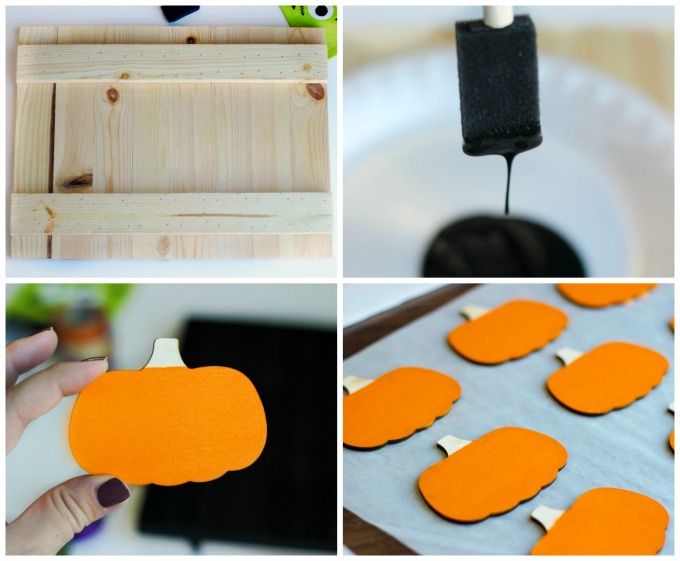 If you are nervous about your board scratching your work surface or party table you can flip it over and adhere 4 Scotch® Create Mounting Squares to the back, leaving the bottom sticky tabs on.
Paint board with two thin coats of black craft paint, allowing to dry completely in between coats.
Paint pumpkins, leaving stem unpainted.
Let dry completely.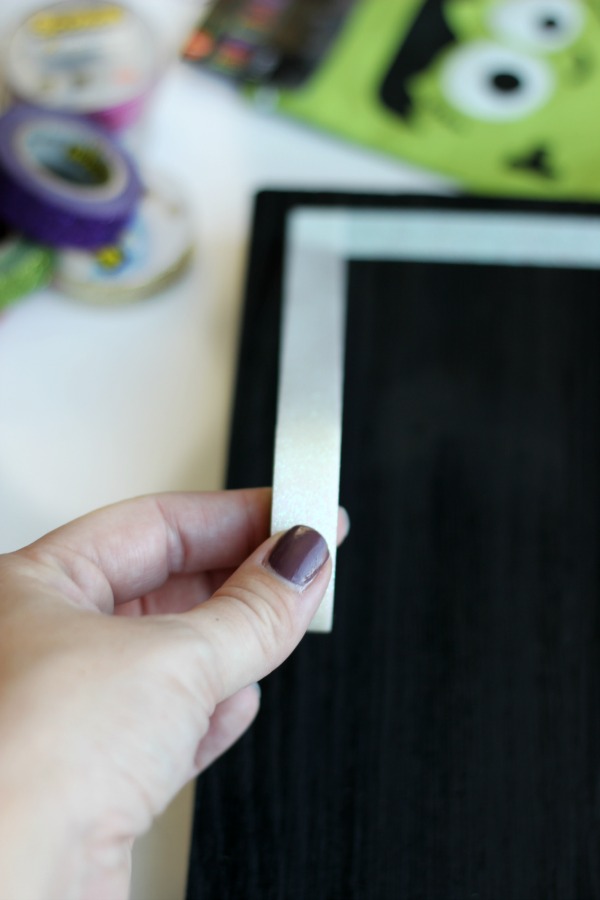 Run a border of Scotch® Expressions White Glitter Tape all the way around the board. I love how versatile the tape is. It sticks to many different surfaces and worked great for this project! Much easier than painting a border all the way around.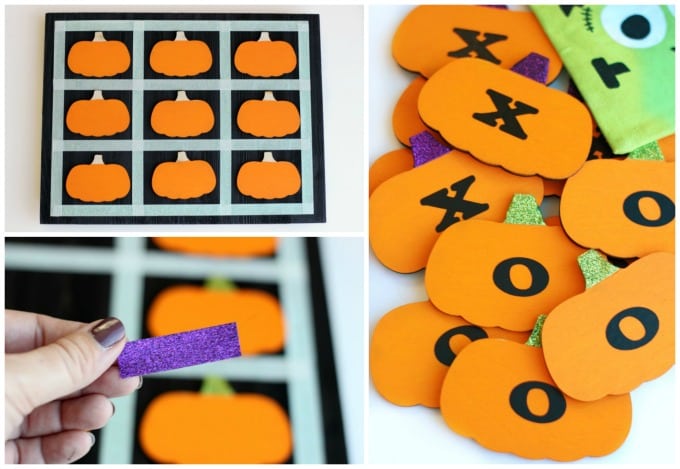 Now to finish off the pumpkins! Use the purple and green Scotch® Expressions Tapes to wrap around the stem. 6 in purple and 6 in green. These will be the "x"s and "o"s.
You can stop right there, or add actual "x"s and "o"s with a permanent marker or vinyl. Since I have a vinyl cutter I went that route, but it is completely optional.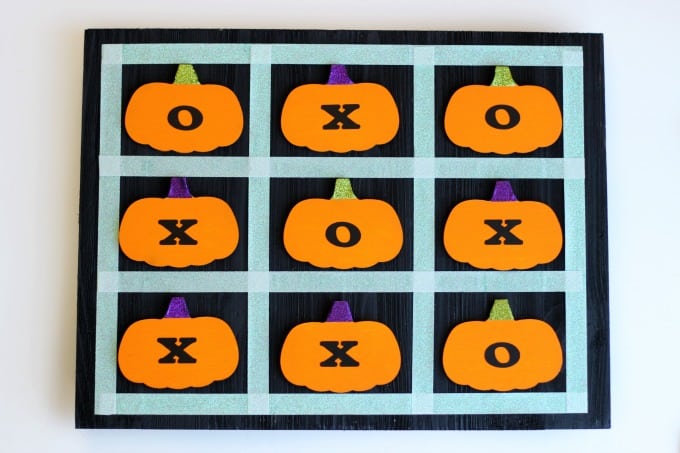 Isn't that cute?!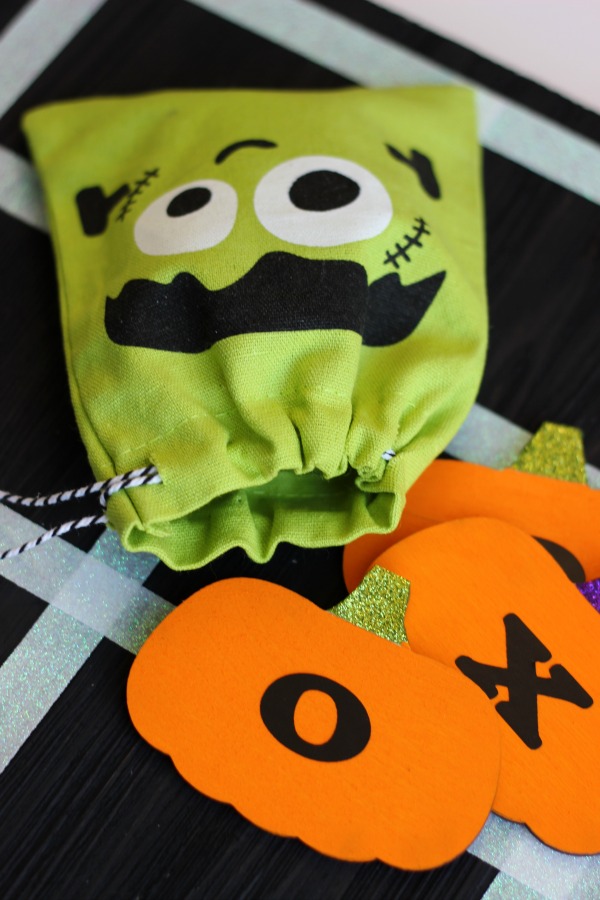 To keep all of the pieces together, store them in a small drawstring bag or sandwich bag.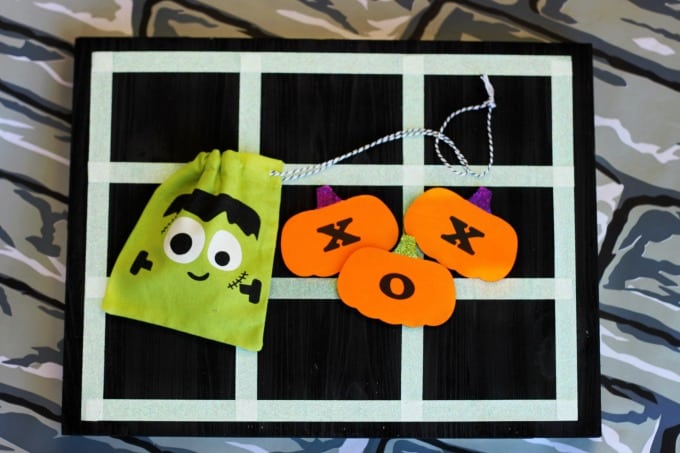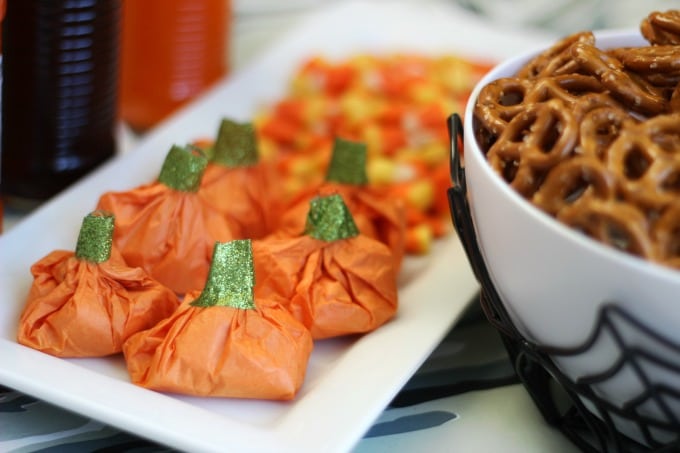 It's always fun to have little prizes to hand out for party games. Here is a quick and easy pumpkin candy pouch!
Pumpkin Candy Pouches
Scotch® Expressions Green Glitter Tape
Orange Tissue Paper
Bowl
Pencil
Scissors
Candy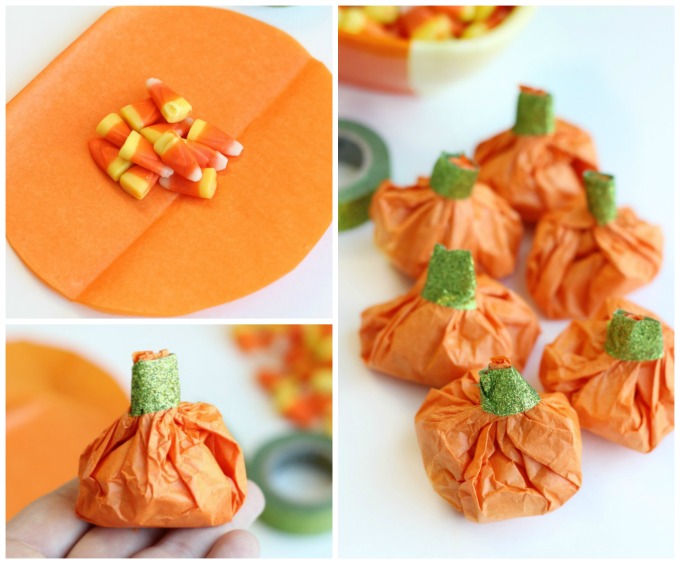 Use a cereal bowl to trace a circle on 3 sheets of tissue paper.
Place a small handful of candy in the center. Bring up sides together and twist into a stem.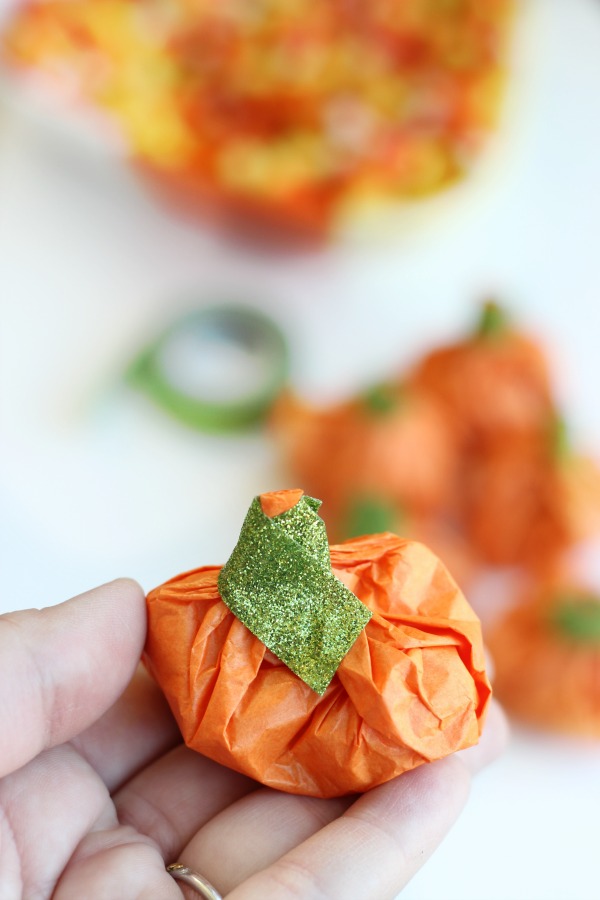 Wrap stem with Scotch® Expressions Green Glitter Tape. It sticks really well to other surfaces, but not always to itself because of the glitter texture. That's ok, though, just make to sure have a tiny bit overhang in the back that attaches to the tissue paper instead of sticking to the tape itself.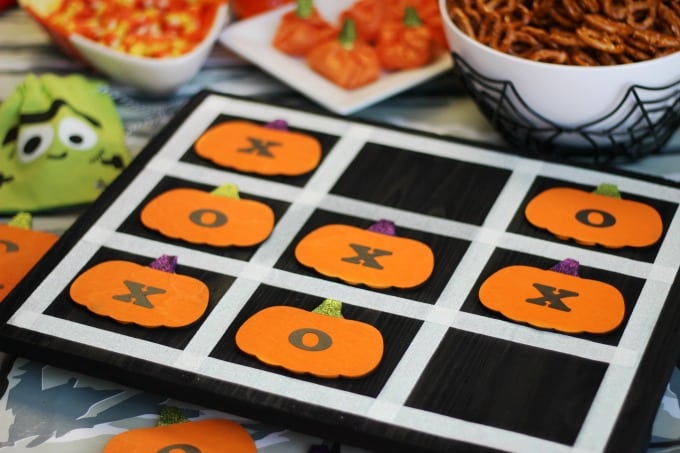 There is just something about fun Halloween tablescapes that make me all giddy. The colors, the little characters, the perfect balance of spooky and fun!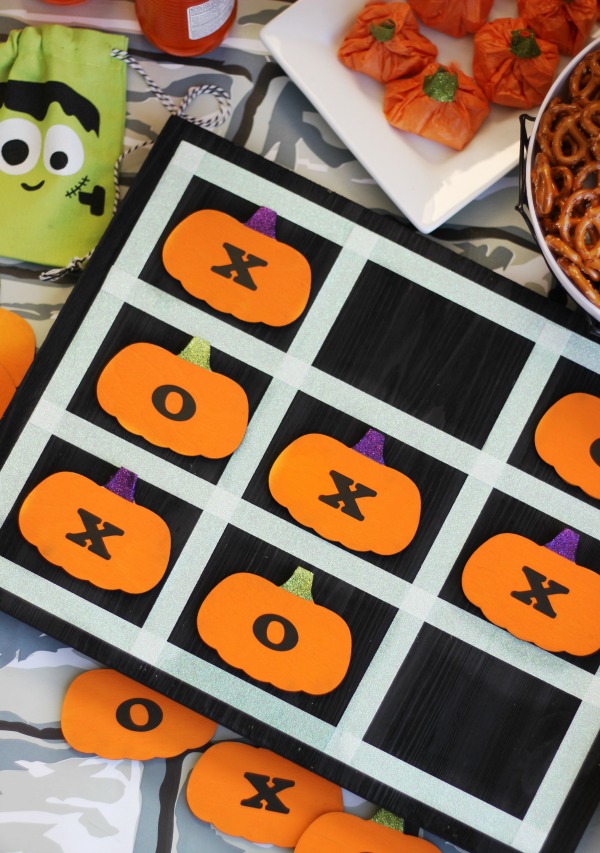 I have a couple of other projects coming up using some of the other 
Scotch® Expressions Tapes
that I bought so stay tuned!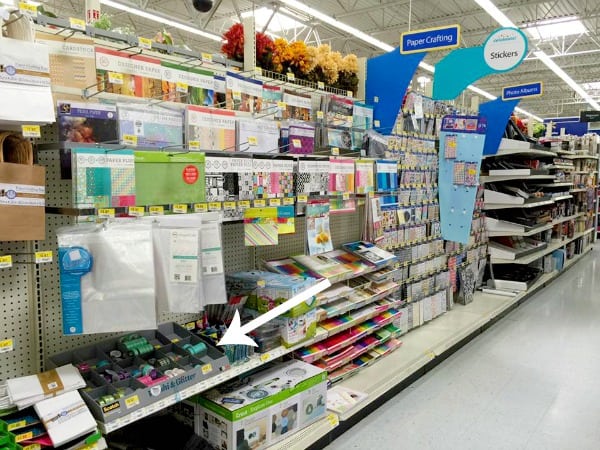 I found all of the supplies for my Tic-Tac-Toe game right here in the craft aisle at Walmart. Nice and convenient!