A gorgeous wreath to hang during the summer months! This patriotic wreath tutorial is simple to make, quick, and inexpensive!

With Memorial Day, the Fourth of July and Labor Day all within a matter of a few months, I decided to take down my spring wreath and make something patriotic to put in its place.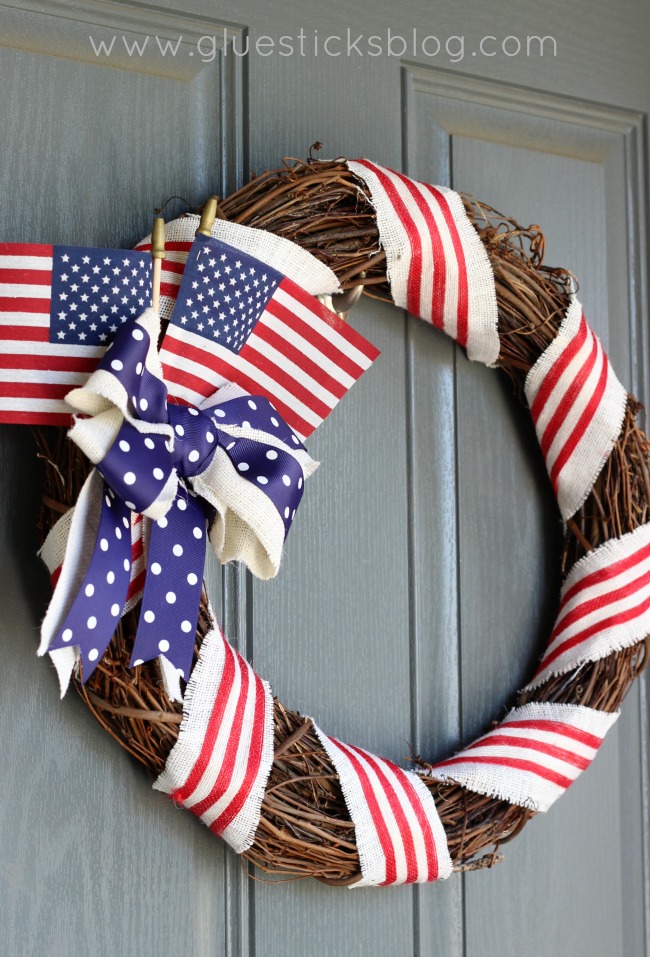 This patriotic wreath came together in about a half an hour and was very inexpensive to make.
4 More Easy and Inexpensive Wreaths to Check Out!
Cardstock Patriotic Wreath: Here is a fun wreath to make with the kids, or without, but it is easy enough to do with them. To make it even simpler, you can just cut out the stars and glue them to the base instead of making them 3-D.
Citrus Summer Wreath: Bright pops of citrus, greenery and gingham combine for an adorable & easy citrus wreath to make this summer!
Ornament Holiday Wreath: Use inexpensive ornaments and glue around a wreath base for a stunning ornament wreath.
Easy Hoop Wreath: Bring the sights of spring indoors with a stunning hoop wreath! Hoop wreaths are one of the easiest kinds of wreaths to make.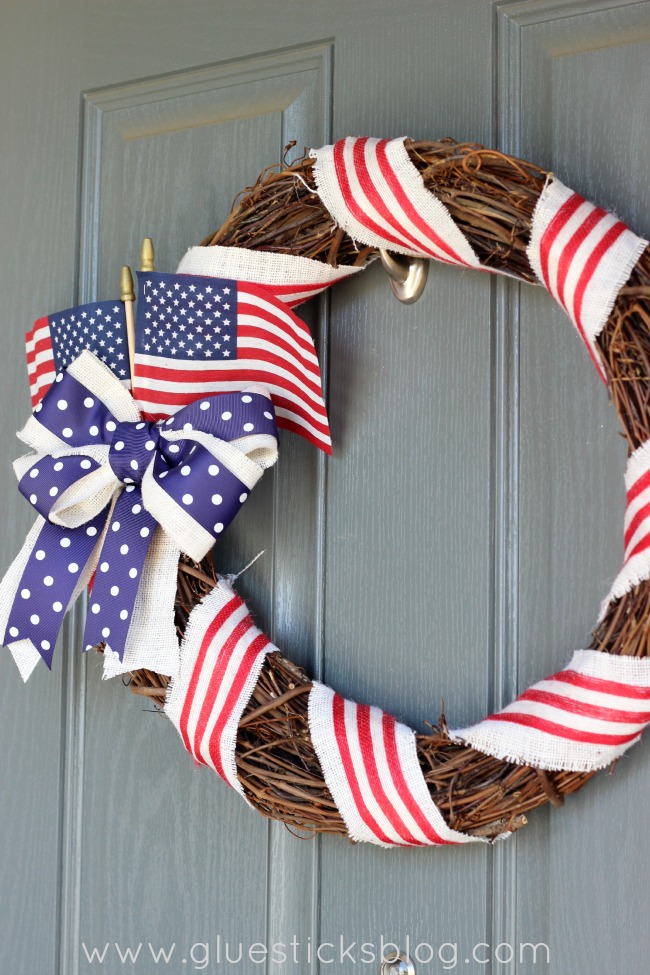 Old Glory Patriotic Wreath Tutorial
Supplies needed for Patriotic Wreath:
18″ grapevine wreath base
3 yards 1 1/2″ striped ribbon
3 yards 2 1/2″ burlap ribbon or burlap strips
2 mini flags
hot glue
glue gun
Bow ( 2 1/2 yards 1 1/2″ grosgrain ribbon and 2 1/2 yards burlap or burlap ribbon)
Steps for Making a Patriotic Wreath:
Step 1: Start by wrapping your wreath with the burlap. Secure with hot glue on the back as needed.
Tip: If using burlap that has a raw edge, spray with hair spray to help with fraying.
Step 2: Layer your striped ribbon over the burlap, hot gluing on the back as needed.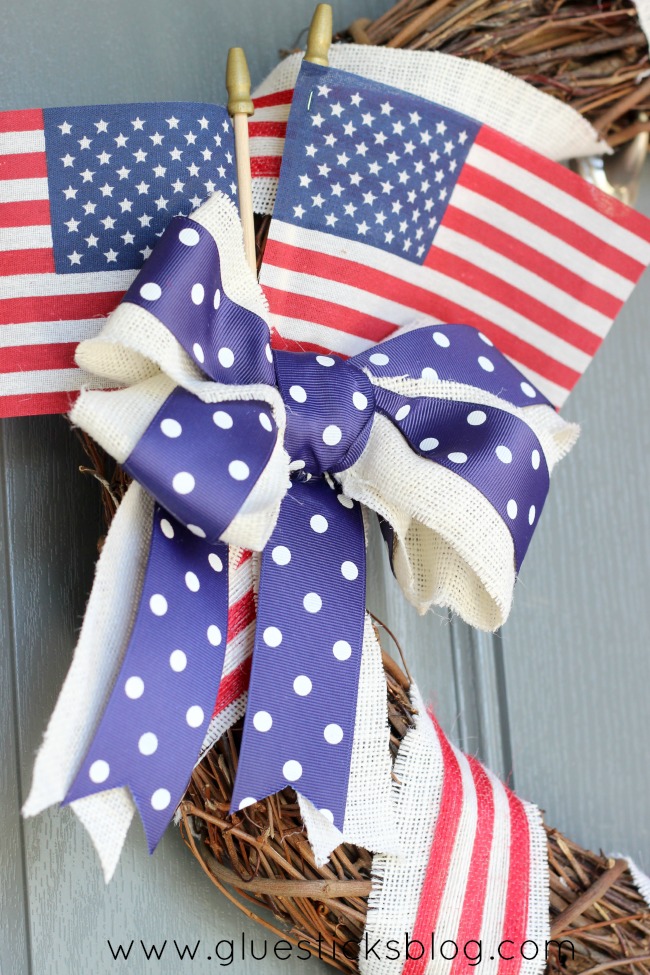 Step 3: Make a bow.
Note: You can make a basic  bow by layering your burlap and ribbon, or a fancier bow like the one I did above with four loops.
I was too lazy to create a tutorial for how I made this bow because there are already so many tutorials online. Here is one similar, I did 4 instead of 6 loops.
Step 4: Attach the flags by sliding the sticks through the wreath base. No glue needed.
Step 5: Glue your bow onto the wreath and you are done!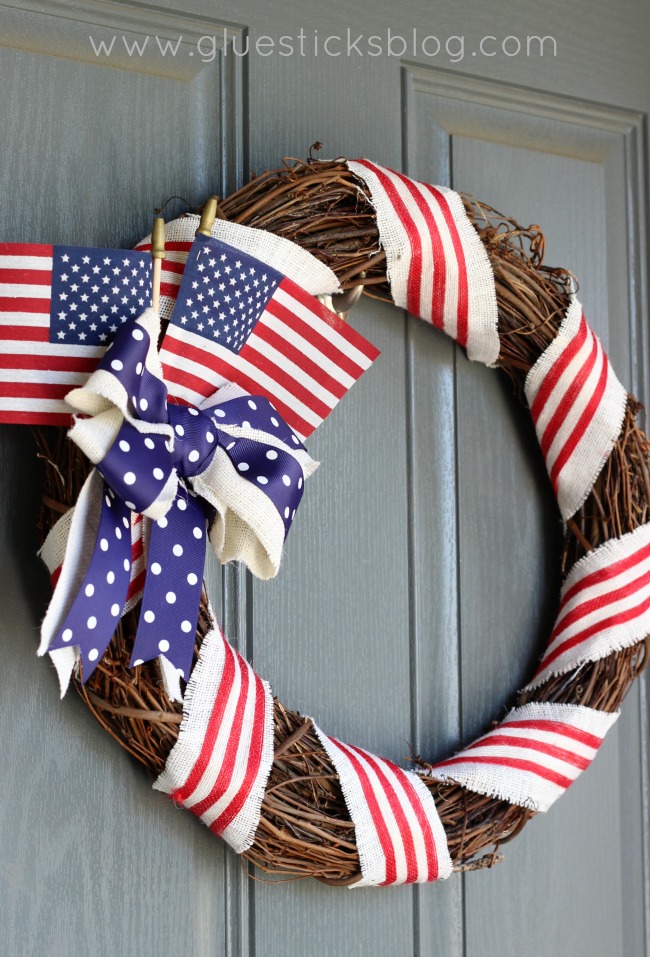 I love how simple it was to make and how bright and patriotic our front door looks now!
For reference, the wreath base, striped ribbon and flags were purchased at Michael's. The burlap and blue ribbon were leftover from other other projects.
Here are a couple of other fun projects you might enjoy!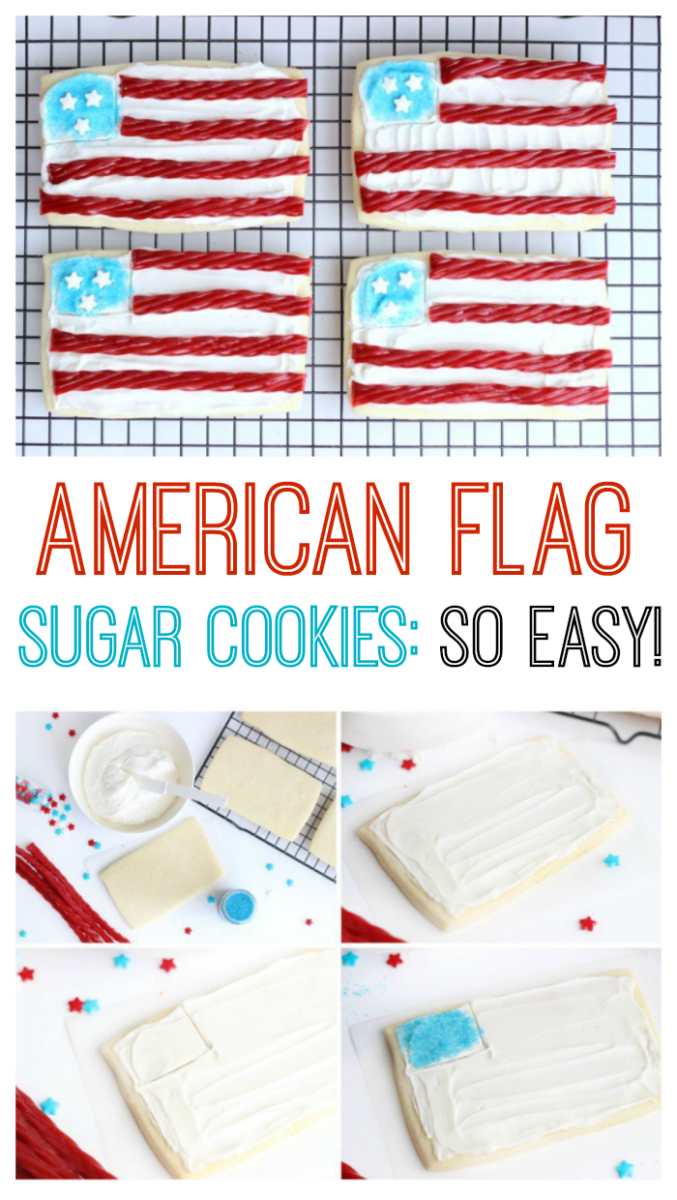 These flag sugar cookies are so easy to make with rectangle cookies and red licorice! Planning a BBQ for Memorial Day or the 4th of July? Don't forget a sugar cookies station for the kids!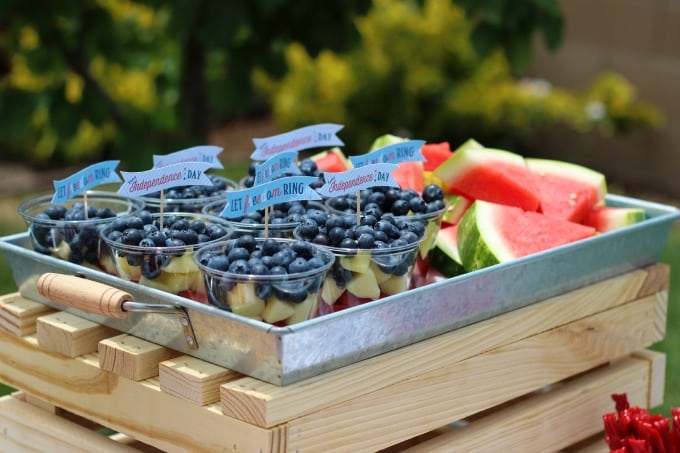 County Fair 4th of July BBQ Ideas
Take your 4th of July BBQ up a notch with a County Fair inspired backyard get together! Complete with all American hot dogs, Twizzlers flag cookies, Red, White, & Blue fruit cups, and Americana decor.
Welcome! I'm Brandy, mother to 5 darling kiddos and a cute black lab named Toby. My husband is in the Coast Guard so we've lived all over the place, turning each house into a home. I love baking, sewing, making cute things with my kids, and sharing what I've learned with all of you!