Make dad a mini tool box craft filled with coupons! A darling Father's Day gift from the kids! Altoid containers are fun to use for so many projects. 3 are stacked together to create this mini tool box.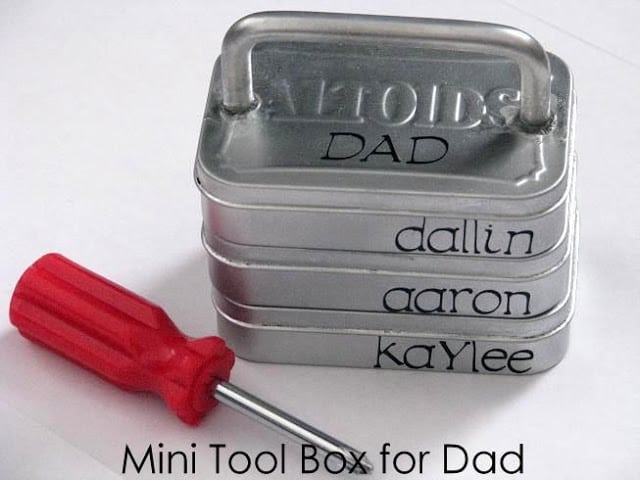 Father's Day is just around the corner and I would love to share an idea that my children and I made Derrick. We actually made this as a Christmas gift last year, but it could be used for any occasion for the lover of tools in your home! And the Daddy over here has many boxes of tools, so this was perfect for him.
I found my inspiration for this project by googling "creative gifts for dad" in google images and found a photo of a mini tool box on Alpha Mom! So I checked out her site and was in love! Here is our version of this fun tool box!
Father's Day Gift: A Mini Tool Box Craft For Dad
For this project, you will need:
Empty Altoid Tins. At least one, but they are darling when stacked.
Sand paper or wire brush
Spray Primer
Spray Paint
Vinyl + Cricut or Silhouette (optional)
Craft Wire
Hammer & Nail or metal punch
Mini Hardware Handle
(Don't you just love Altoid tins? The project ideas for these cute little boxes are endless!)
First things first. Cover your work surface outside with newspaper and make sure it is well ventilated. Sand each tin to create a rougher surface for your paint to stick to. Don't worry about doing anything to the inside of your tins, just the outside.
Apply your spray on primer and let dry. Then apply several thin coats of the spray paint color of your choice, allowing time for each coat to dry in between layers.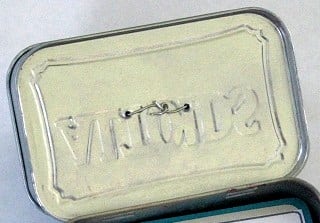 Once dry, mark 2 dots on the bottom of the first tin, and the tops of each consecutive tin, and bottom of the middle tin. Using a hammer/nail or metal punch, carefully hammer two holes into each surface that you marked. Make sure that the holes line up with the tin underneath since you will be wiring the tins together. After the holes are punched, wire them together with your craft wire.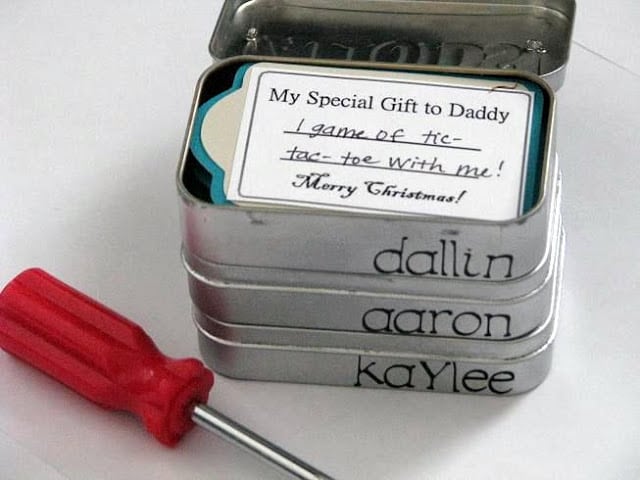 Once your tins are wired, apply vinyl (this is of course optional). And your handle. You could screw in you handle from the underside, but the one that I bought didn't work like that. The screws were too long (they allowed for depth since they are supposed to be screwed into a cupboard) so I used some epoxy and allowed it to dry 24 hours. It is merely a decorative touch, not meant to hold up to being carried around a lot.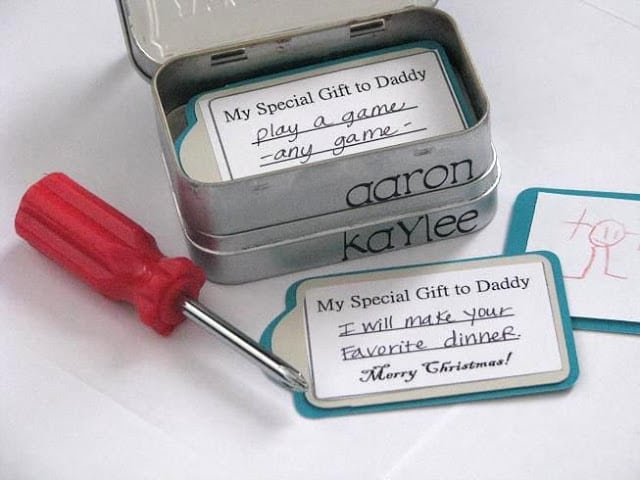 Then fill it with little goodies and you are set! We made these coupons for ours. I put them in their designated tins. On the back of each coupon is a picture that each child drew.
If you liked this Father's Day gift idea you might also like…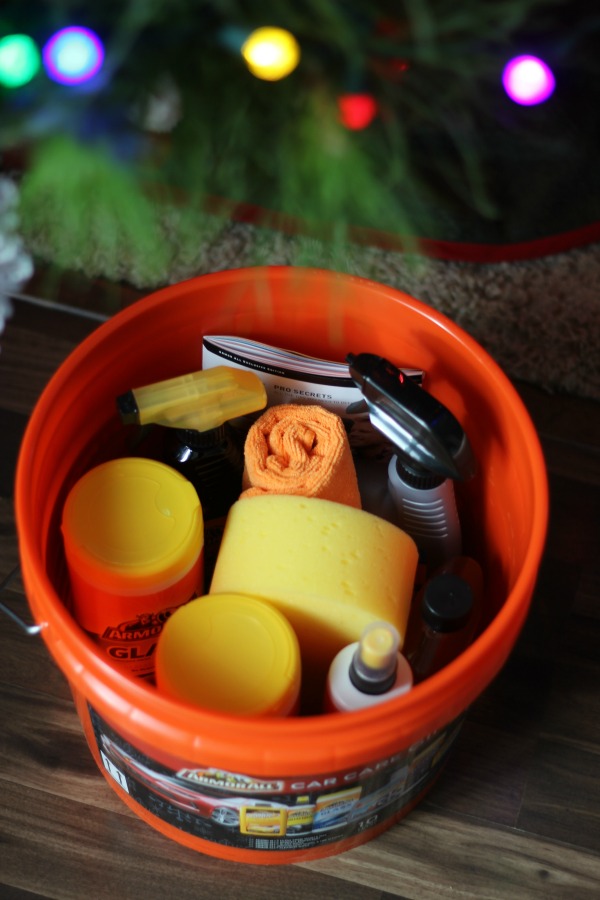 Welcome! I'm Brandy, mother to 5 darling kiddos and a cute black lab named Toby. My husband is in the Coast Guard so we've lived all over the place, turning each house into a home. I love baking, sewing, making cute things with my kids, and sharing what I've learned with all of you!