This shop has been compensated by Collective Bias, Inc. and its advertiser. All opinions are mine alone. #InspireBigDreams #DreamBigPrincess #CollectiveBias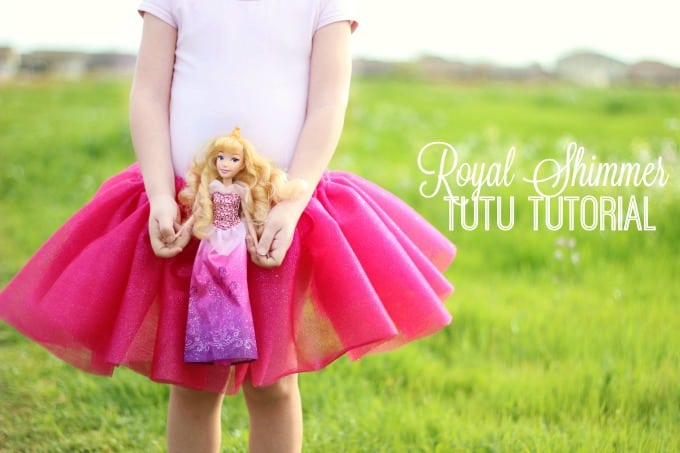 Tiaras, dress up shoes, pearls, sparkly dresses, and jewelry are a part of everyday life for the princesses in our home. Sometimes I watch my girls parading around in their princess and ballerina attire and think, "How did this happen?"
After two boys, I didn't understand little girls very well. I couldn't imagine a home full of sugar, spice, and everything nice, but I have embraced it wholeheartedly, becoming their biggest enabler, because it is who they are. My girls are caring, gentle, and kind. Just like their favorite princesses!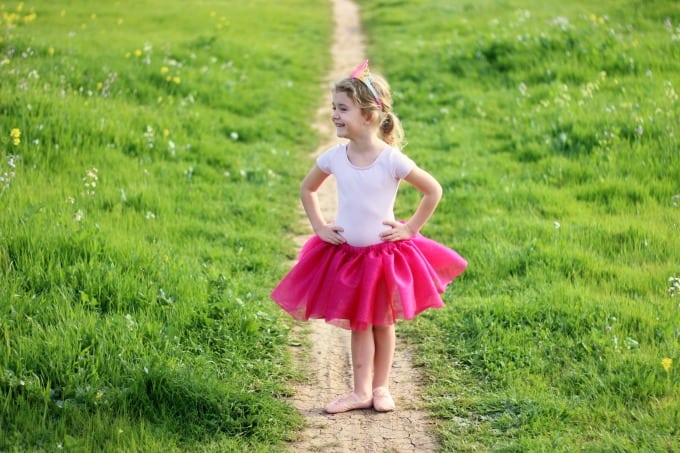 This little one walked on her tippy toes before she could even run. Her mannerisms are very deliberate. She is careful, graceful, and points her toes when she walks, and she LOVES ballet. We could tell right away that this wasn't just a phase, but a part of who she is.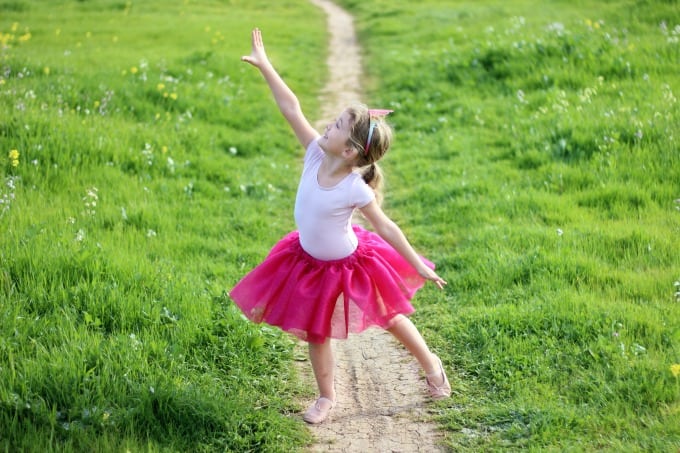 We enrolled her in a 3-year-old ballet/tap dance class last year for an introduction to dance. It was hard for her at first since she is very shy, but she soon felt welcomed by the new girls. I was proud of her for going out of her comfort zone and dancing in front of others!
Ruby also loves her princess dolls because they are beautiful and their stories are magical. Each one finds her "Happily Ever After."
I like the princesses because each one has a story to tell about being courageous, kind, brave, caring, and unique. A story that didn't come with a golden ticket to happiness.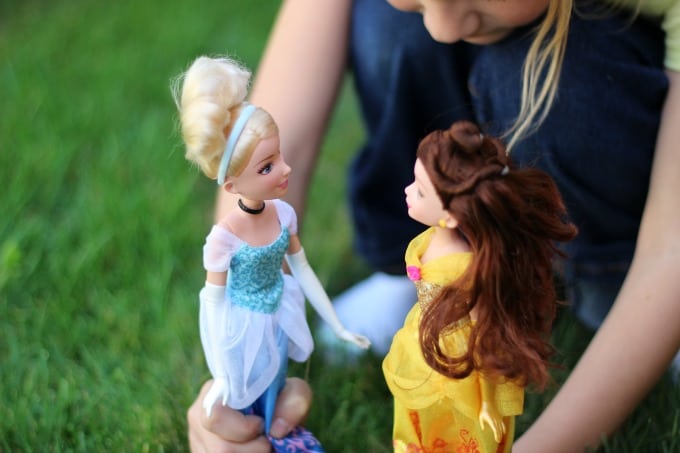 My favorite princess is Cinderella, for that very reason. She was kind and patient no matter what was thrown in her path.
Have faith in your dreams and someday
Your rainbow will come smiling through
No matter how your heart is grieving
If you keep on believing
the dream that you wish will come true
(A Dream is a Wish Your Heart Makes)
I hope every little girl grows up believing this. "No matter how your heart is grieving If you keep on believing, the dream that you wish will come true."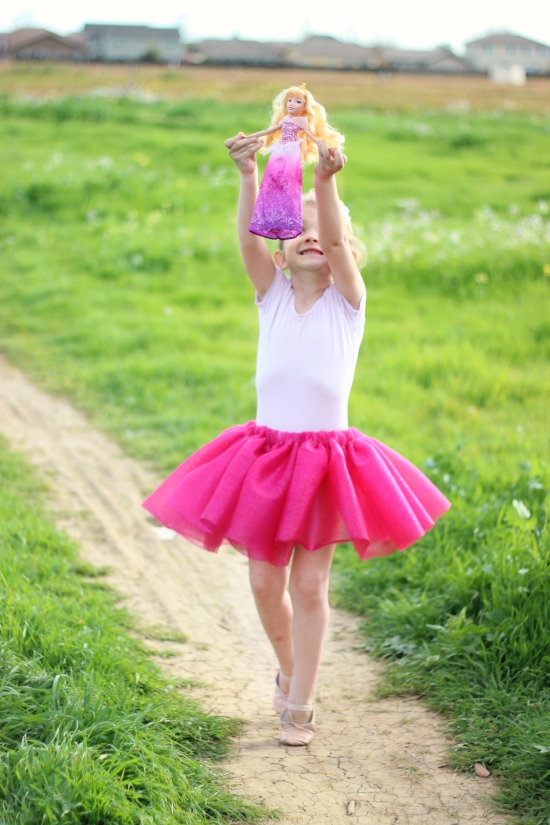 I recently asked Ruby what she wants to be when she grows up. She said, "I want to be a ballerina because I love to dance, and I want to be a mom too."  She will be a beautiful ballerina and mother. I just know it, and we will support her in her desire as long as SHE loves ballet and wants to dance.
Her dance clothes are well worn since she doesn't just wear them to dance class. It isn't uncommon to see her donning a tutu at the grocery store or at the park. We thought it might be fun to make a new tutu to match one of her favorite princesses.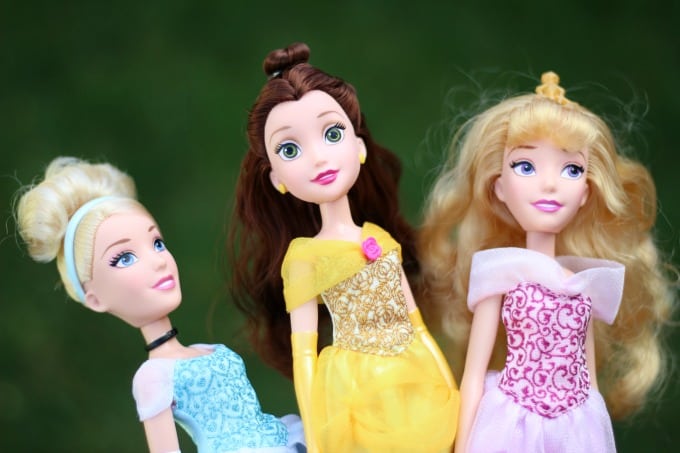 She has 3 favorite princesses so when I asked which one she would like to make a matching tutu for she looked at me and said, "Can you help me decide? I like all of them!" So we discussed which colors went with which princesses and it was a quick decision after that. Aurora is PINK.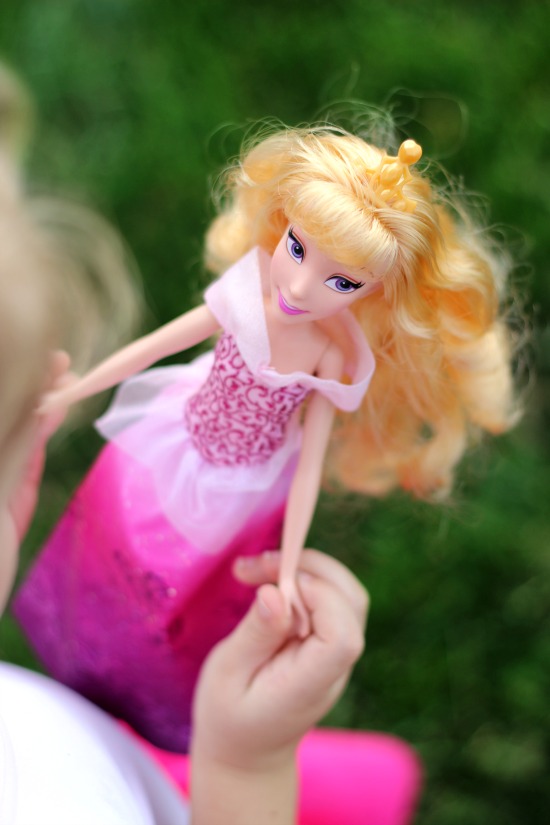 And so it was decided that we could make a tutu to match her new 
Disney Princess Royal Shimmer Aurora Doll.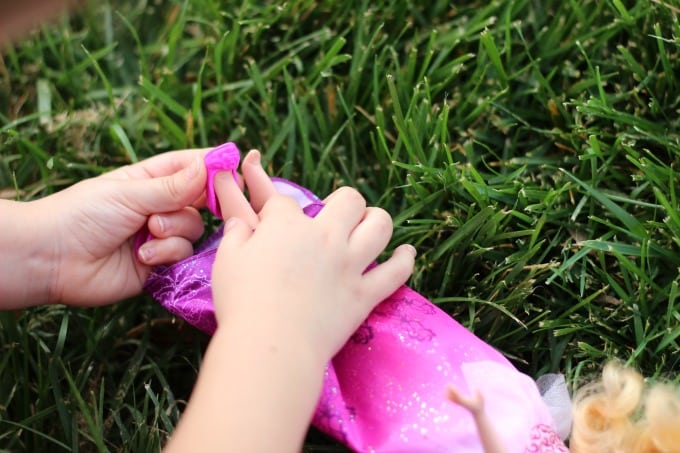 There is a Disney Princess Royal Shimmer doll for all eleven princesses so it is easy to find your little gal's favorite! Each comes with removable shoes and a shimmering gown with ombre and glitter accent. Ruby loves taking the shoes on and off and playing with Aurora's hair. She has even tagged along to dance class with her.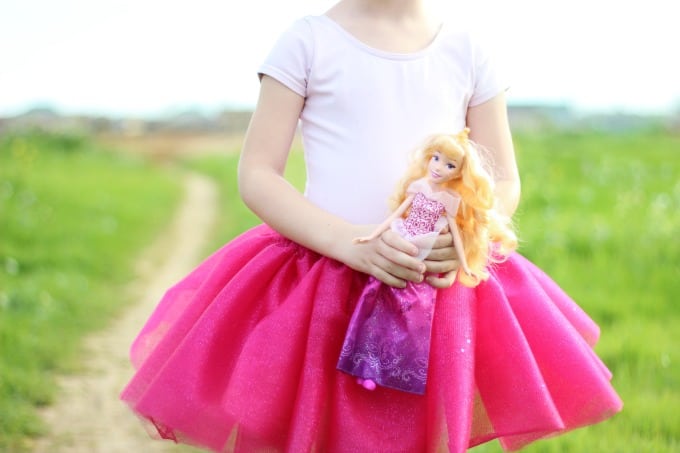 Ruby chose a shimmery magenta tulle to match the shimmery fabric found on Aurora's dress. She adores her larger than life shimmery pink tutu. It is so full and feminine and came together in about a half an hour!
**And what happens when your daughter shows up to dance class in such a fabulous tutu? You get asked to make 10 for the upcoming ballet recital—in rainbow colors for their "Somewhere Over the Rainbow" dance! Let me tell you, that is going to be a whole lotta' cuteness right there! I am excited to do this for them!**
You can find tulle in every color of the rainbow, so making a tutu to match your little one's favorite princess is a breeze! There are many no-sew tutorials out there, but I find that sewing is quicker! Instead of cutting dozens of strips and tying them to an elastic band, I folded my fabric twice, sewed one very long seam, then fed my elastic through. It really was as simple as that. Let me show you!
Royal Shimmer Tutu Tutorial
3T-8years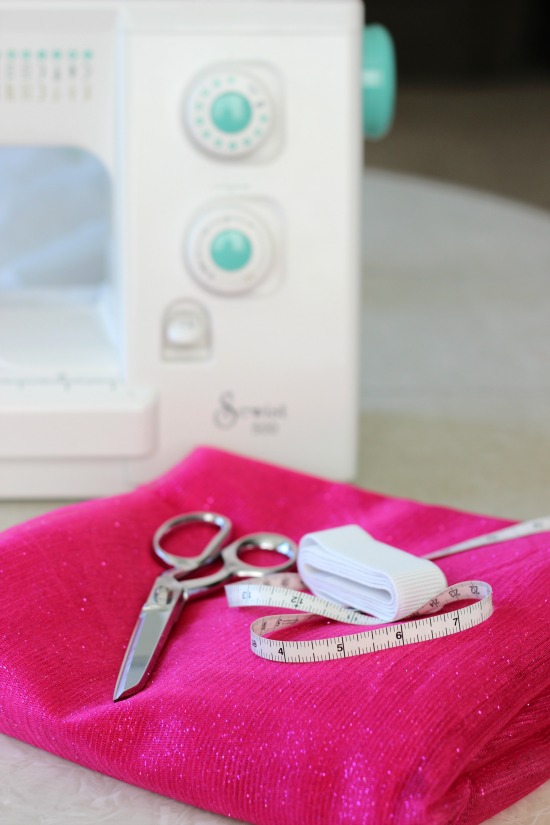 Supplies:
5 yards sparkly tulle
1″ wide elastic
scissors
alligator clips (hairbow clips)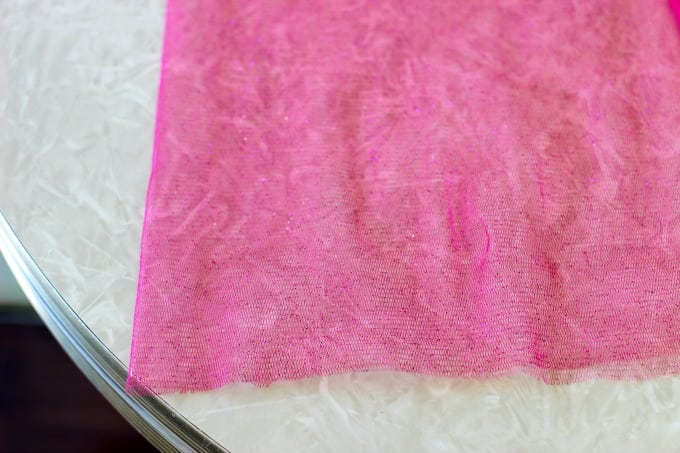 Tulle, when purchased by the yard, comes already folded in half. Leave it folded. Above you will see what it looks like right off the bolt, 2 layers.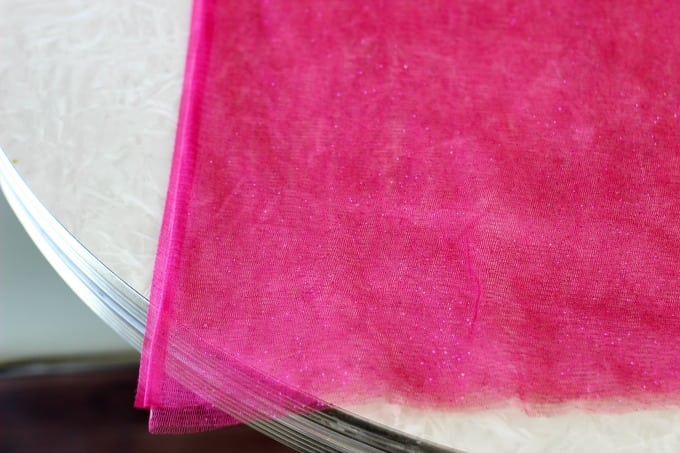 Fold it again so that you have 4 layers.
Here is what you will have now: a 5-yard strip of tulle that has been folded a total of 2 times.
(Once by the store, and once by you)
for a total of 4 layers.
5 yards of tulle is super long and won't fit on the table. I laid it all out on the living room floor, but moved it to the table for better lighting in this photograph.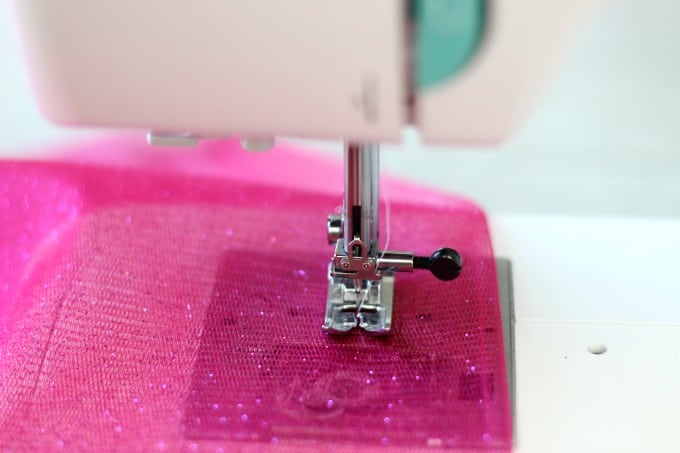 Sew a casing across the top fold 1/4″ wider than your elastic. I used 1″ elastic, so my casing was 1 1/4″ wide. You can't really pin tulle, so I like using a bunch of alligator clips to hold the fabric in place as I sew across the top, removing the clips as I sew.
(I forgot to snap a photo of the clips that had been removed in this photo).
Now, decide how long you want the tutu to be. (Ruby is 4 years old and I made hers, and the ones for the girls in her dance class, 12″ long.)
Trim the excess off of the bottom of the tutu. This can be easily done by folding the 5-yard strip in half lengthwise a few times so that you don't have to cut across the entire 5-yard strip.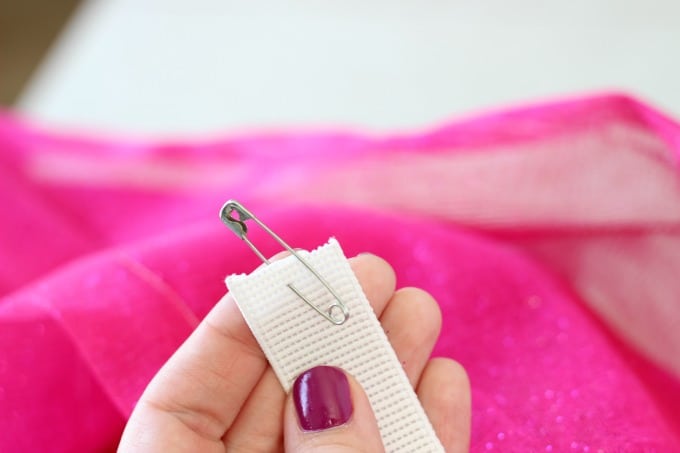 Cut a piece of elastic the size of your child's waist. Add 1 ". Attach a safety pin and pull through the elastic casing you just made. Yep, pull it through that entire 5-yard strip. It's tedious, but not hard!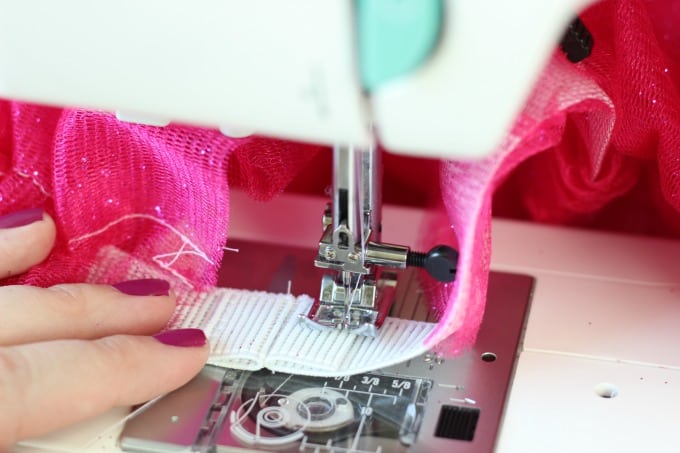 Once elastic has been pulled through and comes out the other side, sew both ends of elastic together.  Then open and fold each end flat and sew again so that it lays flat.
Evenly distribute the gathers all the way around the skirt. There will be an opening in the back where the ends of the tulle meet. You can zig zag that seam closed, but it is so full and gathered that you don't even see it when it is being worn.
Have faith in your dreams and someday
Your rainbow will come smiling through
I hope she knows that she can achieve anything she sets her heart on. We love our Ruby girl!