This lifecycle of a butterfly preschool lunch and craft idea are such a fun way to teach kids about the amazing transformation from caterpillar to chrysalis. Originally posted in 2012.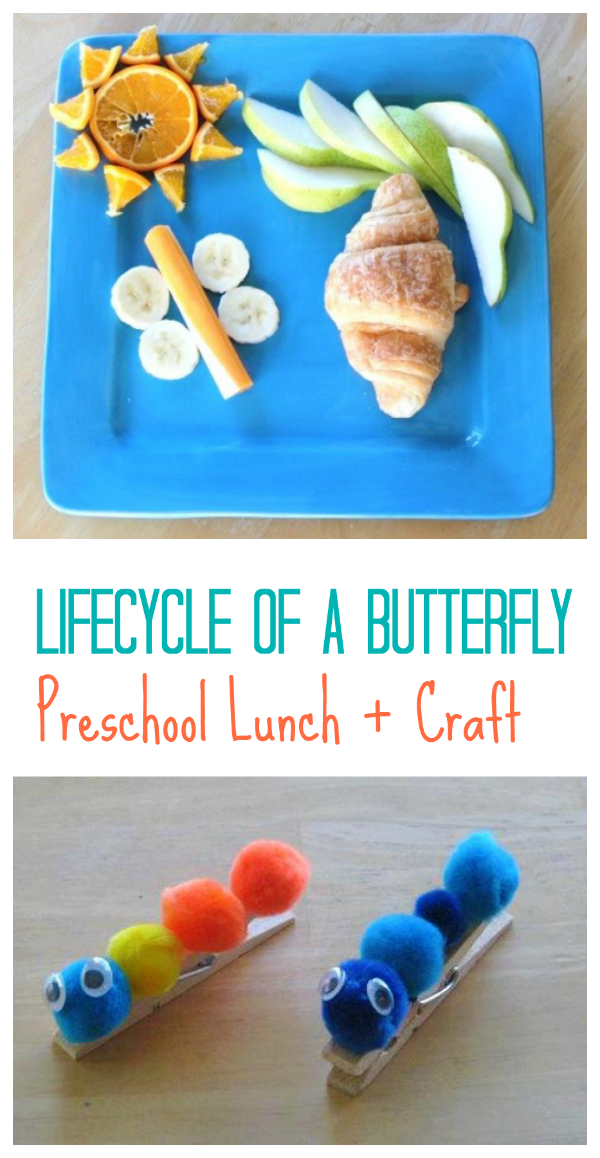 Kaylee and I had fun learning about butterflies last week. We did some activities and games about the life cycle of a butterfly. When I went to make her lunch, her croissant looked like the cocoons we had just seen on a video and so we went with it.
This would be a fun little lunch to make with preschoolers. Lay everything out assembly-style and let the kids make their own chrysalis scene.
Lifecycle of a Butterfly Preschool Lunch & Craft
Ingredients needed for each child:
1 mini croissant
1/2 pear
2 orange slices
4 slices of banana
1/2 of a cheese stick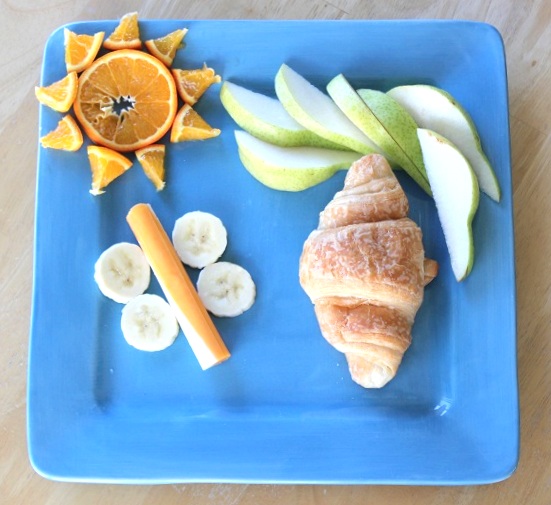 She loved her little cheese butterfly and croissant cocoon.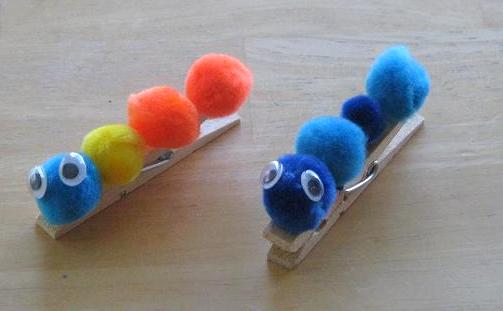 We made these little caterpillar clips last year and they are still all over our house. Such a fun little project and perfect for clipping artwork to on our wall downstairs.
Clothespin Caterpillar Craft:
Supplies:
1 clothespin
2 craft eyes
white craft glue (or hot glue)
4 pom poms
Glue the pom poms to the clothespin using craft or hot glue. Then add the eyes!
Add a magnet (optional) to put on the refrigerator to hold their lifecycle of a butterfly preschool coloring pages and activities! Clip them to curtains, a jacket, a backpack or anything!
These
butterfly costumes
made out of felt would be fun to have in a classroom for imaginative play. I made two for my girls for Halloween a few years ago and they still like wearing them!
If you liked this lifecycle of a butterfly preschool craft you might also like…
Easy Butterfly Cupcakes
No-Sew Wash Cloth Puppies
Pom Pom Penguin Craft