This life cycle of a butterfly lunch is such a fun way to teach kids about the amazing transformation from caterpillar to chrysalis. It's fun to eat, too!  This post was originally shared in 2011 and now includes a video. This post contains an affiliate link.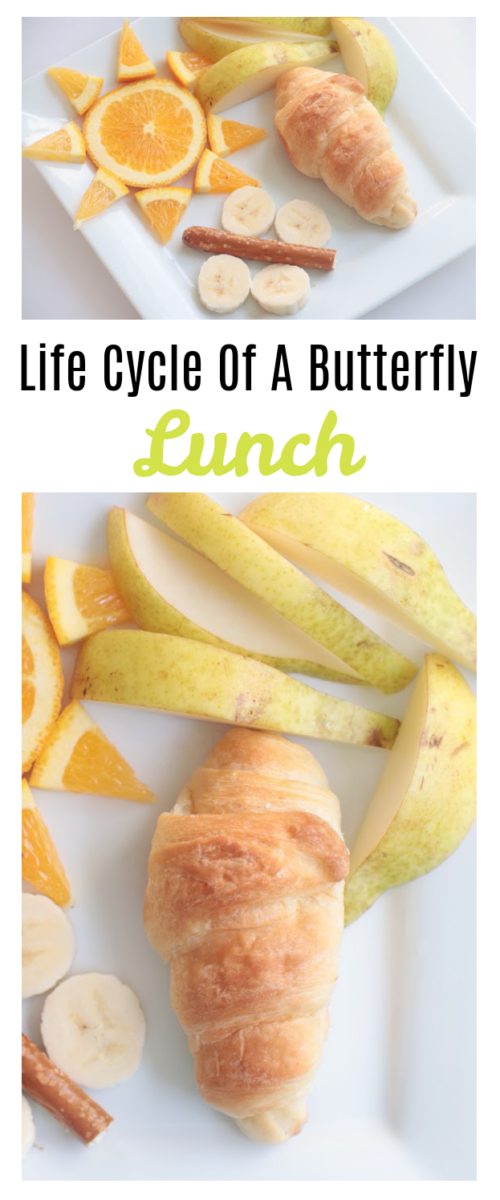 Watch our step by step video!
We first made this fun little butterfly lunch when Kaylee was 3 years old. We had just finished learning about butterflies and when I went to make her lunch her croissant looked like the chrysalis we had just seen on a video and so we went with it. Fast forward 9 years and I have another preschooler learning about butterflies!
Life Cycle of a Butterfly Lunch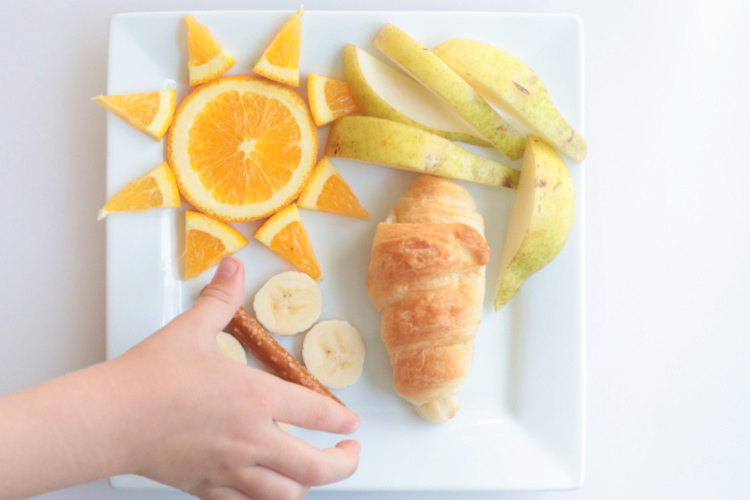 We ordered this kit
that came with everything we needed and had so much fun watching our caterpillars transform before our eyes! I thought the kids would be sad to release their butterflies, but they were so excited to set them free and watch them fly. It truly is remarkable.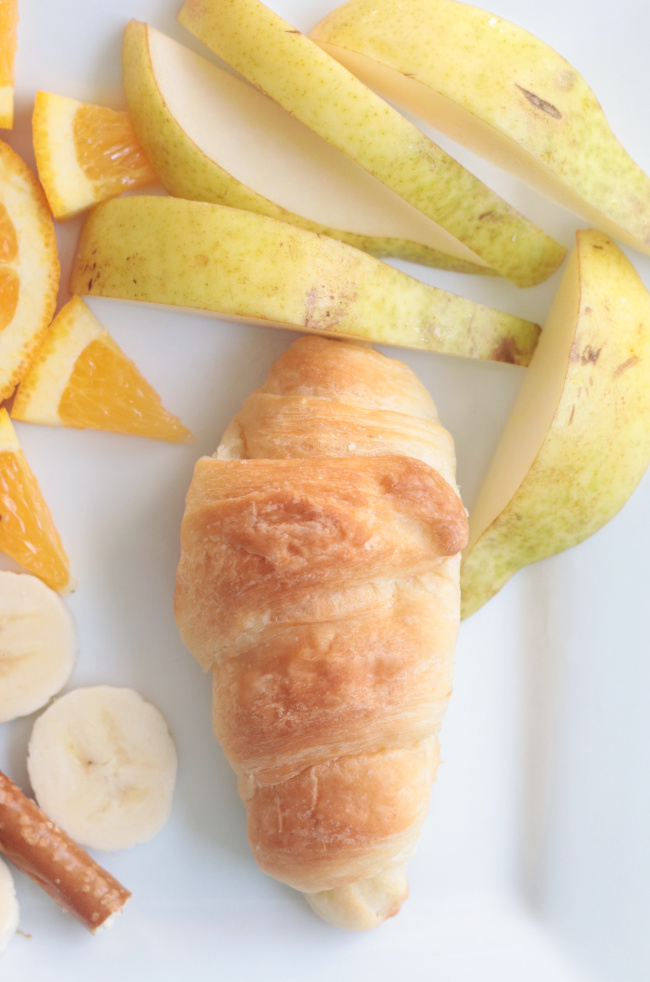 This would be a fun little lunch to make with preschoolers. Lay everything out assembly-style and let the kids make their own chrysalis scene.
Life Cycle Butterfly Lunch Ingredients
1 mini croissant
1/2 pear
2 orange slices
4 slices of banana
1/2 of a cheese stick or pretzel rod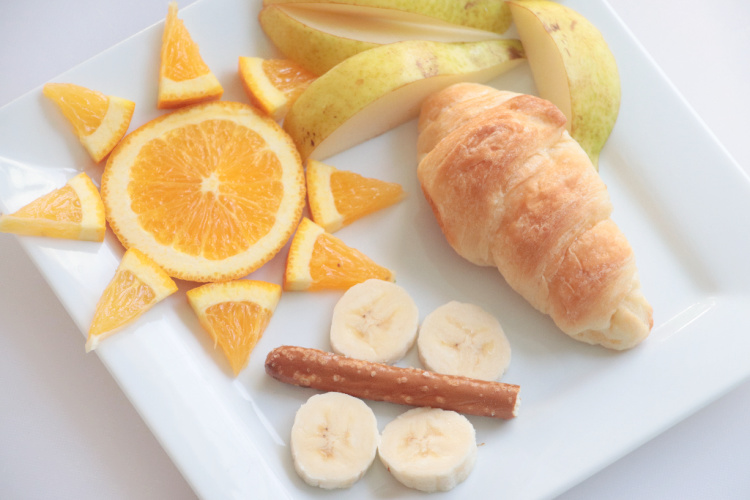 Arrange everything on a plate to look like a chrysalis hanging in a tree, a sun and a butterfly!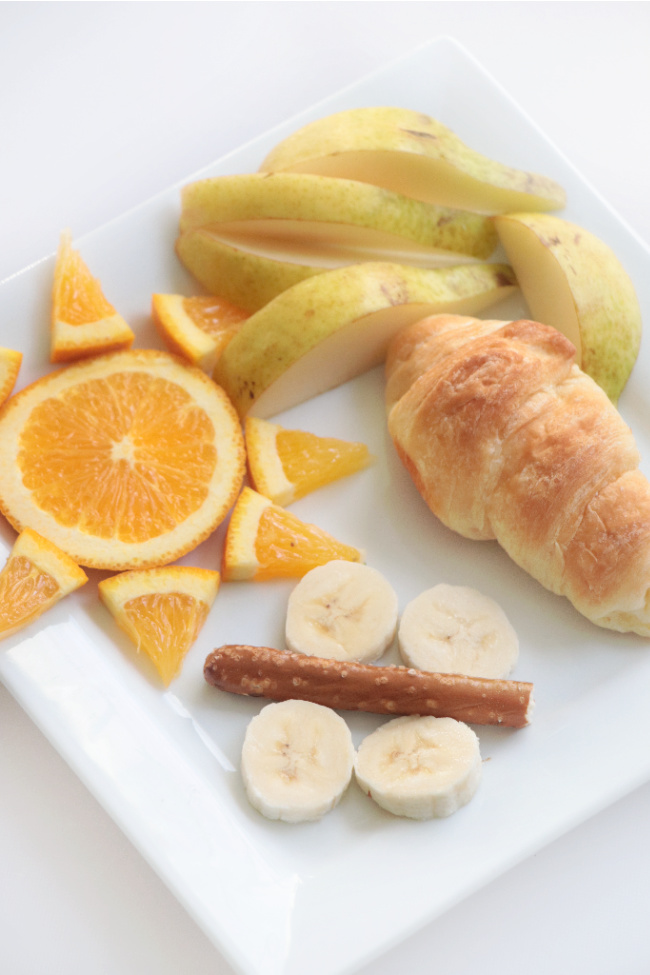 Caterpillar Clothespins
Here's a bonus little craft that we've made a few times. They are so fun to clip onto things around the house!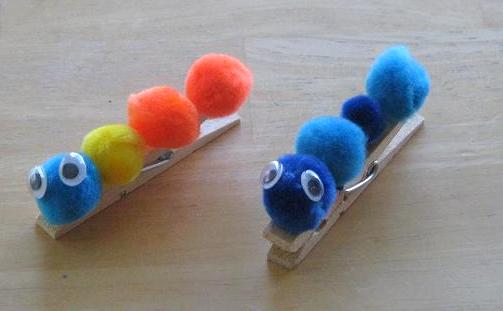 I love simple projects that use supplies that we already have on hand. I keep a divided plastic tote with googly eyes, pom poms, sequins, clothespins, pipe cleaner and popsicle sticks in our craft closet for all of our kids crafting needs. It comes in pretty handy for impromptu projects like these butterfly clothespins.
Clothespin Caterpillar Craft Supplies
1 clothespin
2 craft eyes
white craft glue (or hot glue)
4 pom poms
Step 1: Glue the pom poms to the clothespin using craft or hot glue.
Step 2: Add the eyes using white glue or hot glue.
Step 3: Add a magnet (optional) to put on the refrigerator to hold their life cycle of a butterfly preschool coloring pages and activities!
Clip them to curtains, a jacket, a backpack or anything!
These
butterfly costumes
made out of felt would be fun to have in a classroom for imaginative play. I made two for my girls for Halloween a few years ago and they still like wearing them!