This lifecycle of a butterfly preschool lunch and craft idea are such a fun way to teach kids about the amazing transformation from caterpillar to chrysalis.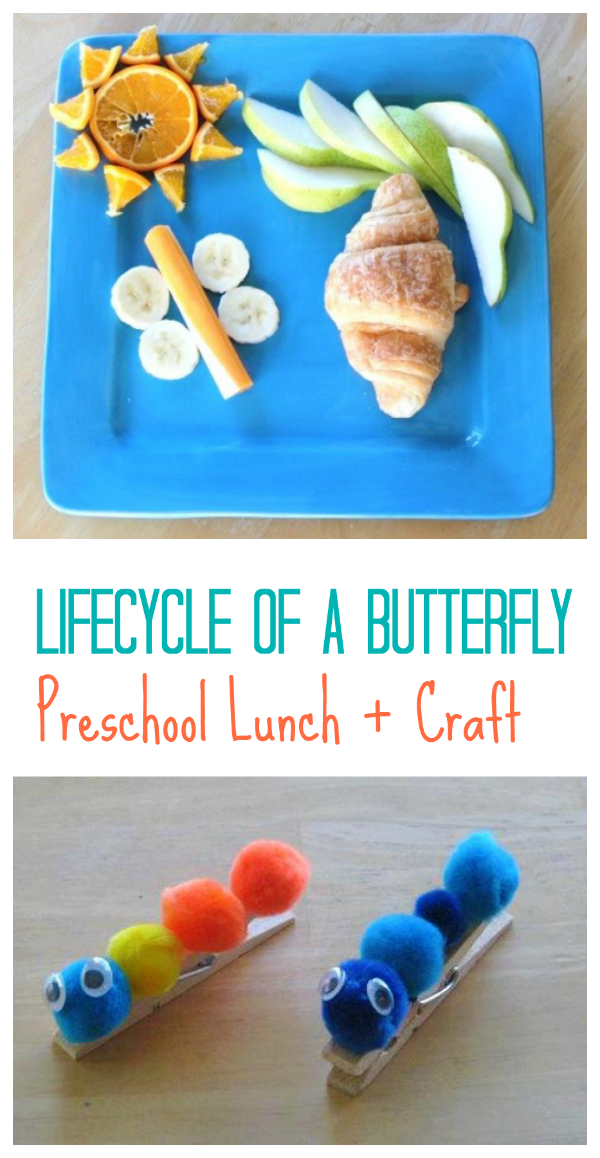 Kaylee and I had fun learning about butterflies last week. We did some activities and games about the life cycle of a butterfly. When I went to make her lunch, her croissant looked like the cocoons we had just seen on a video and so we went with it. This would be a fun little lunch to make with preschoolers. Lay everything out assembly-style and let the kids make their own chrysalis scene.
Lifecycle of a Butterfly Preschool Lunch & Craft
Ingredients needed for each child:
1 mini croissant
1/2 pear
2 orange slices
4 slices of banana
1/2 of a cheese stick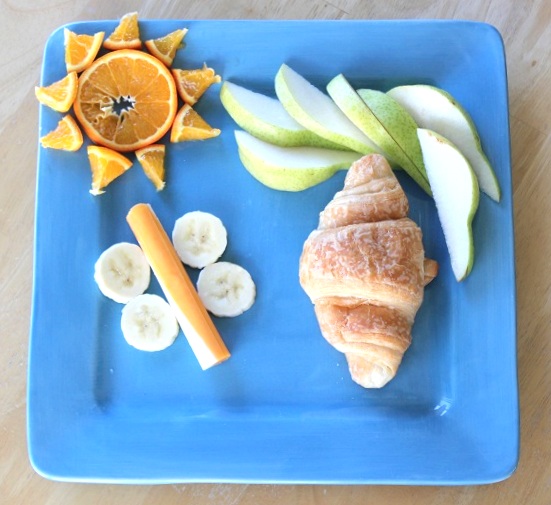 She loved her little cheese butterfly and croissant cocoon.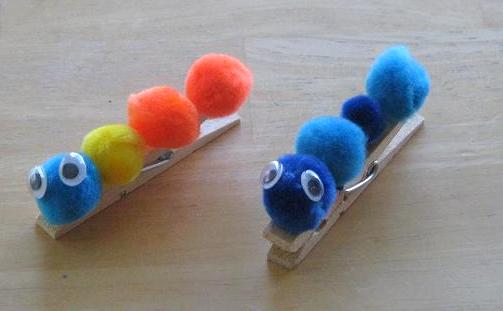 We made these little caterpillar clips last year and they are still all over our house. Such a fun little project and perfect for clipping artwork to on our wall downstairs. I love simple projects that use supplies that we already have on hand. I keep a divided plastic tote with googly eyes, pom poms, sequins, clothespins, pipe cleaner and popsicle sticks in our craft closet for all of our kids crafting needs. It comes in pretty handy for impromptu projects like these butterfly clothespins.
Clothespin Caterpillar Craft
Supplies:
1 clothespin
2 craft eyes
white craft glue (or hot glue)
4 pom poms
Step 1: Glue the pom poms to the clothespin using craft or hot glue.
Step 2: Add the eyes using white glue or hot glue.
Step 3: Add a magnet (optional) to put on the refrigerator to hold their lifecycle of a butterfly preschool coloring pages and activities!
Clip them to curtains, a jacket, a backpack or anything!
These
butterfly costumes
made out of felt would be fun to have in a classroom for imaginative play. I made two for my girls for Halloween a few years ago and they still like wearing them!
If you liked this lifecycle of a butterfly preschool craft you might also like…
Easy Butterfly Cupcakes:
Making your own beautiful butterfly cupcakes is as easy as 1-2-3! Frost, add a gummy worm, then add two gummy candies for wings! A fun springtime activity to make with kids. This could also be a fun "Lifecycle of a Butterfly" activity and snack for a preschool or kindergarten class!
No-Sew Wash Cloth Puppies:
Turn a washcloth into a cozy little puppy friend with this simple no-sew puppy washcloth tutorial! Make a few of them to give as gifts. Kids LOVE these little washcloth puppies. They are so easy to make and are so cute. Decorate with eyes, a ribbon collar, and make the puppy out of any color of washcloth that you'd like!
Penguin Ornament Craft:
Make a darling penguin craft out of a clear ornament! Add a hanger to use during the holidays, or keep it on a shelf. Kids will love making these cute penguins this winter!