When I think of pesto, I think of basil, cheese, and olive oil. I had never thought of using different herbs until I saw
this
recipe for Cilantro Lime Pesto. I had to try it! It was absolutely amazing and is on our regular recipe rotation now. Here is how I adapted it and used it in our chicken burritos.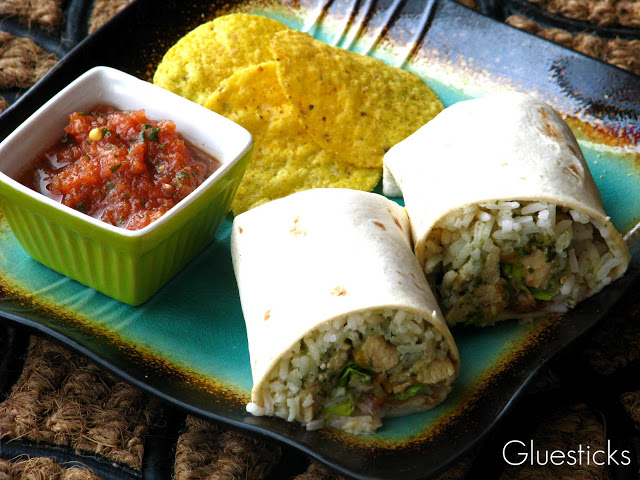 Cilantro Lime Pesto Burritos
Gluesticks
1 T. olive oil
3 large boneless, skinless chicken breasts, diced
salt and pepper
1 teaspoon garlic powder
cilantro lime pesto *(scroll down for recipe)
flour or corn tortillas
steamed rice
shredded cheese
shredded lettuce
diced tomatoes
diced avocado
Season chicken with salt, pepper and garlic powder. In a skillet, heat oil and chicken over medium high heat and cooked through. Toss cooked, seasoned chicken with the pesto. Fill tortillas with chicken and toppings.
**Serve with Blender Salsa. (Scroll down for recipe)
*Cilantro Lime Pesto
1 cup fresh cilantro leaves
2 1/2 tablespoons extra virgin olive oil
2 tablespoons chopped walnuts
3 tablespoons chopped, fresh garlic
1 1/2 teaspoon lime juice
1/2 cup shredded parmesan cheese
1 1/2 teaspoon kosher salt
1/4 cup water
Blend all ingredients  in a food processor or blender.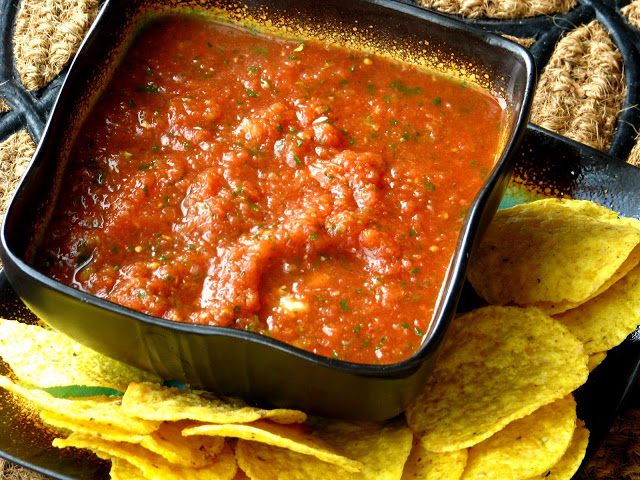 **Blender Salsa
Ingredients:
2- 10 oz can diced tomatoes and green chiles
1/2 small onion,  chopped
2 clove garlic, chopped
1 teaspoon sugar
1/2 teaspoon salt
1/4 teaspoon ground cumin
1 c. cilantro leaves
Directions:
Put all the ingredients in the blender and pulse to combine. We use our Ninja blender and it grinds it down really fine. Adjust seasonings to taste. That's it!