Fresh salsa is amazing, but you simply can't store it. This canned salsa is absolutely delicious and has a fantastic shelf life. It definitely rivals any salsa you'd get in a restaurant! I'll show you how to can salsa like a pro with a few simple steps.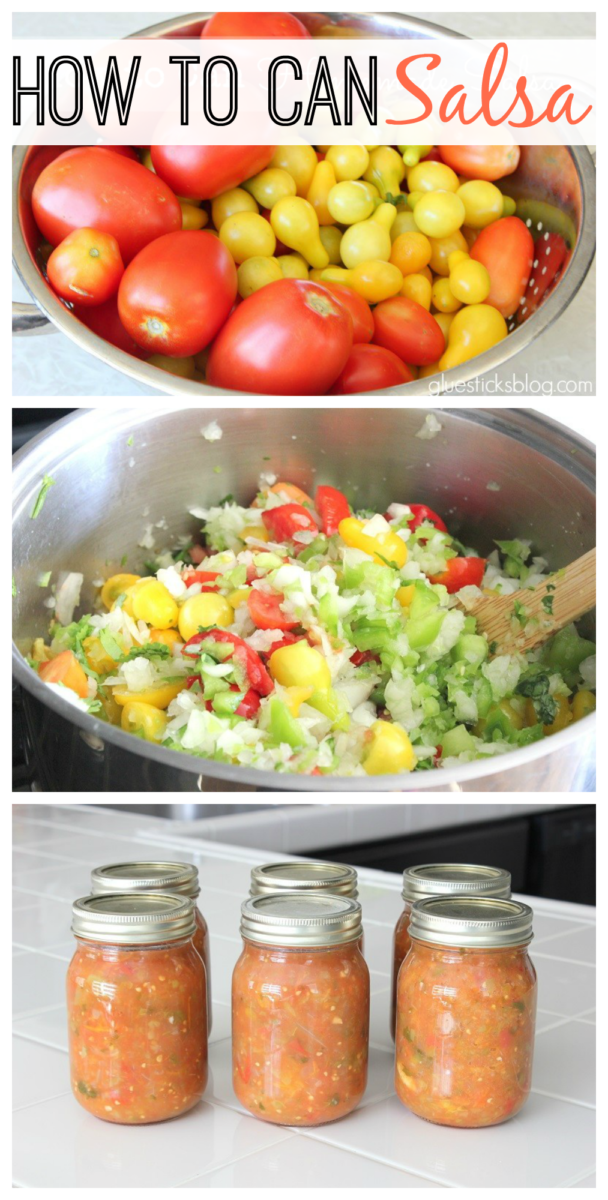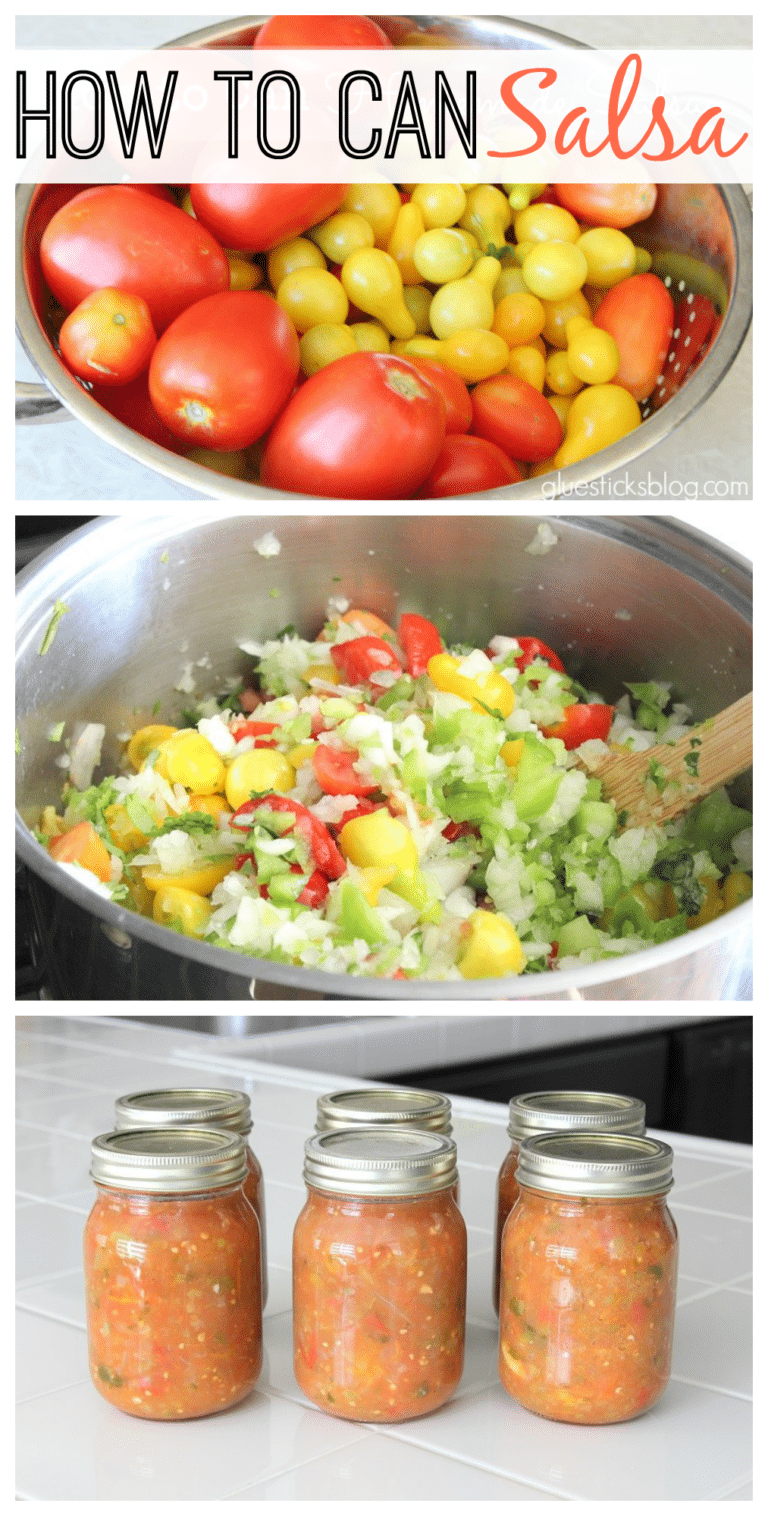 Canning salsa is easier than it sounds. Just chop and simmer. Not like making spaghetti sauce and having to peel tomatoes or canning peaches and having a sticky mess all over the kitchen. We won't talk about the spaghetti sauce I canned a few summers ago except to say that it was awful. There's nothing worse than spending an afternoon peeling tomatoes and sweating up a storm in the kitchen only to have the fruits of your labor not turn out at all!
I love making fresh salsa (pico de gallo) and blender salsa because I like to avoid the canning process whenever possible, and they always turn out great, but this salsa was fairly quick to make and turned out absolutely delicious! It's a keeper, for sure, and if I could just get a handle on not bawling my eyes out while cutting onions it would be even better.
Anyone have tips for an onion cry baby like me? It's awful!!
I only purchased one tomato plant for our garden this year because I am the only ones who likes tomatoes in our family. Then I received two plants from a gal at church who had way too many starts. I figured I'd get a few tomatoes from each plant since that has been my experience in the past. Well, these 3 plants were good to me this year and grew like CRAZY. Between the 3 tomato plants, and the  pumpkin plant that spread across the back of the house creating a huge pumpkin patch, our "little" garden has taken over. I couldn't keep up with just adding them to sandwiches and salads and wanted to preserve them somehow. Luckily Derrick likes salsa too, so now we have a nice supply to share.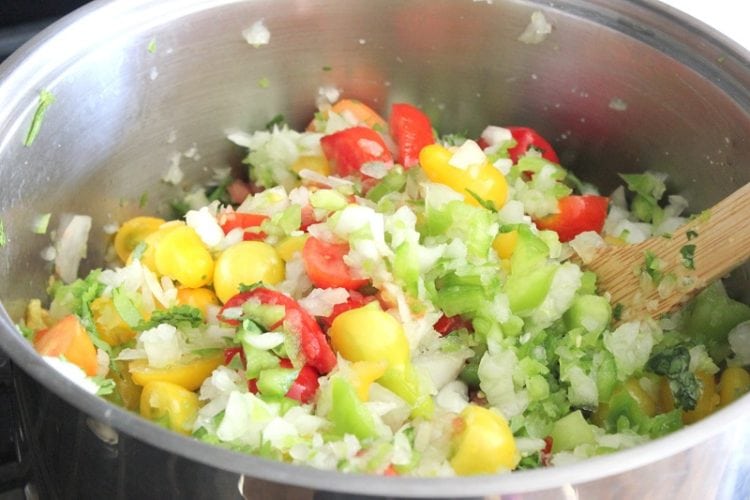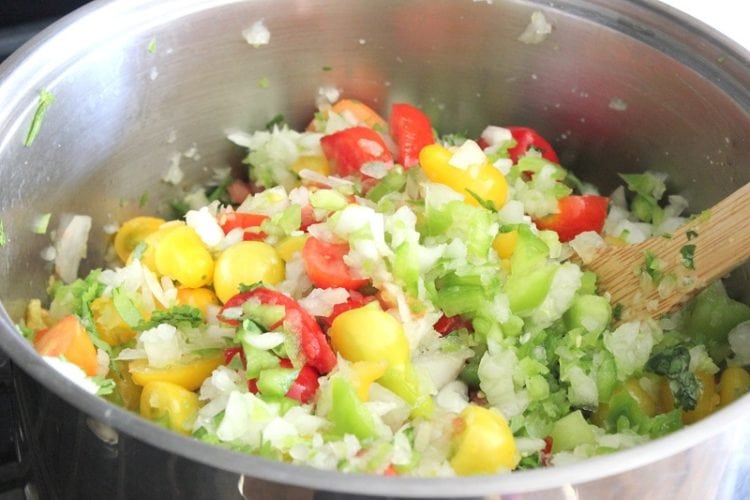 My sister sent me a fantastic recipe from The Fresh Plate that I followed, but you could use any combination of tomatoes, veggies, and spices. The canning process is the same.
How to Can Salsa
The only modification I used was to reduce the jalapenos to 3 per batch (which was about 1/2 c. chopped) instead of 2 cups chopped. This created the perfect mild salsa.
I filled a large stockpot with all of my veggies. Tomatoes (red and yellow), bell peppers, jalapenos, onions, garlic, and apple cider vinegar. I let it simmer until it started to break down into a desired thickness.
Then I ladled it into hot canning jars (that had just been washed) and added the lids and rings. I ran them through a quick 35 minute process in my water bath canner. If you haven't canned before, a water bath canner is the way to go. You can can most fruits and jams/jellies this way. It is just a huge stock pot; large enough for quart sized jars to fit inside.
Once the timer went off, I pulled the jars out and carefully moved them to the counter on top of a dish towel to cool. You'll know they are sealed when the lids make a popping sound and there isn't any give when pushing the lid down in the center.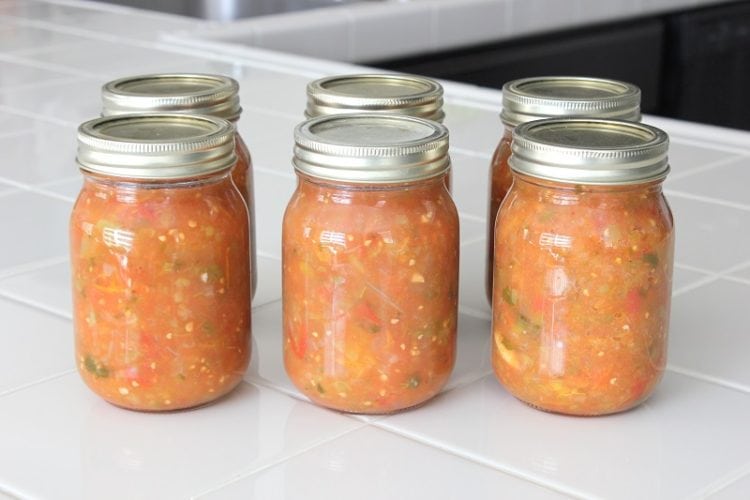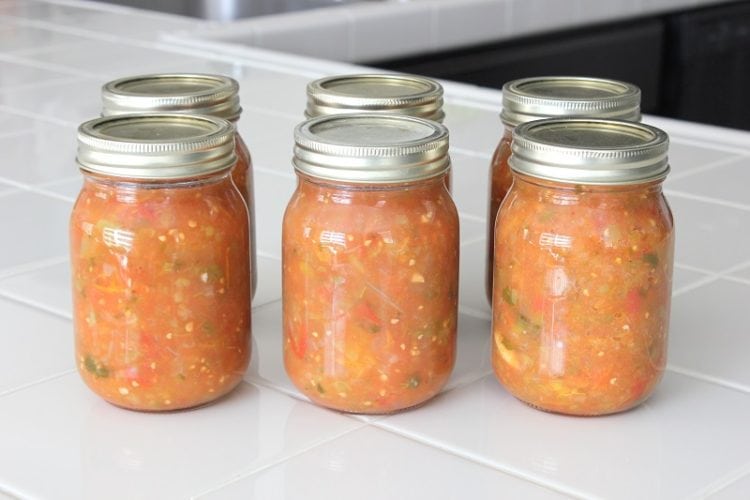 Have you canned any of your summer bounty this year?
You might also like…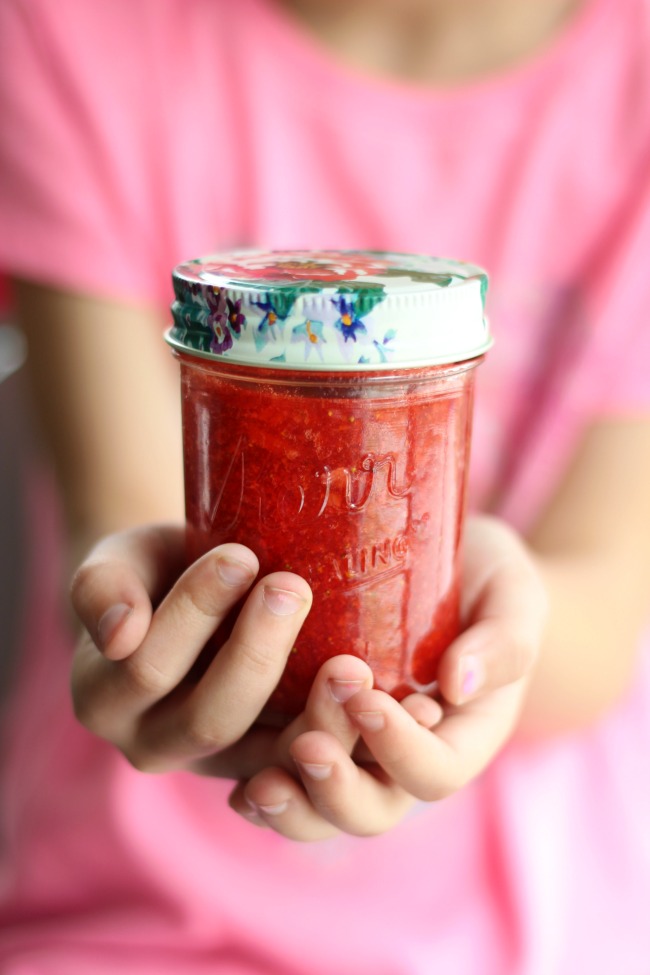 Strawberry Freezer Jam with Instant Pectin