I'm back! I had a nice visit with family in California, but now that I am back it's time to kick things into gear to make sure everything is ready for Christmas and Aaron's birthday!
Today I made homemade marshmallows dipped in chocolate and crushed candy canes. I also made homemade cocoa mix. These will be gifts for
Dallin's
teacher, bus driver, and the ladies that I visit teach at church. I also have a box of marshmallows to take to a cookie exchange tomorrow. I thought it would be a fun variation to share!
I also finished the second layer on Aaron's rocket pinata for his Buzz
Lightyear
birthday (I'll post pics this weekend).
Recipe for marshmallows found
HERE
. Yes, you could just buy marshmallows and dip them, but these are a novelty and taste
sooo
good! They were easy to make too. A little time consuming, but only because you have to wait a few hours to let them set up.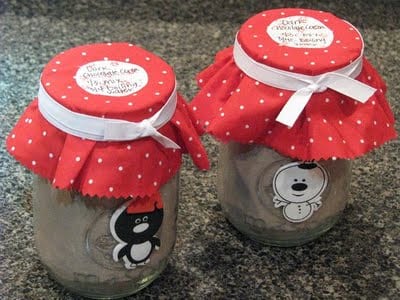 I LOVE dark chocolate! So I adapted a recipe for cocoa mix that I found on
allrecipes

.com
and came up with this. It is to die for! My favorite hot cocoa is from Starbucks. This recipe is the closest thing I've come across that compares. So if you like dark chocolate, try this 🙂
Dark Cocoa
5 1/2 c. powdered milk
2 1/2 c. powdered sugar
1 1/4 c. SPECIAL DARK baking cocoa (Hershey's)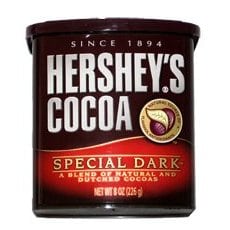 1 c. dry non dairy creamer
Mix and store in an airtight container.
To serve mix 1 c. boiling water with 1/3 c. dry mix.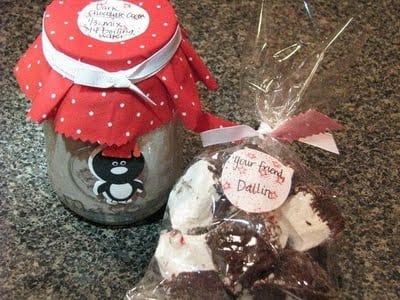 I packaged the cocoa mix in a pint jar and made a cellophane bag with some extra cellophane I had from a gift basket I made awhile ago.