Make your own vanilla extract with 2 simple ingredients: vanilla beans and vodka. Simple to make and makes a great gift.  Give a bottle of homemade vanilla extract with a favorite cookie recipe card! Tie it with a ribbon for the perfect holiday gift! This post contains affiliate links.
Pure vanilla extract would be amazing in our homemade marshmallow recipe!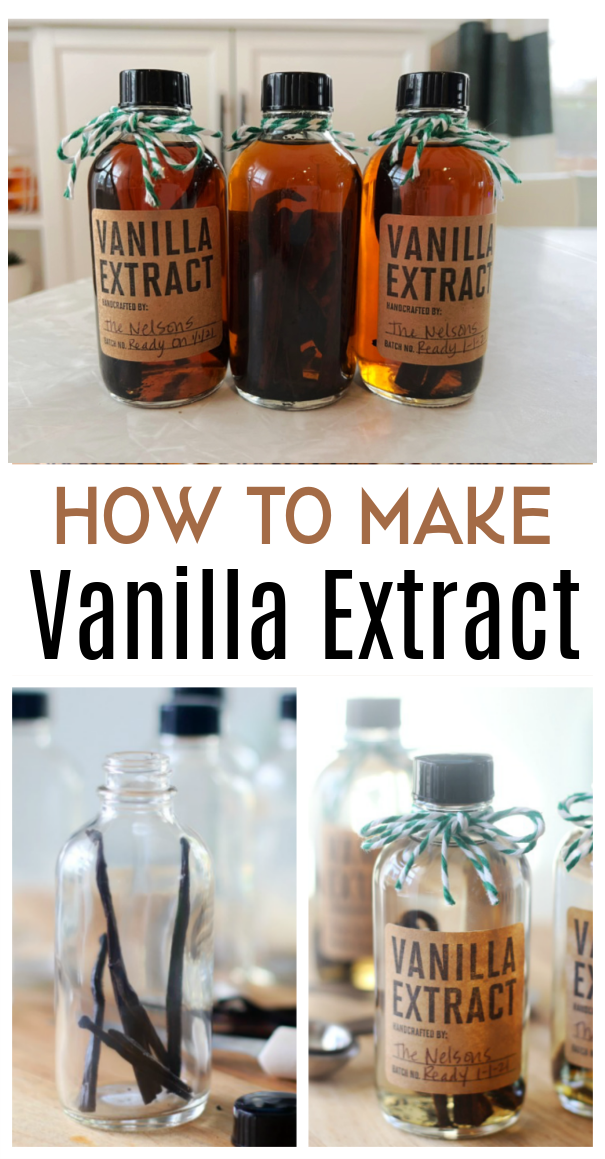 Watch our step by step video!
Pure vanilla extract was one of those things that seemed like it would be complicated to make—that is, until I found out that it is literally vodka + vanilla beans.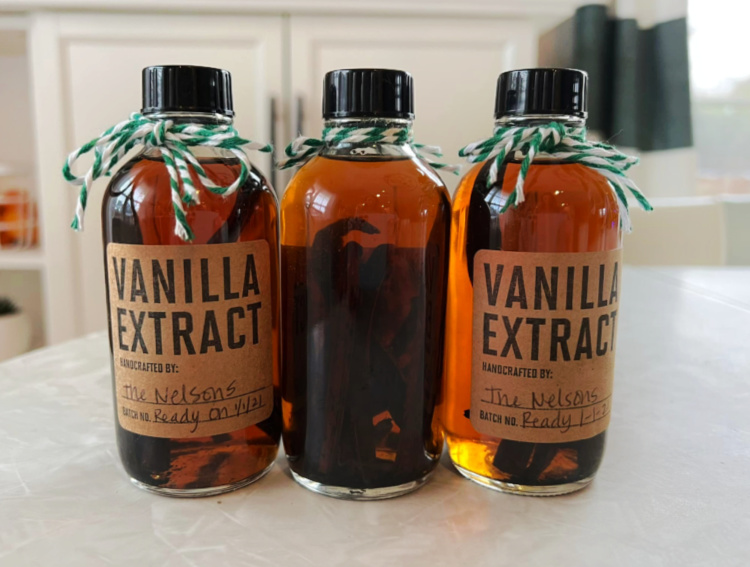 That's it. It's basically foolproof, smells amazing, is delicious in baked goods, and is a wonderful gift to gift during the holidays.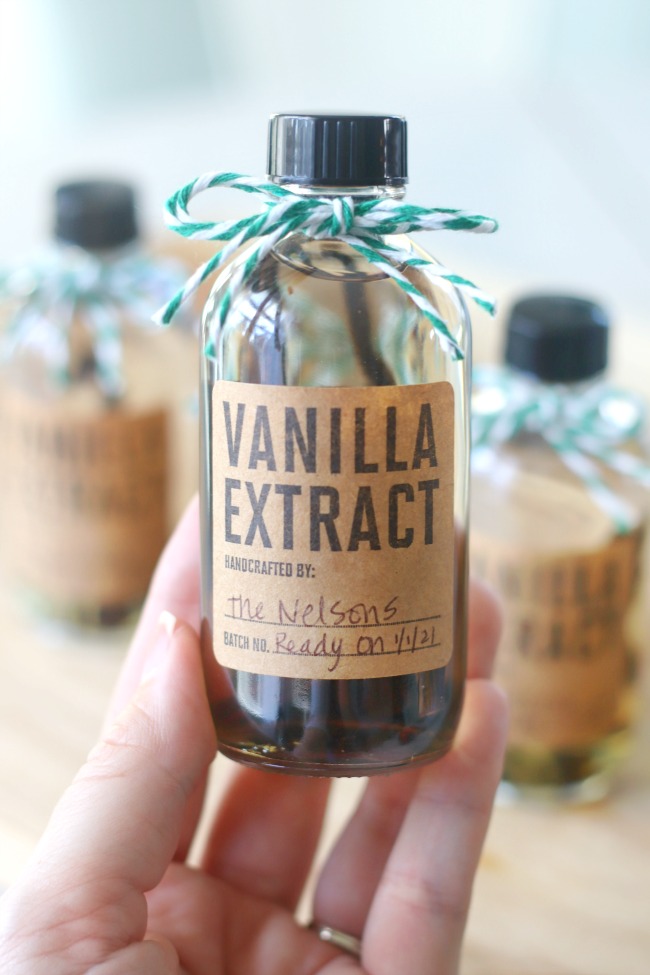 I made a dozen bottles for gifts this year and made sure to make some for myself. I'm thoughtful like that, haha. These small bottles are great for gift-giving, but with the insane amount of baking that I do, I think a mason jar would be more my style for personal use. The ideal time to make vanilla is in January so that it can age all year long, but you can make it a few months before Christmas as well.
I'd seen pure vanilla extract recipes and tutorials floating around for years. It's not new or rocket science. Apparently, everyone has been making it this way since the 1800s. It was one of those things that I was like, "I'd like to do that sometime" but never did. I may have been late to the game, but was just happy to finally be on board.
Here is how we make ours. Ruby was right there with me every step of the way and can't wait to bring a bottle to her teacher for Christmas. This is a great gift to make before the craziness of the holidays begins. Make a batch earlier in the year and it will be ready by Christmas!
Pure Vanilla Extract Ingredients
Vanilla Beans (grade B): .5 oz of vanilla beans per bottle (3-4 beans, depending on their size—I used 3.)
Vodka (80 proof): a 1.75 L bottle will fill about 15 bottles, each with about 4 ounces of alcohol
Supplies
4 oz. bottles: any glass jar or glass bottle with a good lid will work (clear or amber-colored)
labels: nice for gift-giving
Vanilla extract isn't cheap to make so I decided not to use the 8-ounce canning jars that I had on hand and ordered small 4 oz. bottles for gift-giving instead. If you are making a batch for yourself just use what you have on hand, skip the label, and write on the jar lid with a Sharpie pen. 
How to Make Homemade Vanilla Extract
Vanilla Beans
To make your own, you'll need vanilla beans. Grade A beans are softer (premium) and used for baking, and grade B are drier (less expensive) and rated for extracting. I used grade B, but you can use either type.
You can find grade-B beans at Costco or Amazon. I've also heard about some Facebook groups (ex: Indri's Vanilla Bean Group) where you can get great prices on grade A beans. I went with good ol' Amazon for mine and used .5 oz of vanilla beans per 4-ounce jar. They can vary in size, but it's about 3-4 beans/jar.
Slit each pod down the middle with a sharp knife. Take in the amazing aroma and slide them into the bottle. You'll need to trim the pods to make them fit. I cut mine in half.
Single-Fold Vs. Double-Fold Vanilla Extract
I made single-fold vanilla extract. If you want a double-fold vanilla extract double the number of beans that you use. Double-fold vanilla extract is much stronger, with a higher potency of vanilla. Just decide what works for you and your budget—my budget was single fold.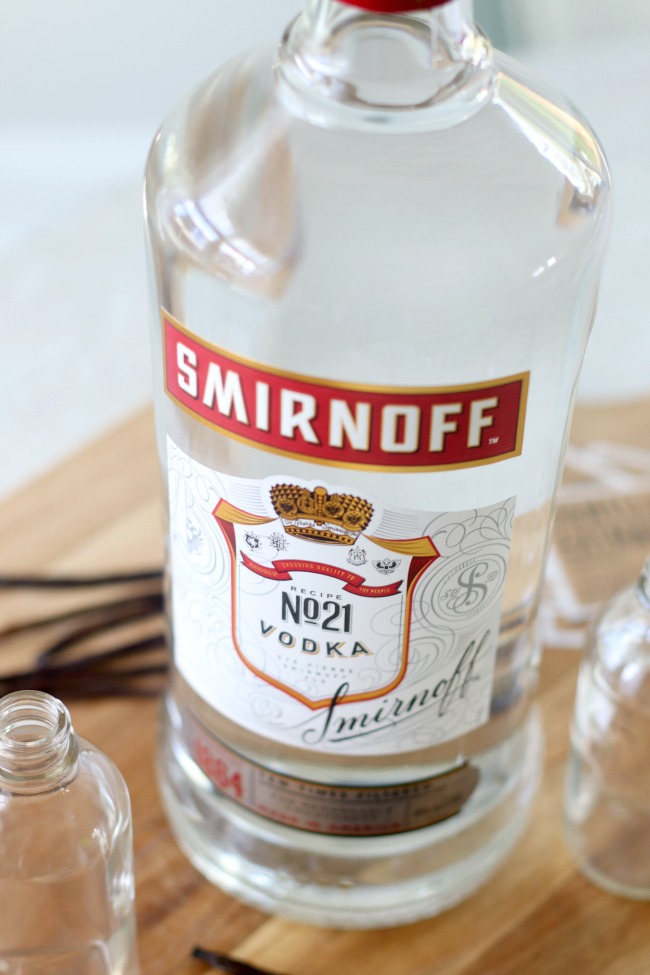 Vodka
You'll also need alcohol. You can use rum, brandy, bourbon, or vodka. I went with vodka because it has the most neutral flavor. I don't drink, but I'd imagine it's the cheapest as well. Don't waste your money buying anything expensive because this large bottle of Smirnoff 80-proof vodka is just fine.
Using a small kitchen funnel, fill the bottle with vodka, and add the lid. Give it a good shake.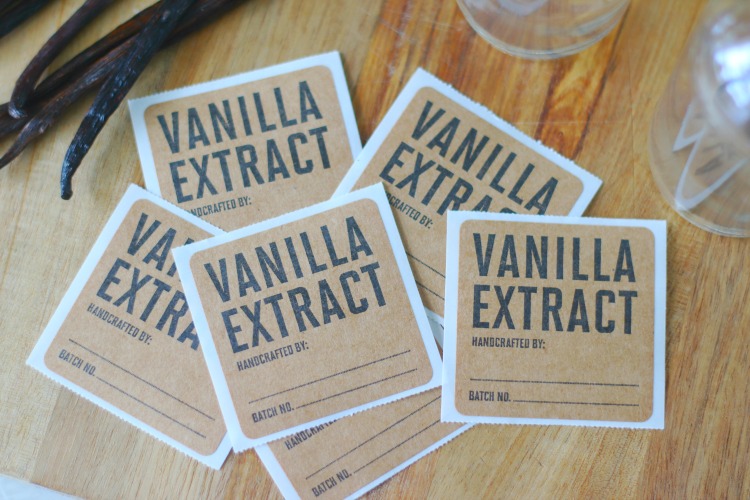 Labels for Homemade Vanilla Extract Bottles
I thought it might be helpful to attach a label on each bottle with the date that it will be ready. Don't let the fact that the vanilla needs to age stop you from making it and giving it away right away. The recipient can simply store it in their cupboard for a month or two and watch the beautiful amber color appear.
Vanilla is best when it has had a chance to age. The longer the better. A good rule of thumb is to allow it to sit AT LEAST 3 months before using it. 6-12 months is ideal. I have some in the back of my cupboard that is 2 years old. So June is a GREAT month to make vanilla.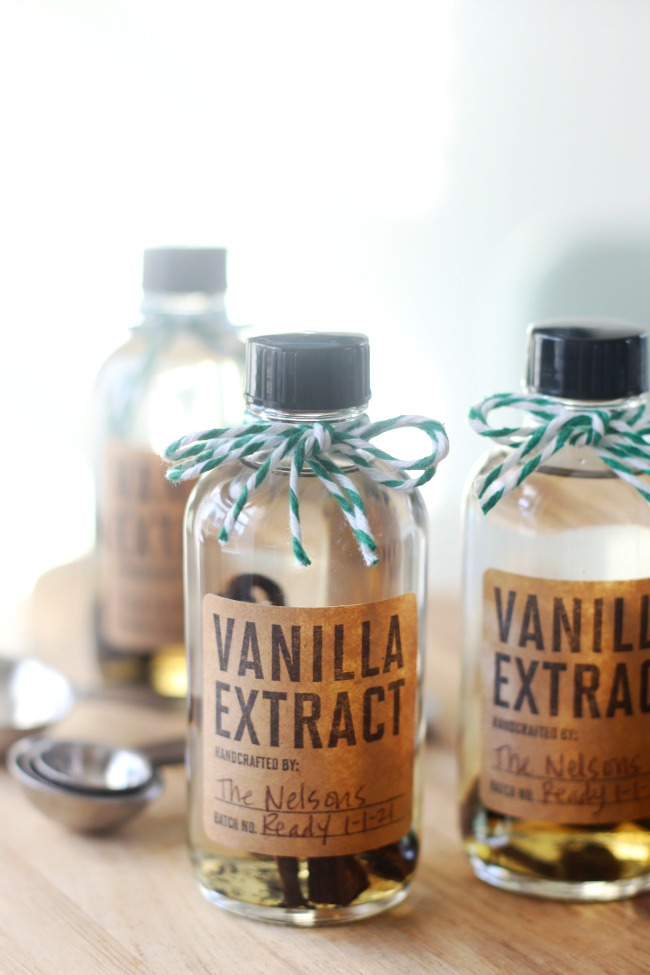 (These ones are from the new batch, a few minutes old.)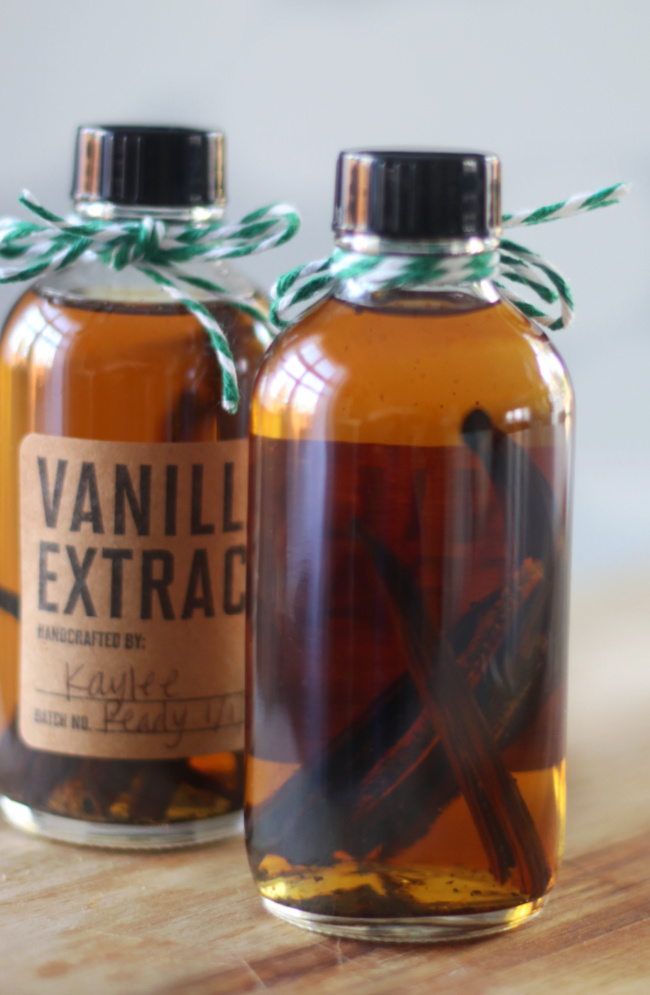 (These ones are about a week old.)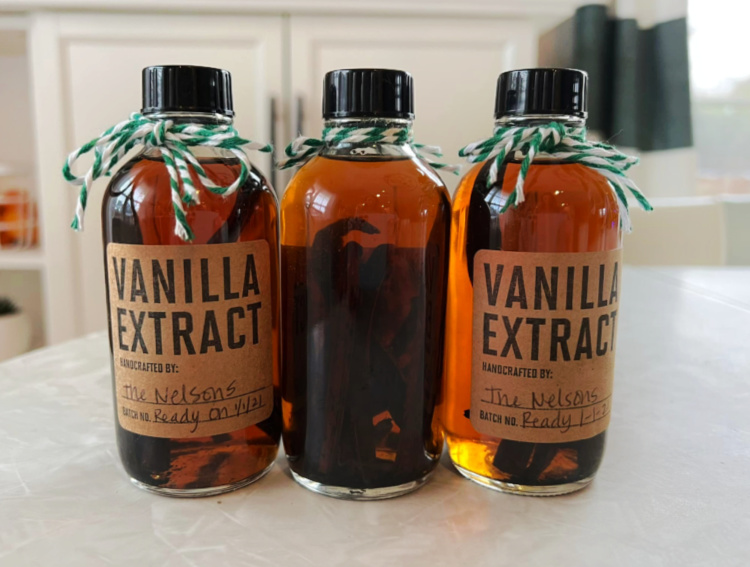 (These ones are a month old. They only get better and darker with age.)
Things I learned about making vanilla extract
Vanilla extract doesn't have an expiration date. It will last indefinitely.
When the bottle runs out, add more vodka and let it age again. The beans are potent enough for a second go-around (although they will be slightly less potent).
You can use either clear jars or dark jars. Dark jars help preserve the flavor. If using clear jars (like I did) be sure to store them in a dark place. I keep mine in the box that they came in on a shelf in my pantry until ready to give away or use.
The FDA standard is 1 oz. of bean pods for every 8 oz. of vodka. The first time I made vanilla I used fewer beans (2 per bottle) to save money and the vanilla wasn't as potent as I would have liked. I won't do that again.
HomeMade Vanilla Extract Recipe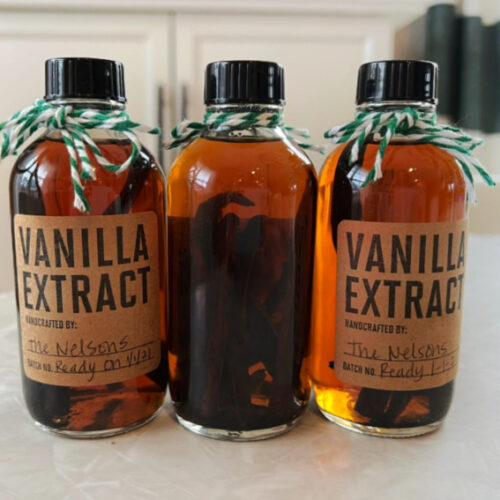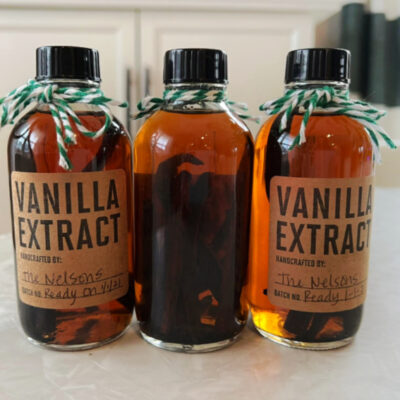 Pure Vanilla Extract Recipe
Make your own pure vanilla extract with 2 simple ingredients: vanilla beans and vodka. Simple to make and makes a great gift.  Give a bottle of homemade vanilla extract with a favorite cookie recipe card! 
Print
Pin
Rate
Equipment
small funnel

15 (4 oz.) bottles

or 7 (8 oz. bottles)

sticker labels

knife

cutting board
Ingredients
1.75

L

vodka

80 proof

6 oz.

grade b vanilla beans

(3-4 beans per jar for 4 oz. 6-8 beans per jar for 8 oz.)
Instructions
You will need 3-4 vanilla beans and 1/2 cup of vodka for each (4 oz) bottle that you plan on making.

Slice each vanilla bean in half, lenghtwise.

Place vanilla inside bottle. Trim the vanilla to make it fit.

Pour vodka into the bottle using a small funnel. Add lid. Give the bottle a gentle shake.

Store vanilla extract in a cool, dark pantry or cupboard for at least 3 months before using (6-12 months is ideal). Periodically turn the bottle over and shake to disperse flavor.

Vanilla will darken as it sits.
Notes
RATIO: 1/2 cup of vodka (4 oz.) plus .5 oz vanilla beans = 1 (4 oz.) bottle of pure vanilla extract. 1 cup of vodka (8 oz.) plus 1 oz. vanilla beans = 1 (8 oz.) bottle.
When you run out of vanilla, add more vodka and the vanilla beans will continue to flavor it. Pure vanilla extract gets better with age. 
There is no expiration on pure vanilla extract. It will last indefinitely.
Store at room temperature in a cupboard. Periodically give it a shake to disperse color and flavor. If using clear jars keep them in a dark location. 
Calories are based on 1 bottle of pure vanilla extract, not one serving of vanilla.
Nutrition
Welcome! I'm Brandy, mother to 5 darling kiddos and a cute black lab named Toby. My husband is in the Coast Guard so we've lived all over the place, turning each house into a home. I love baking, sewing, making cute things with my kids, and sharing what I've learned with all of you!