This DIY jewelry box is just the right size to organize earrings and rings with the addition of felt dividers. An easy project for kids! This post has been sponsored by Tub O' Towels and contains affiliate links.
I've always had an open-door policy with my craft supplies and my kids. For the most part, what's mine is theirs and they are free to create whatever they'd like. We even converted the formal dining room in our home to be a designated craft/game/homework room. The only problem with the craft room is that it has carpet. I will never understand why builders design formal dining rooms to include carpet by default. A few months ago I received a text from Aaron that said, "Mom, I spilled green paint on the carpet." Poor guy! He was working on a project and the bottle of acrylic paint landed on the floor. I could tell by the photo in the text that he had been trying to scrub it out on his own. When I got home we worked and worked on that spot and it is barely noticeable, but it wasn't easy! So, yes, we have a craft room for anything they'd like to make except anything that involves acrylic paint, ha! For those projects, they have to go into the kitchen.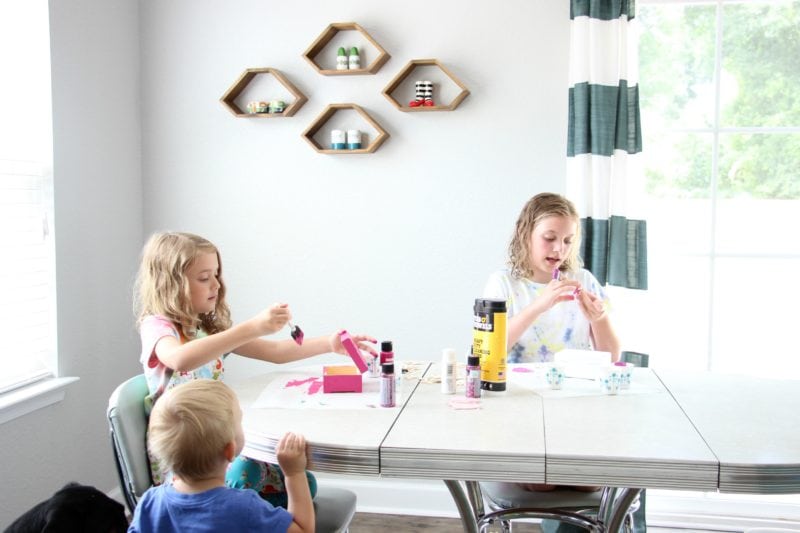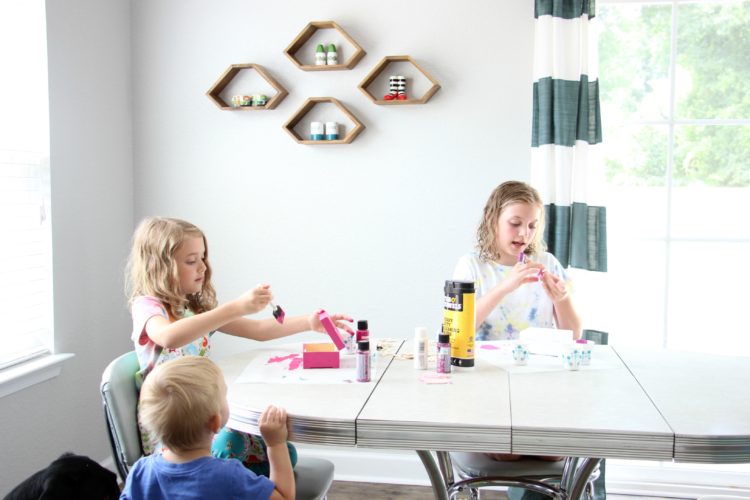 This photo gives me a bit of anxiety. Not as much anxiety as watching my girls use nail polish, but still. Giving kids free-reign is hard for me. I find myself wanting to smooth out their brush strokes, cut their fabric straighter, or choose matching paint colors for them. I've worked hard to let-go and let them do things on their own. Messed up nail polish can be cleaned off with nail polish remover, flour and sugar can be swept up and dried paint and glue can be wiped away with
Tub O' Towels.
The girls were working on DIY jewelry boxes. The one that they've been sharing recently broke, and they both agreed that they wanted separate boxes this time to separate their earring collection. These little boxes were less than $2.00 and they each picked out some accessories and paint to decorate them with. The beauty of this little DIY jewelry box is that you can create dividers with dowels, pencils, or crayons, depending on the size of the box. We used pencils last time and crayons this time! Simply wrap them in felt and place them close together. The perfect space to organize rings and earrings.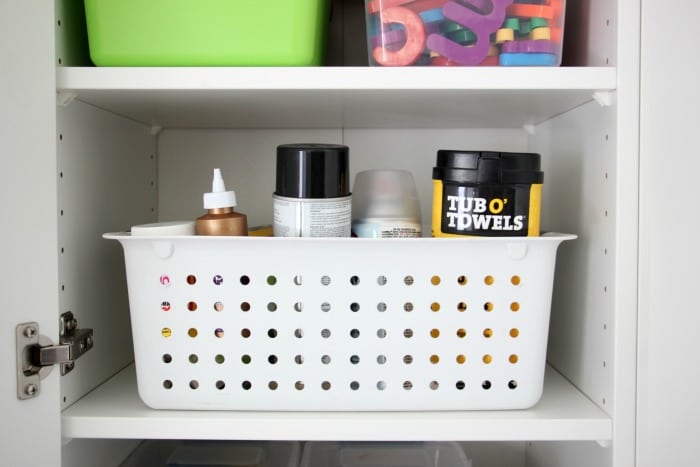 I actually started keeping them in my craft closet (Derrick keeps a tub in the garage for automotive use) and they work great. So I sat back, made lunch, and watched the girls paint to their little heart's content.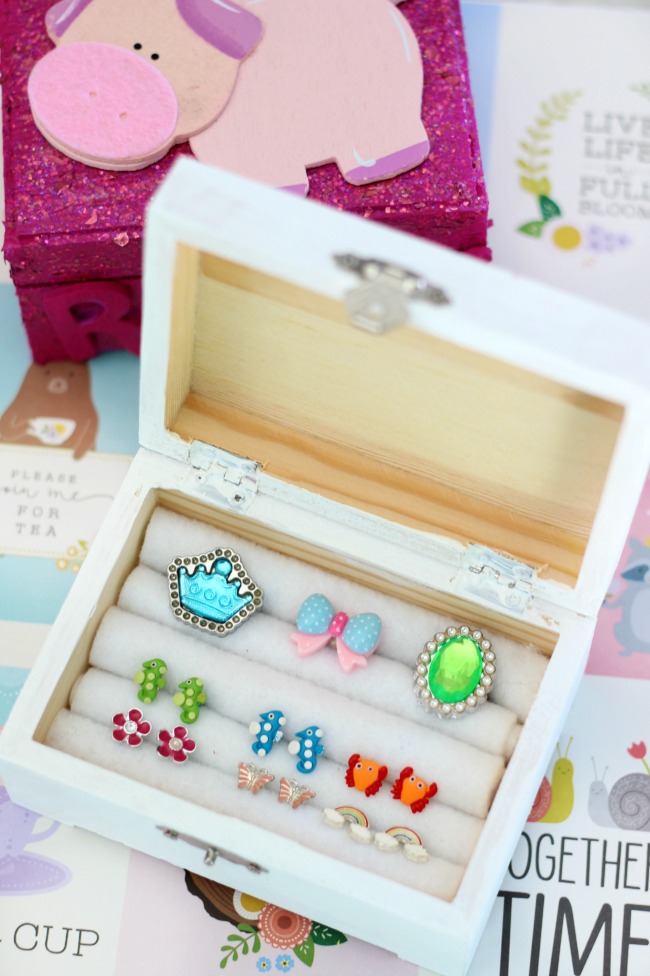 DIY Jewelry Box for Kids!
Supplies:
unfinished wood box
screwdriver
acrylic paint
foam brush
craft glue
decorations, optional
felt
pencils, crayons, or wood dowels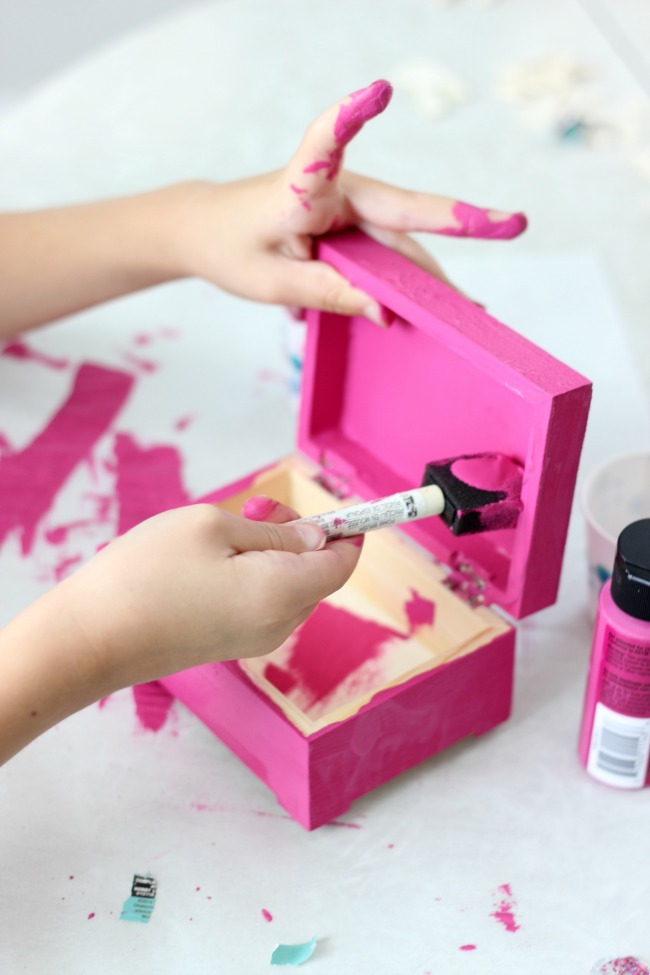 Step 1. Remove any latches or hardware with the screwdriver. (They asked me to leave the hinges on so that they could paint them).
Step 2. Paint the inside and outside of the box and let dry completely.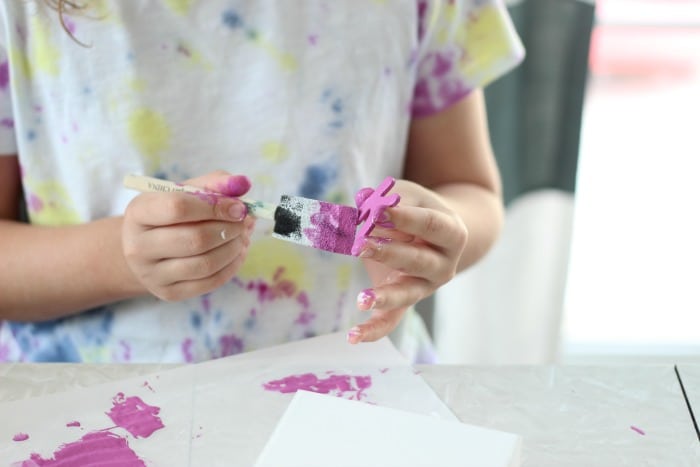 Step 3. Paint any lettering or decorations. Let dry completely.
Step 4. Glue to the box with craft glue.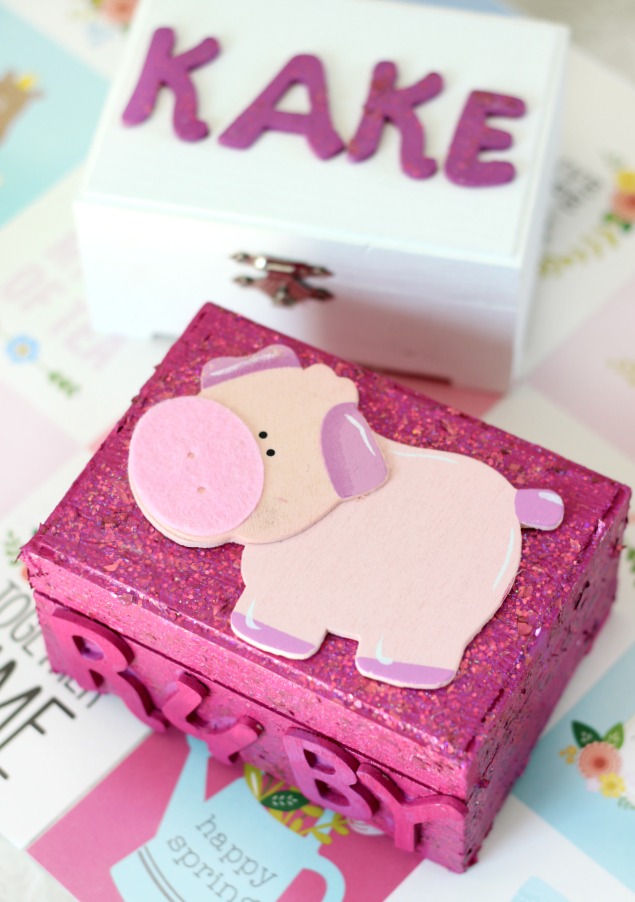 Step 5. Cut dowels to the width of the box, or use pencil or crayons.
Step 6. Cut felt pieces to match the width of the box. The length is up to you, but ours were 3-4″ long.
Step 7. Wrap the dowels with felt, tightly, and place in the box. Pack them in until they can't move.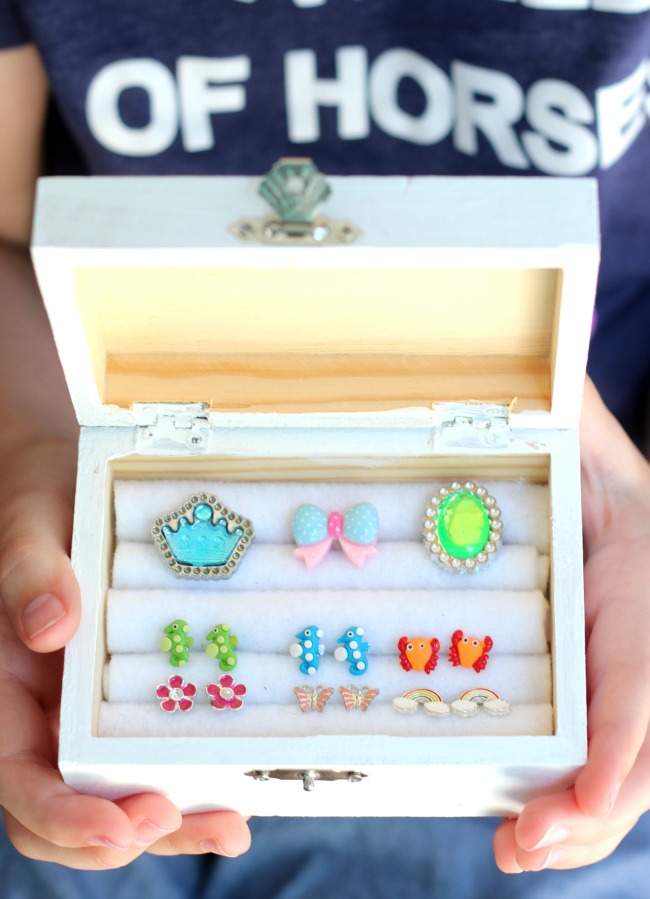 Isn't that darling? Make a big DIY jewelry box, or a small one, it doesn't matter. The process is the same!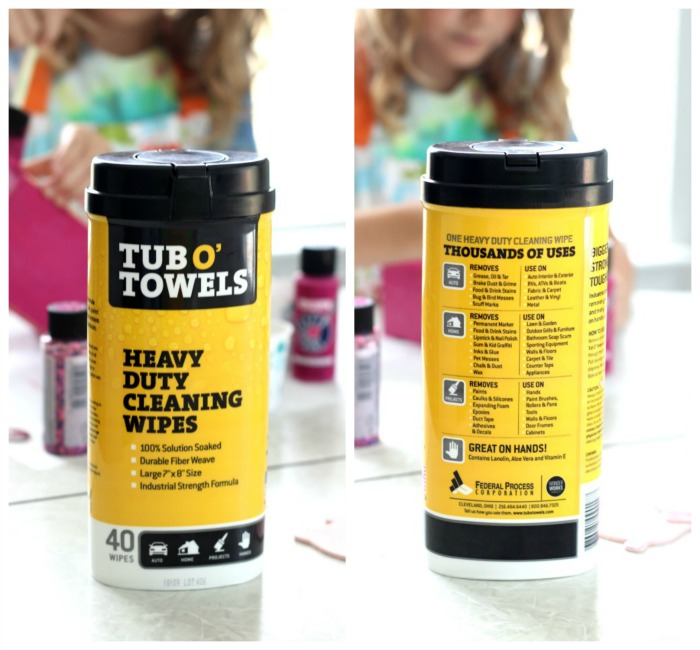 Derrick keeps a big container of Tub O' Towels in the garage, and I keep a 40 ct. one in my craft closet. I also keep one under the sink because…mom life.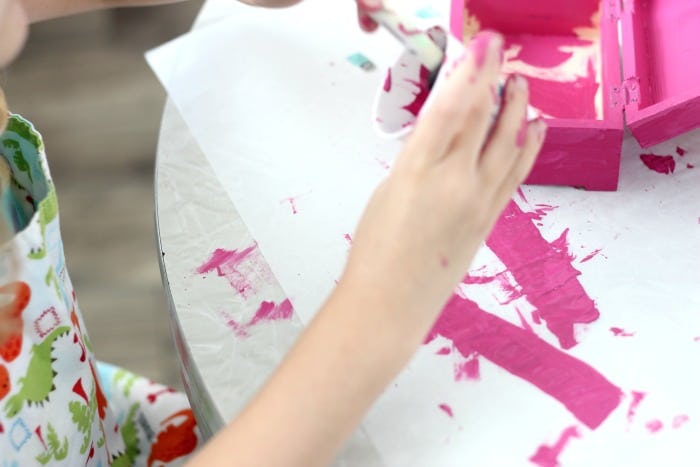 The wipes easily cleaned up any dried paint, and glue from off of the table, floor, and their hands, and the bathroom door and sink.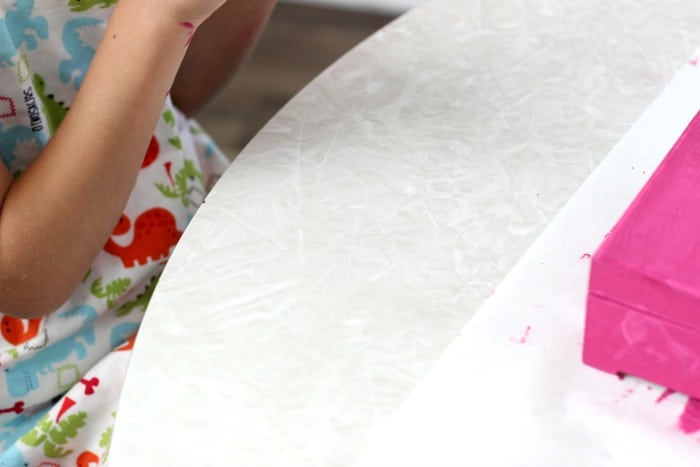 I love that the wipes are strong enough to use on food and drink spills, crayon on the walls, grease, and oil, and you can still use them to clean your hands.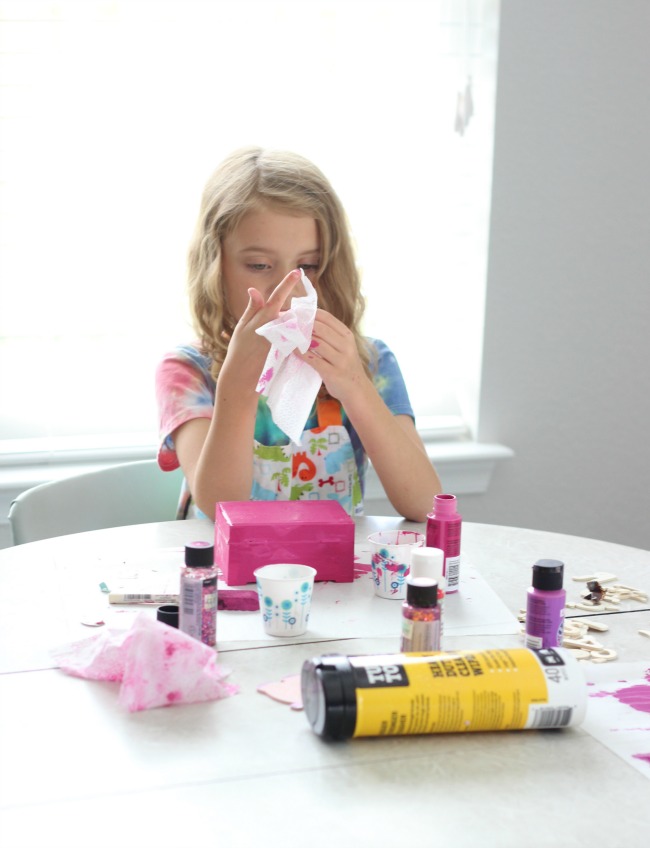 And just like that, one project is complete, and they are already talking about their next project. Chocolate chip cookies. Ruby found a book at the library with a recipe at the end of the story. I'll go ahead and get the broom and hard wood floor vacuum ready, ha!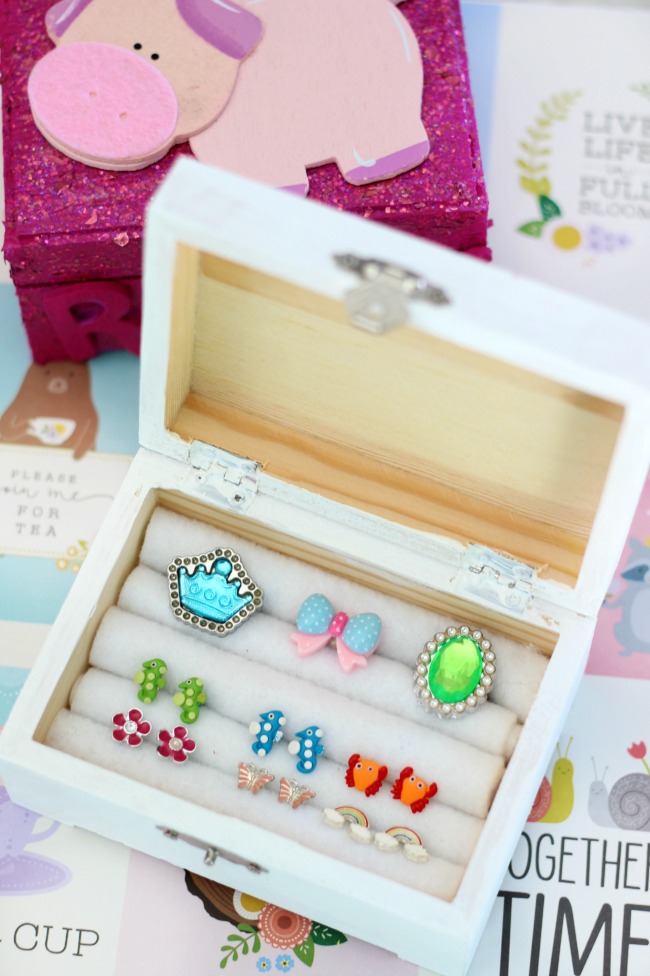 You might also like…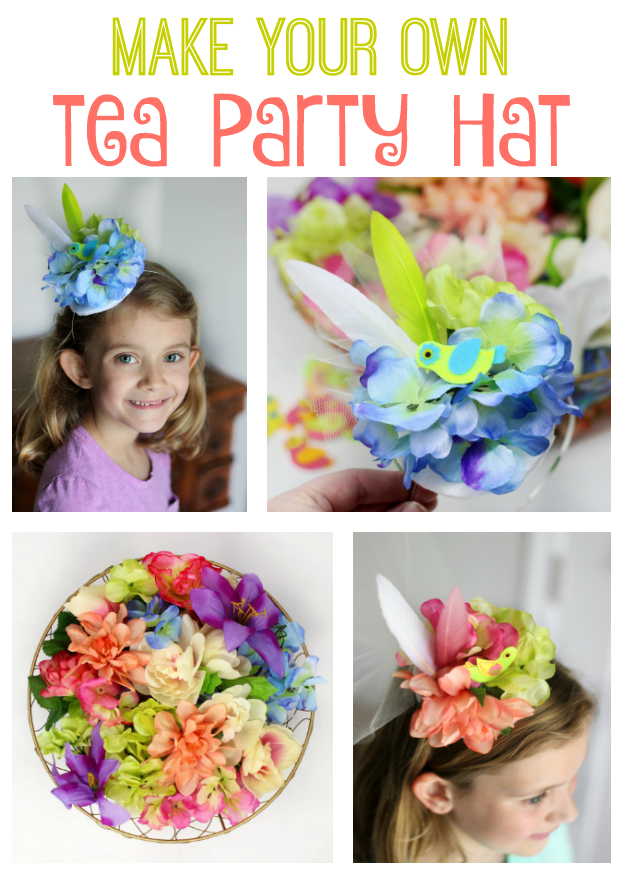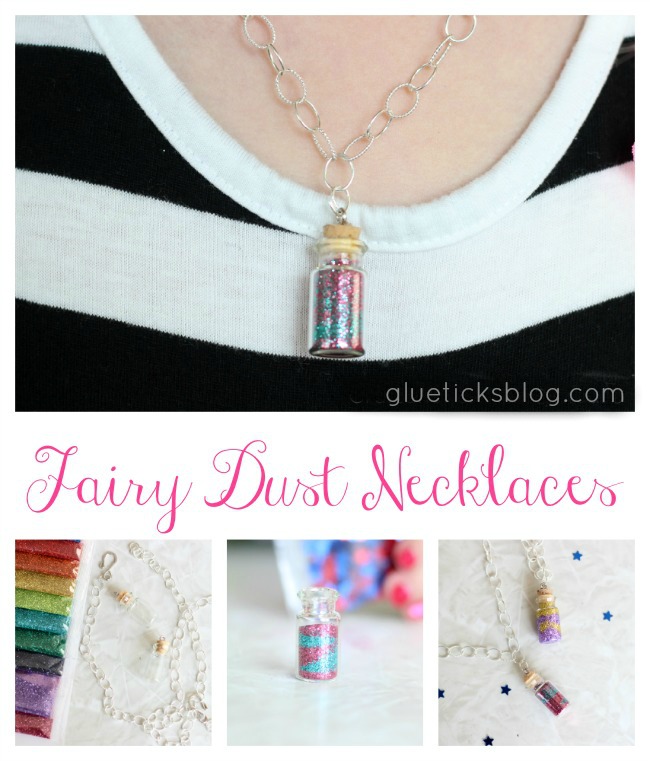 Welcome! I'm Brandy, mother to 5 darling kiddos and a cute black lab named Toby. My husband is in the Coast Guard so we've lived all over the place, turning each house into a home. I love baking, sewing, making cute things with my kids, and sharing what I've learned with all of you!