A simple pattern for DIY Sesame Street character softies, rice packs, or bean bags! This easy to follow tutorial can even be enlarged and used to make a Sesame Street character pillow. Elmo, Bert, Ernie, Cookie Monster, Oscar the Grouch, and Grover. Who is your favorite?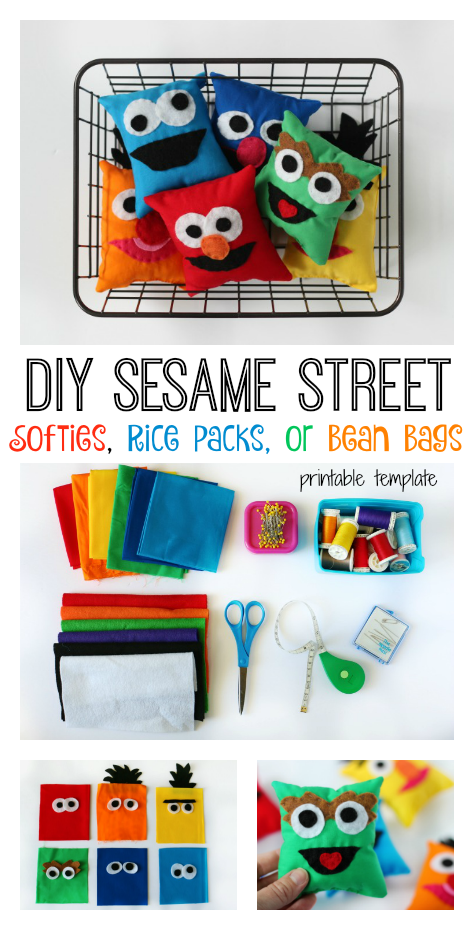 Mac recently discovered Sesame Street. He is almost 18 months old and definitely has the attention span of an 18 month old. Meaning, he moves from activity to activity pretty quickly! He has two activities that he will sit for longer periods of time for and those are 1: reading books and 2: Sesame Street. He can pick out Elmo from any book and loves watching Elmo's World. We all think it's pretty cute and like finding clips of Sesame Street songs and videos for him to watch with us.
Most of my hair brained ideas happen when I am supposed to be sleeping at night. This one was no exception. I made a small rice pack (the kind you can heat in the microwave) for my kids awhile back and Mac loves carrying it around. It is just the right size for his toddler fingers to hold on to. As I was laying in bed I thought that it would be fun to make him an Elmo one. Then I thought, why stop with Elmo? I'll make him a Sesame Street collection! I wasn't sure that he needed 6 rice packs, and then I wasn't sure that he needed a rice pack at all. He just liked carrying it around because of it's size. I decided that to make them softies (filled with pillow stuffing) so that he can cuddle with them.
These are the perfect size for Sesame Street bean bags too! So many possibilities.
And since these characters are so distinctive by the colors and the shape of their eyes, they are really simple to make without a lot of intricate details.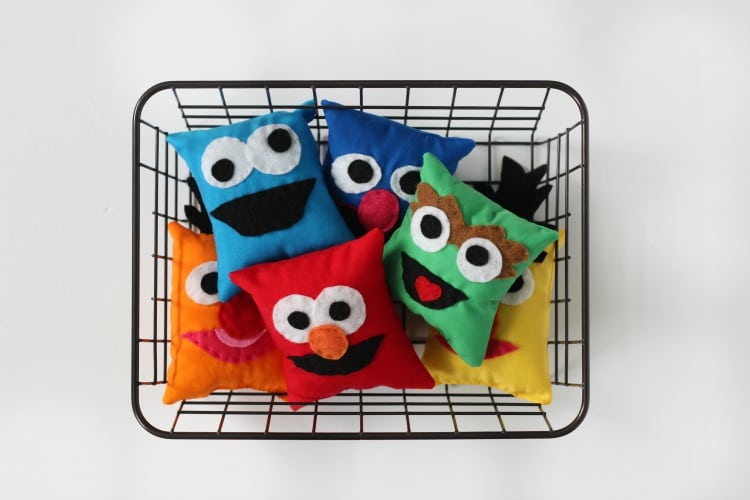 My favorite one is Oscar. Isn't he hilarious? Those eye brows really brought him to life.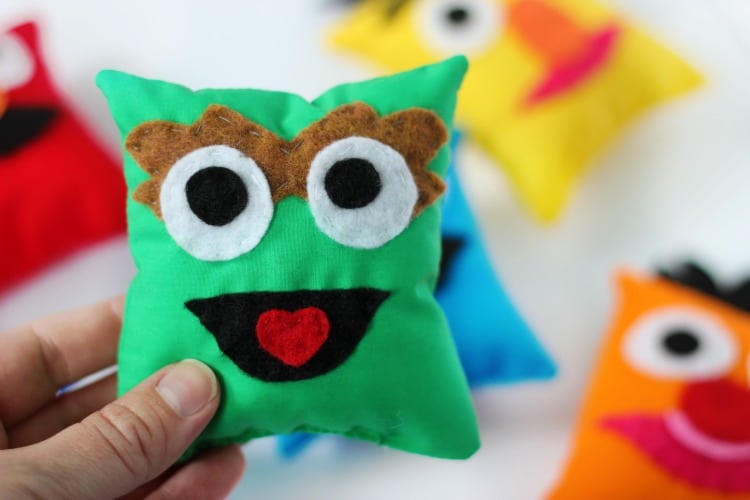 For 60 more sewing projects just like this one, check out my sewing book for kids!
DIY Sesame Street Character Softies, Rice Packs, or Bean Bags with Printable Template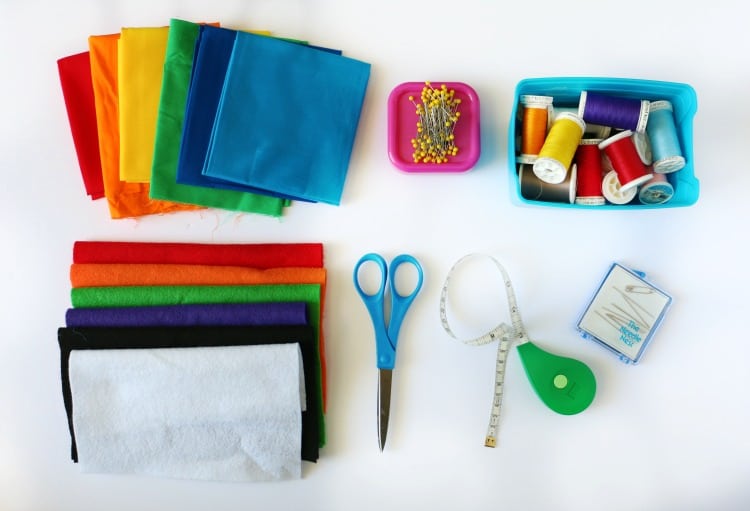 Supplies:
Cotton broadcloth in a variety of colors
Felt scraps in a variety of colors
scissors
needle
thread
sewing machine
pillow stuffing
pins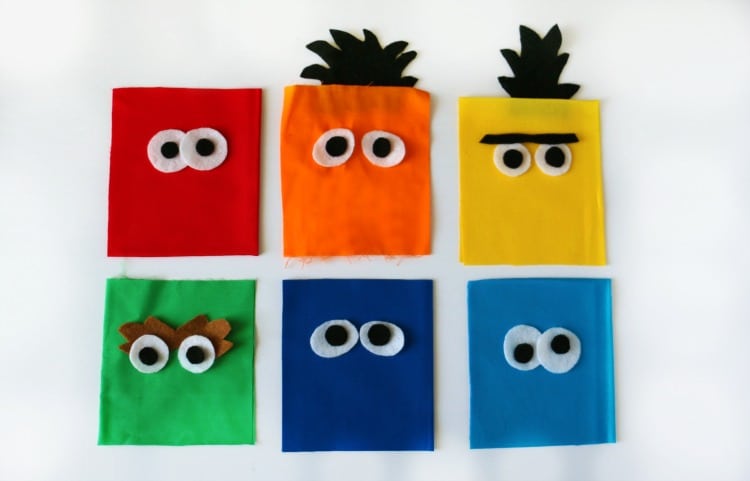 Look at them already coming to life!
Instructions:
Use the printable template to cut out the pieces for the desired Sesame Street character that you'd like to make. Use broadcloth for the main piece, and felt for the details.
Arrange the details (eyes, nose, mouth, eye brows) onto each face.
Note: you can use broadcloth for the details and zig zag around the edges to prevent fraying. You can also use fleece for the main piece and details. I like using felt because it is easy to work with and doesn't fray. 
Another note: please don't laugh at my printable, ha! I'm not an expert, and it is hand drawn. These are so basic that you probably don't need it too much, but it will help as a reference for size!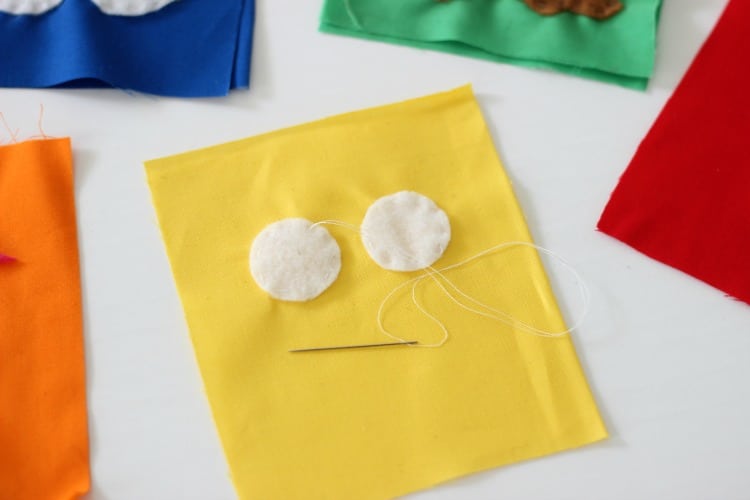 Hand or machine stitch around the eyes, then the pupils. Continue stitching the rest of the details.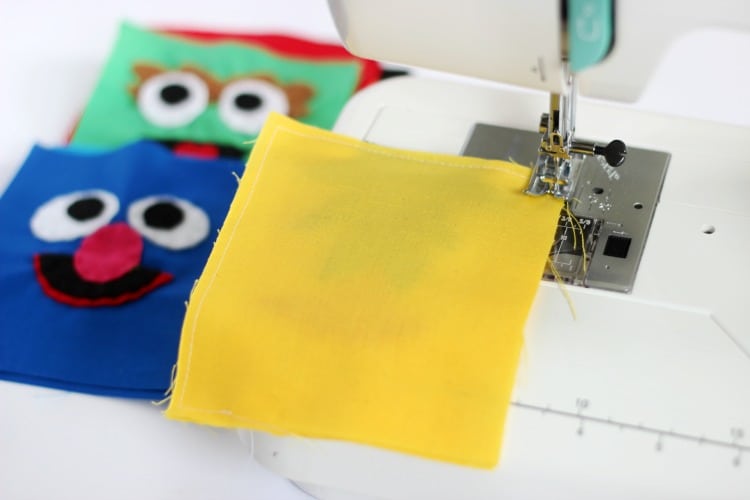 With right sides together, stitch around the sides and top of the two pieces of fabric. Turn right side out.
Fill with pillow stuffing, rice, or beans. Fold the edges of the bottom side over and pin in place. Hand or machine stitch the bottom opening closed.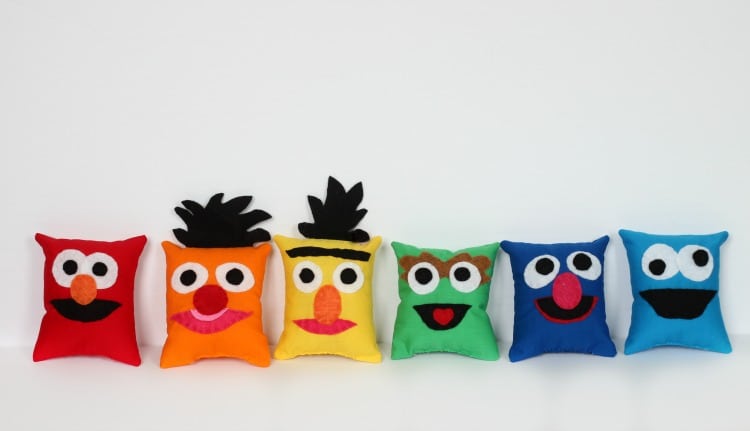 These guys just crack me up! When Mac woke up from his nap he took one look and grinned from ear to ear. I'm glad he recognized his buddies!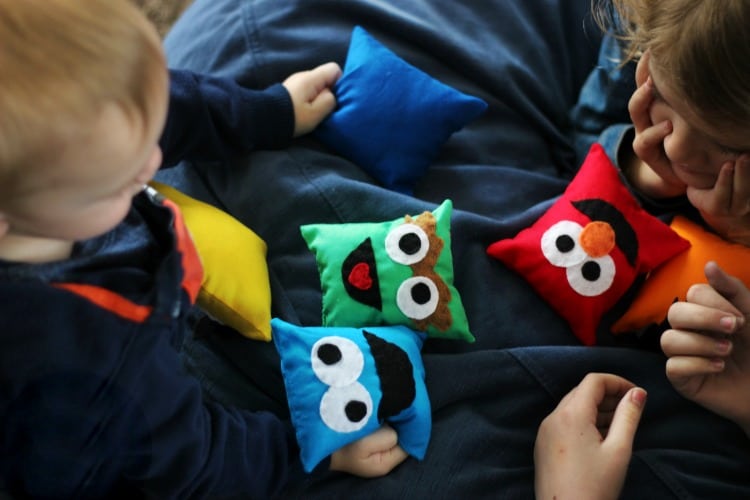 He's had a great time throwing them at his sisters and carrying them around the house.
I'm an enabler through and through when it comes to the things that my kids are interested in, and I don't see that ending anytime soon!
If you liked these DIY Sesame Street characters you might also like…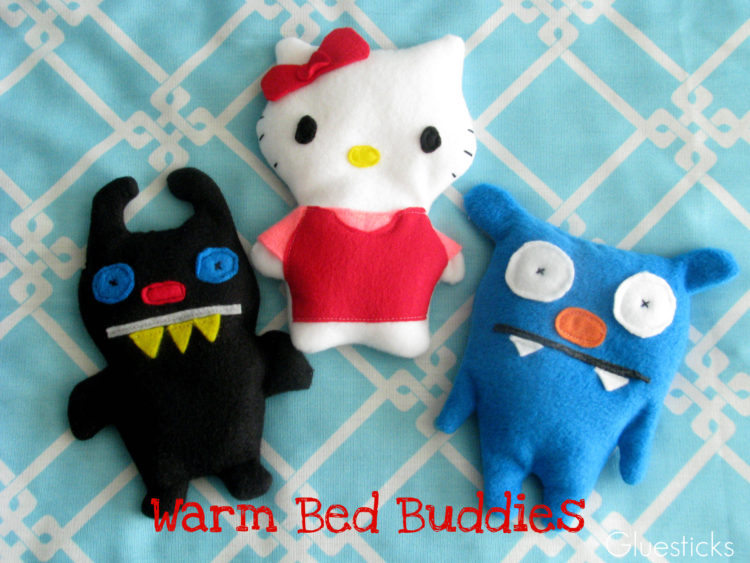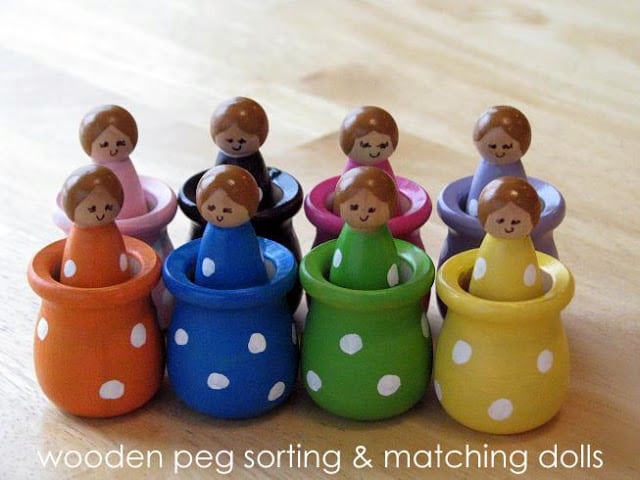 Wooden Peg Matching and Sorting Dolls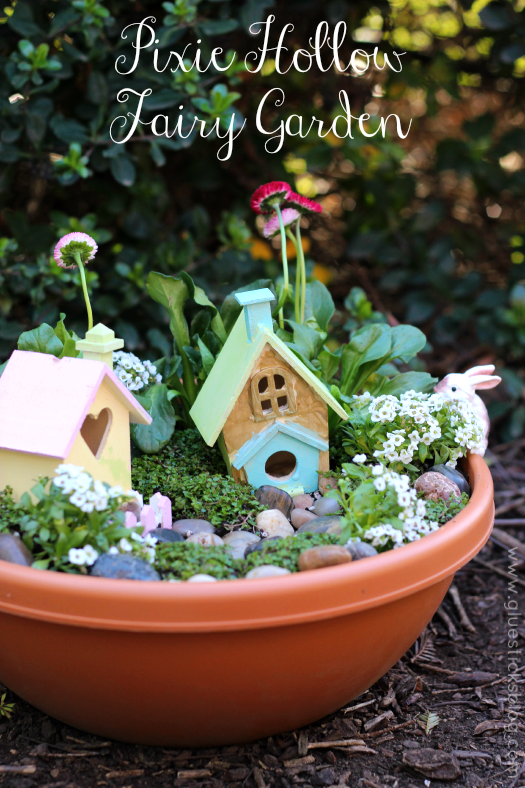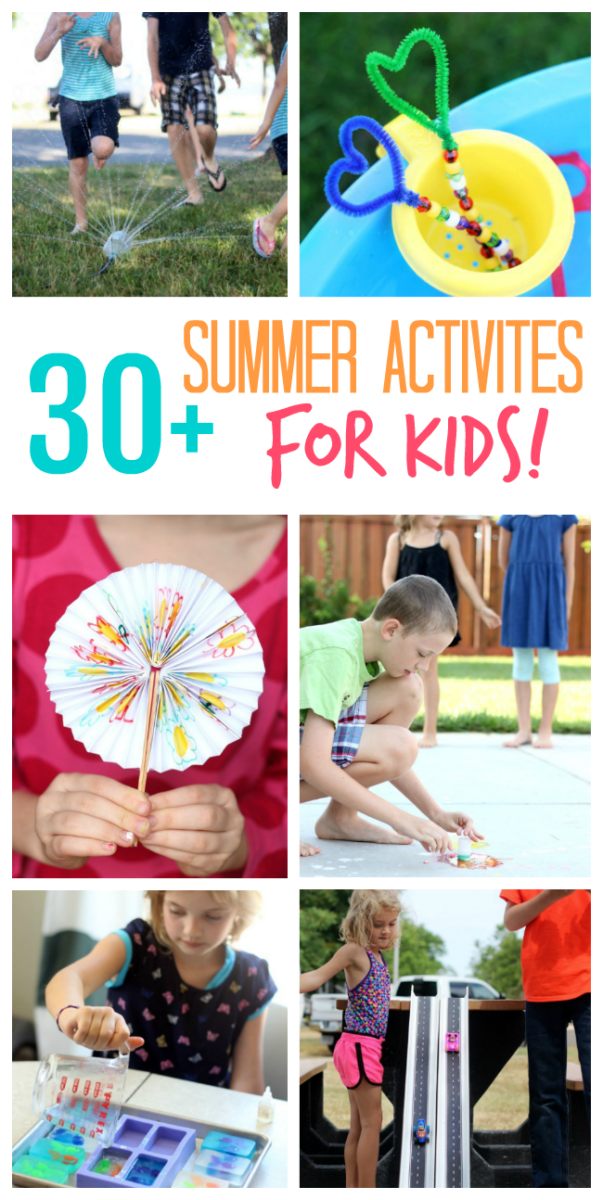 24+ Summer Activities for Kids!
Here are even more fun Sesame Street Ideas from Food Craft Ideas!