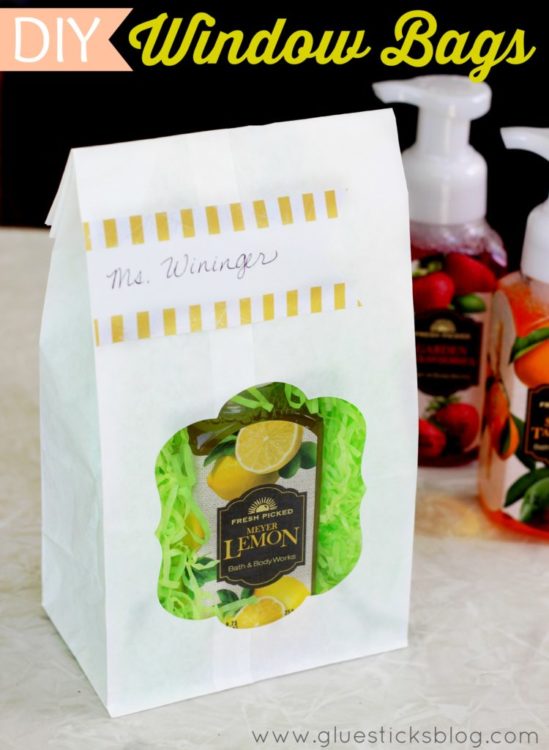 These DIY Window Bags are so easy to make. They turn a basic white lunch bag into a darling gift bag in just a few minutes! You can use a template, trace the shape on your bag, and cut out your shape with scissors, but today I am going to show you how I used my Evolution machine to make mine. Either way works just fine!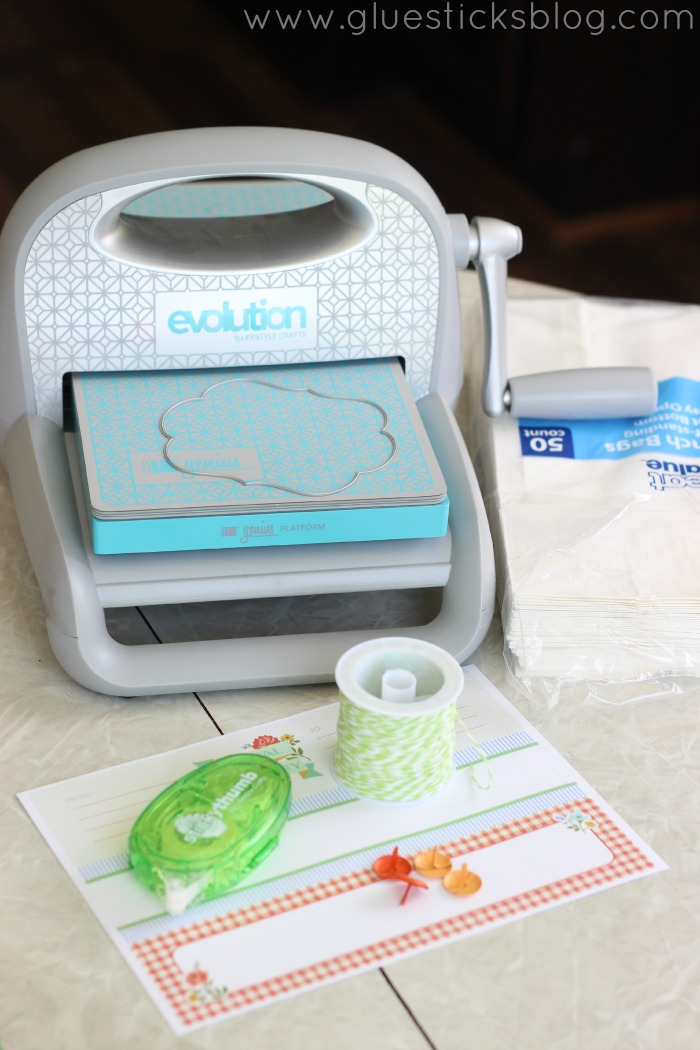 Supplies Needed for Bag:
Paper Bags
Sticky Thumb or packing tape
Clear Cuttable Sheets or Celophane
Supplies Needed for Closure and Embellishments:
Envelope Wraps, labels or any other embellishments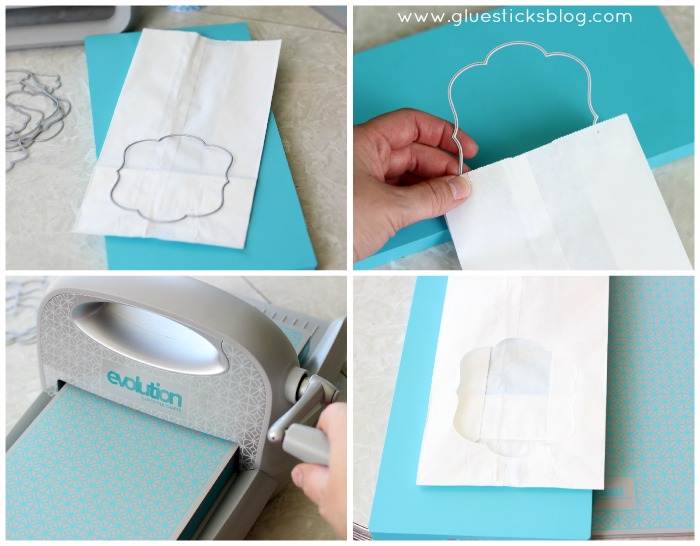 Place your die (cutting side up) inside your bag.
Run through your evolution machine.
Remove insert. You now have a window!
To make these without an evolution machine, trace your shape onto the front of your bag. Gently poke a hole in the center of the traced shape and cut out with scissors.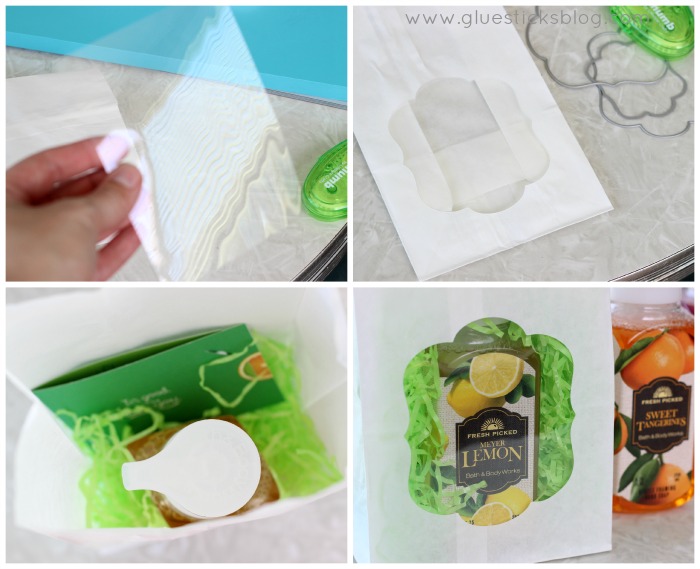 Use a piece of cellophane or clear plastic big enough to cover your opening. Secure it to the inside of your bag, covering the opening, using sticky thumb or a few pieces of packing tape.
Fill your bag with treats or a gift. I used these for teacher's gifts. A Jamba Juice gift card and a Fresh Picked bottle of hand soap (in my favorite Bath and Body Works scents).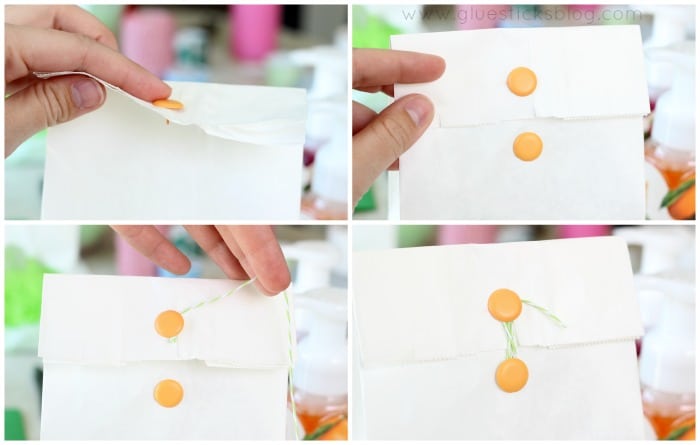 You can stop there, but I added a fun closure and embellishments to my bag.
To make a crazy 8 closure, fold the top of your bag down 1″.
Poke one brad the center of the 1″ flap. Open the brad to flatten.  Place the second brad just below (about an inch) and open to flatten.
Cut a small length (5″) of bakers twine. Tie a knot at one end. Slip the twine under the top brad and loop in a crazy 8 fashion around the second brad and back to the first. Repeat a few times to close off bag. Trim excess twine.
Add a label or any other embellishments you'd like! I love these envelope wraps and like using them for labels on bags too.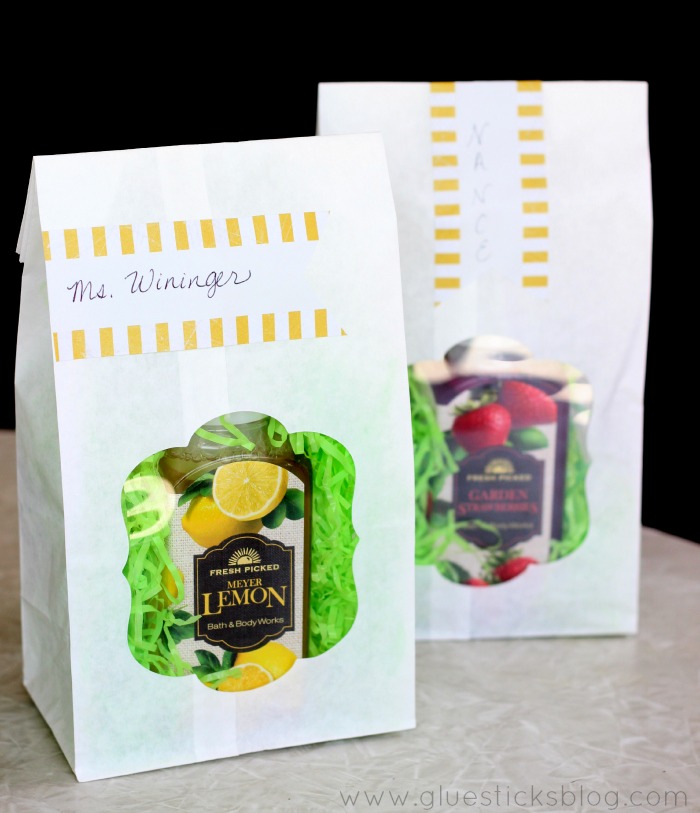 Giveaway CLOSED
Congrats to the winner, #16 Aubrey!
Today I'm giving away some of my favorite crafting embellishments from We R Memory Keepers!
To be entered to win this fun prize pack, simply tell me what you'd use them for! Leave a comment below!
Giveaway ends 6/15!
You will receive:
2 packages of assorted brads, 2 packages of assorted twine, 1 package envelope wraps and 1 sticky thumb adhesive! 

Use this code to receive 20% off any of the products that I used for this project from We R Memory Keepers.
Disclosure: I am a studio member for LifeStyle Crafts/We R Memory Keepers. I receive products of my choosing in exchange for tutorials and projects shared on Gluesticks.